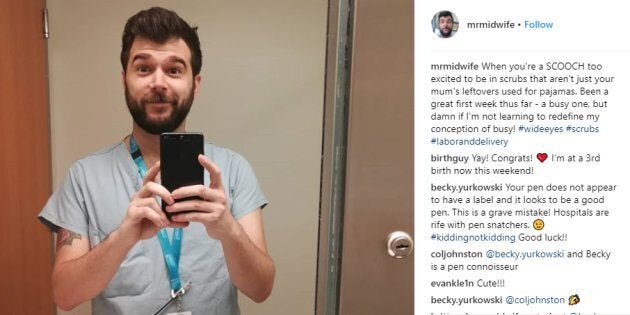 No one bats an eye when a male ob-gyn walks into a delivery room.
And it's more and more common to be coached through labour by nurses who are men. But a male midwife? Chances are you've never seen one. Even the name "midwife" — the root of which means "with woman" — suggests that men need not apply.
But Spencer Sawyer, a second-year midwifery student at Ryerson University in Toronto, is turning that notion on its head. Sawyer is set to become the program's first male graduate. When he starts practising, he'll be one of only a handful registered male midwives in all of Canada.
"I suppose it's like a family business — I come from a family of labour and delivery nurses," Sawyer told Ryerson Today, adding that his mother and grandmother were both labour and delivery nurses, and his own birth was attended by his great aunt.
Sawyer, who goes by the handle "Mr. Midwife" on social media, has been using his novelty to help spread education and awareness about labour and delivery, he told Ryerson Today.
He's been documenting his journey at Ryerson on Instagram since February last year, posting photos of learning clinical skills such as how to insert IVs and suture the perineum, and study sessions dedicated to the pelvic floor.
"As someone without female reproductive anatomy, I'm feeling quite humbled as I dive into this material, and am feeling especially charged to learn this aspect of reproductive health very, VERY well," Sawyer wrote on Instagram.