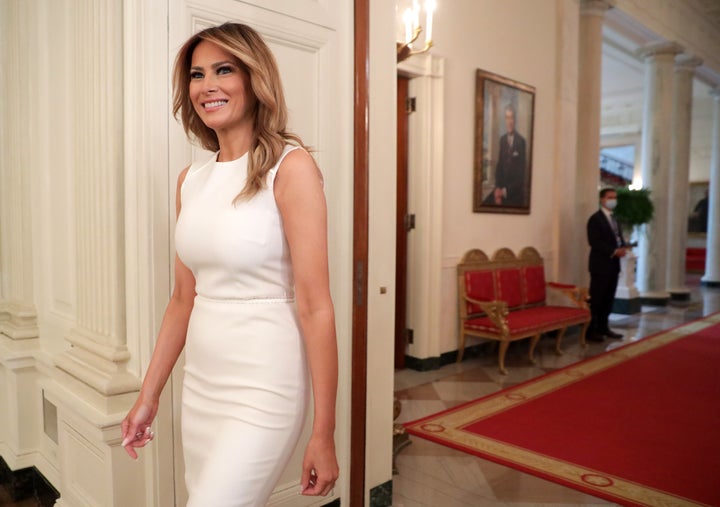 U.S. First Lady Melania Trump urged Americans to "be best" during her years in the White House. But the news that she's bucked the century-old tradition of welcoming her successor into her home has the anti-bullying campaign front of mind for all the wrong reasons.
"I don't think they're doing the traditional protocol, which is unfortunate," Biden told NBC, but noted that her family is "all OK with it."
Even those on bad terms — like Jackie O and Mamie Eisenhower, or Nancy Reagan and Barbara Bush — still took part in the tradition.
Melania herself was welcomed by former first lady Michelle Obama, who opened up last November, in an Instagram post, about how hard it was to rise above her personal issues with outgoing U.S. president Donald Trump's "racist lies" about her husband to fulfill her duty.
"Donald Trump had spread racist lies about my husband that had put my family in danger. That wasn't something I was ready to forgive," she wrote. "But I knew that, for the sake of our country, I had to find the strength and maturity to put my anger aside."
The Obamas had a warm and positive experience of their own welcome to the White House, given by the Bush family. Although the outgoing and incoming presidents were of opposing political parties, their kids played together on tour day, and the Bush daughters wrote a heartfelt letter full of advice for the Obama girls.
The irony of Melania Trump snubbing Jill Biden, while calling on Americans, in her farewell speech, to "Be Best" was not lost on Twitter.
The imminently former First Lady also skipped a mention of Biden in her farewell address; an omission that was less historically significant, but still notable for its absence.
Watch: U.S. first lady Melania Trump gives farewell address. Story continues below.
And luckily, as partner to a former vice-president, Jill Biden will be familiar with the floor plan and just fine without a walk-through of the White House with the outgoing first lady.