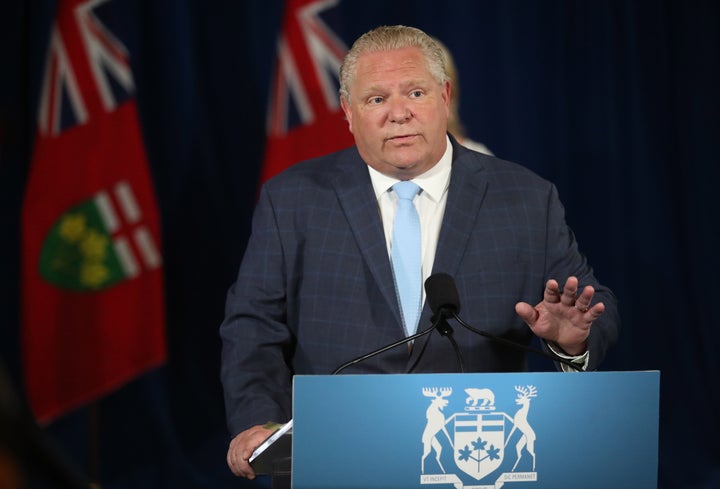 TORONTO — Ontario's premier defended the lifting of a stay-home order for the majority of the province's regions Tuesday despite warnings it could lead to a third wave.
Premier Doug Ford said the government won't hesitate to use an "emergency brake" to swiftly move regions back into lockdown if COVID-19 cases spike.
"We aren't reopening the province," Ford said as Ontario's legislature began its spring session.
"We're transitioning. We're transitioning into the framework that was laid out by the health team ... and we won't hesitate to pull on the brakes at any given time."
Twenty-seven regions moved back on Tuesday to the colour-coded pandemic restrictions system used prior to a province-wide lockdown that began on Boxing Day.
Niagara Region was the only one to move to the strictest grey-lockdown category, which allows most businesses to open at 25 per cent capacity.
The rest of the regions, most of them outside the Greater Toronto Area, fall elsewhere along the scale that moves from red — the second-most strict level — through green, with lighter restrictions on businesses and gatherings at each stage.
Toronto, Peel Region, York Region and North Bay Parry Sound are set to remain under the stay-at-home order until at least Feb. 22.
Three health units — Hastings Prince Edward; Kingston, Frontenac and Lennox and Addington; and Renfrew County — returned to the green category of the system last week.
NDP Leader Andrea Horwath accused Ford of ignoring the advice of medical experts who have warned of a possible third wave if stay-at-home orders don't remain in place.
"It seems pretty clear that what this is all about is transitioning into a disaster," Horwath said.
"We aren't reopening the province."
During a briefing on COVID-19 projections last week, Dr. Adalsteinn Brown, co-chair of Ontario's science advisory group, said that while cases have been decreasing, more contagious variants are spreading and currently account for five to 10 per cent of all cases.
That will likely cause cases to increase again by late February, Brown said, which is why strong public health measures like a stay-home order and vaccination of vulnerable groups are important.
"Without the ability to respond quickly and effectively, and without the ability to control spread in the community, we face the very real risk of a third wave, and potentially a third lockdown," he said.
Ontario reported 904 new cases of COVID-19 Tuesday.
The province also logged 964 cases for Monday that were not reported earlier due to the Family Day holiday.
Thirteen more deaths from the virus were reported Tuesday, and there were also 13 recorded Monday.
This report by The Canadian Press was first published Feb. 16, 2021.