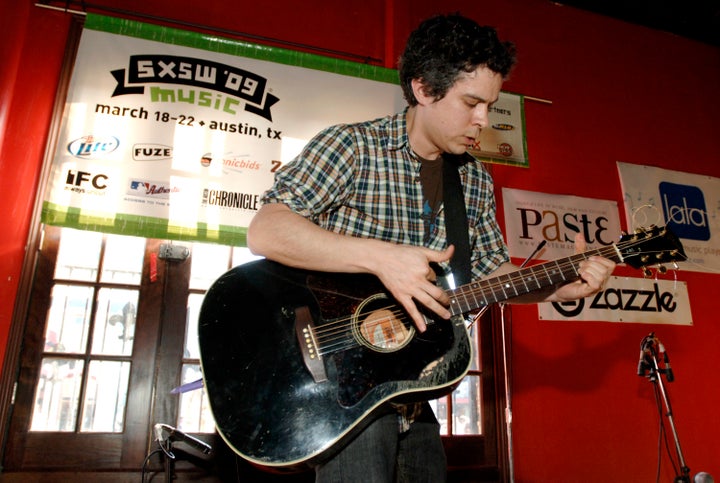 Four months. Half a year. Still waiting.
Getting paid can be a job unto itself for contributors to Paste Magazine, a sort of catch-all culture publication, with music and arts coverage mixed in with lefty politics.
"I kept writing and submitting every two weeks, submitting invoices at the end of each month," former columnist Katie MacBride said. "After a month or so, I started emailing my editors regularly and he would assure me he was looking into it, it was coming, etc."
Like a lot of websites of its generation that survived into the next, HuffPost very much included, Paste was successful in large part thanks to the work of under- and occasionally uncompensated writers. It was founded in 1998 as a music-focused website, then expanded with a print edition from 2002 to 2010 before reverting back to being solely a web publication. That latter shift created some ripples; as Gawker's Hamilton Nolan put it at the time, freelancers said they were "having trouble finding out about what will become of their unpaid debts" when the print edition folded. One anonymous writer claimed he or she was owed $2,700, with invoices going back a year and a half.
While the site has widened its remit, contributors are asking the same question freelancers were asking eight years ago: Where's our money? There's MacBride, for instance. She wrote a column, beginning in April 2016, called "Ask an Addict." The recovery advice column was published bi-weekly, MacBride said, and she followed instructions on billing, dutifully sending in invoices every month.
But the checks didn't come.
Despite the lack of compensation, MacBride said that she continued her work because of the platform Paste offered and the promises of payment. "I thought about not writing any more columns until I got paid but I thought (or at least hoped) that my column was helpful to people and I didn't want to just shut that down," she said in an email, "especially since I kept getting assurances that I would be paid."
"Paste isn't making millions, but they're keeping the lights on due to the pieces we're writing for them."
By July, the magazine had paid her for only two of five invoices, and unpaid work was piling up. MacBride said that after threatening legal action, she was paid in September. Some of the work was backlogged from May.
That's not how things are supposed to work, per Paste's writer contract. The language in Annex A-1 clearly states that contractors should expect payment "upon publication," yet MacBride waited through the summer for her paychecks. Her story is far from unique: Many freelancers from Paste dealt with long wait times on payment, vague promises and a lack of communication from the company in 2017.
The problems are partly due to an expansion in coverage at the magazine. Paste's politics vertical became popular in late 2016, at the height of the election. Health, business, media — all those sections opened and closed in the last year and a half. Freelance opportunities dried up for writers, and the payment logjam began in earnest for Paste's army of freelance writers.
I was one of them. Though my issue was resolved — I was compensated for my work, albeit after almost six months — I can relate to the stress of waiting for a check that is frequently promised but never arrives.
"It's true that we sometimes experienced longer-than-usual delays in making freelancer payments last summer," editor-in-chief Joshua Jackson said in an email. "But we've always lived within the terms and limits of our freelance agreements."
Jackson added: "We improved our payment system late last year, and I believe we're as quick as any other publication at getting freelancers paid now."
Not everyone recalls the delay as just "longer than usual," however. Marie Myung-Ok Lee, an adjunct professor in Columbia University's Undergraduate Creative Writing Program, waited almost a year before being paid in late January for work she had done for Paste in the winter and spring of 2017. And it cost her money — her assistant handles the invoices and the frequent follow-ups.
Ultimately it took threats from her agent to force Paste to pay.
"My agent basically called them and calmly threatened or whatever she does and they squirted out the check for ALL MY MONEY in a day," Lee said in an email.
For Paul Blest, a journalist from North Carolina who is now a writer for Splinter, Paste's willingness to publish his work at first outweighed the low pay.
"The money wasn't much but I liked writing for the site so I was fine with it," Blest told HuffPost.
After months of nonpayment, though, the outlet's behavior left a sour taste in his mouth. Blest's story follows a familiar pattern: He wrote pieces for Paste, was promised payment upon invoice and was subject to a long wait period that ended only when he implied he might take action against the company.
"I'm getting DMs and emails from people I don't even know (who don't even write for the politics section) asking if I've ever gotten paid by Paste because they haven't gotten paid yet, either," Blest had written to his editor in an email. "I can imagine at least a few people are considering legal action."
Yet even when Blest was paid, it was for only three of the four pieces he had written for Paste. He decided to drop it, he told HuffPost, for his own peace of mind. While Blest still isn't sure why he wasn't paid for all four pieces, the reason may lie in the way the company handles invoices. They "must be submitted within 30 days of the story being published," according to a July email from politics editor Shane Ryan to contributors.
"I emailed my editor the day I got my check and said, 'Hey, this is only for $375, should I put in for another $125?' and never got a response," Blest said. "I never followed up because at that point I was over it, and wasn't going to send like nine emails harassing different people for $125."
Jackson said that despite the contract's language stating a 30-day deadline for invoices, the magazine had extended a grace period to a number of freelancers. "Of the more 900 writer invoices we've paid in the last six months, there have only been a handful of extremely late examples (a couple of which included stories published more than one year prior to being invoiced) that we've refused payment on," Jackson told HuffPost.
But that's not the story told by former editors Emily Ray and Mack Hayden. Ray posted a fiery attack on the company's ownership and editorial and business practices to LinkedIn in late December. Ray claimed that Paste management had stifled creativity and continually denied payment to staffers — especially women.
In fact, when I mentioned to Ray that HuffPost had been contacted by men whom Paste hadn't paid, she expressed surprise and said she had never heard of any men who'd experienced such treatment.
Ray pursued litigation to pry her payment out of the company, she said, and "agreed to accept half" of the money she was owed "in exchange for striking the gag/nondisclosure terms within Paste's proposed settlement agreement."
"Haven't been paid or heard a word," Ray told HuffPost in an email on March 20.
Ray wasn't the only editor to leave the company last year. Hayden, former assistant editor for politics at Paste, was laid off in August. He'd gotten the job after writing for Paste for a number of years, "first in music, then mostly in books, then eventually in politics."
Once he was brought onto the editorial team, working on a contracting basis, Hayden said, he spent much of his time "fielding pitches, editing pieces, getting them all set to [go] live, etc." But working as an editor, Hayden told HuffPost, didn't mean Paste was any more responsive.
"I experienced a lot of the same frustrations as an editor as I did as a freelancer: checks showing up at unspecified dates, sometimes taking close to four months, unresponsive staff on top of that, promises to rectify the situation that proved fruitless," Hayden said.
Compounding the bad feelings was the fact that Hayden was subject to emails and communications from freelancers on a regular basis complaining about nonpayment — that the money they weren't being paid was needed for basic necessities. That was "pretty heartbreaking to me," Hayden said.
"We did raise the issue multiple times to higher-ups, but it seemed like most of the biggest issues were still not repaired by the time I got let go," said Hayden. "I don't know what it's like now."
According to Hayden, he and Ryan, his immediate superior, raised the issue of nonpayment to management many times, but the accounting department was generally unresponsive to their concerns. Hayden said that editor-in-chief Jackson and news editor Scott Russell were receptive to the feedback — but nothing changed.
"Aloof seems more the case" than Paste intentionally not paying writers, Hayden said.
Whatever the case, the website's management wields power over those still waiting for their checks. Three people, two of them women, reached out to HuffPost anonymously to share their stories of delays in payment — and, in one case, months of nonpayment. The latter said she wanted to keep her identity secret out of fear that Paste might not pay her at all if she spoke out under her own name.
There may be options for those still awaiting payment from the magazine if Paste continues to delay or refuse payment on invoices. Larry Goldletter of the National Writers Union said his organization has been aware of Paste's freelance issues since the summer — but no writers have yet come forward to take advantage of the union's services.
"We know it's out there," said Goldletter. "And we can get people paid; it's a pretty cut-and-dried breach of contract."
Blest, the North Carolina writer who was paid for three of the four articles in September, recalled an email from Ryan, the politics editor, indicating that the slow payment wasn't just a glitch in the system; it was simply the way things were done.
"If you're in a place where you need to be paid quickly for future articles, and it's going to be a source of stress for you if it doesn't happen," wrote Ryan, "I would recommend that you take a break from Paste for a while until I can guarantee you that we have a streamlined system that won't leave you in the lurch."
That, said Blest, sums up the problem.
"Paste isn't making millions, but they're keeping the lights on due to the pieces we're writing for them," he said, "so the least they can do is pay us on time."