 Sam Claflin wears nothing but a fish-netting during his first scene as Finnick Odair in "The Hunger Games: Catching Fire," but it's what the 27-year-old English actor had in his mouth that was a real problem.
"We did that scene for a whole day. When we first started shooting, I was actually eating two sugar cubes," Claflin told HuffPost Entertainment about the eye-opening introduction he has to the blockbuster franchise. During the sequence, Finnick uses a seductive tone and those miniature sweets to rattle "Catching Fire" protagonist Katniss Everdeen (Jennifer Lawrence).
"There were two per take. Then I toned it down a bit, like, 'You know what, is this necessary?' There were a lot of sugar cubes consumed," Claflin said. "I remember they only had one box, and we nearly got to the end of the box. When we were done, I immediately brushed my teeth."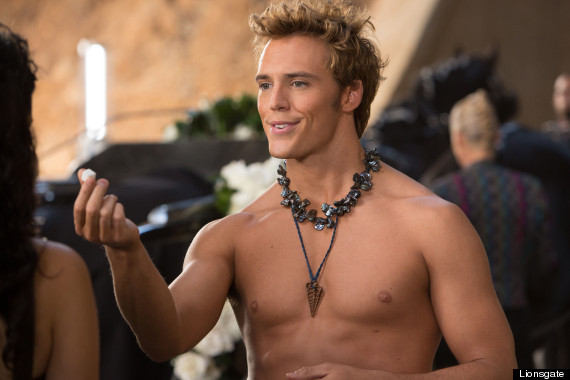 Sam Claflin in "The Hunger Games: Catching Fire"
Finnick Odair is one of a handful of major characters added to the "Hunger Games" universe for "Catching Fire," and it's a role actors such as Robert Pattinson, Taylor Kitsch, Garrett Hedlund and Armie Hammer were rumored for when the casting process was underway last year (Pattinson and Kitsch both denied involvement). As a Tribute from District 4, Finnick won the 65th annual Hunger Games -- a yearly event that forces 24 young citizens of Panem, the post-apocalyptic remains of North America, to battle to the death -- and he's drafted back into competition after the villainous President Snow (Donald Sutherland) announces a surprise rule change for the 75th annual Hunger Games. Once back in the arena, Finnick forms an uneasy alliance with Katniss, and may hold the key to her ultimate survival.
"I personally relate to his more sensitive and insecure side. Especially the character he becomes later on in the trilogy," Claflin said about playing the brash Finnick, who is even more sexualized in Suzanne Collins' source novel than he is in director Francis Lawrence's new film. "I think a lot of people read the books and they see Finnick as this perfect human being, this Adonis. What I was more interested in was what was beyond that. That was definitely something I brought into the audition room, and that potentially landed me the role. It's all the darkness and edginess behind that charismatic exterior that I felt I wanted to play with a lot more."
Claflin, who got his start on television, first drew attention from U.S. audiences for his supporting role in 2011's "Pirates of the Caribbean: On Stranger Tides." He played a doomed missionary in that film, a part that required him to fall in love with a mermaid. (In keeping with the aquatic theme, Finnick's main weapon in "Catching Fire" is a trident.)
"'Pirates' was my first ever film experience. I was like a deer in the headlights," he said when asked how things have changed for him over the last three years (Claflin also co-starred opposite Kristen Stewart and Chris Hemsworth in "Snow White and The Huntsman"). "I was very shy and a little insecure and intimidated. My confidence has grown a lot more now. Knowing that I was a key part to this story, I felt a little more creatively fulfilled. The whole experience this time around felt a lot more intimate. I got to know the whole crew, I got to know the whole cast. I felt like a true part of the family. With 'Pirates,' being my first experience, I felt like I was too lucky to be there. Now I feel lucky, but also like I belong."
Fortunately, it didn't take long for Claflin to become acclimated to the "Hunger Games" way of life. The "Catching Fire" cast and crew share a close-knit bond (Lawrence, Josh Hutcherson and Liam Hemsworth engaged in an epic tickle fight before the film's London premiere), something Claflin learned first-hand after Lawrence invited him to a house party during the early stages of the film's production.
"I think it was in the first week of filming in Atlanta," Claflin recalled. "I sort of turned up and didn't really know anyone properly enough to say hello. I felt a little out of place at that point. I remember walking in, and Jen being on top of Woody Harrelson with one of Woody's dirty socks on her hands. She was shoving it down his throat. I thought, 'OK, this is how we're going to go. I get it.'" That was the first time Claflin had met Harrelson, who plays Haymitch Abernathy in the film. "It was a wonderful icebreaker," Claflin joked.
It's that kind of behavior which has made Lawrence and the "Hunger Games" cast seem so relatable to the franchise's core fan base. How the young stars have handled the spotlight in the wake of the first film's $691 million global box office tally is something not lost on Claflin.
"They have set an amazing example for everyone else," he said of Lawrence and Hutcherson, with whom he shares most of his "Catching Fire" scenes. "They're amazing role models to watch. It's insane for me to be saying that because they're so much younger than me. At the same time, they truly are incredible and inspirational people to me. I think it's impossible to ever prepare for what might happen. Whether my life will change after this, who knows? All I can say, is that if it does change, I have them to look to. I couldn't think of anyone better."
"The Hunger Games: Catching Fire" is out on Nov. 22.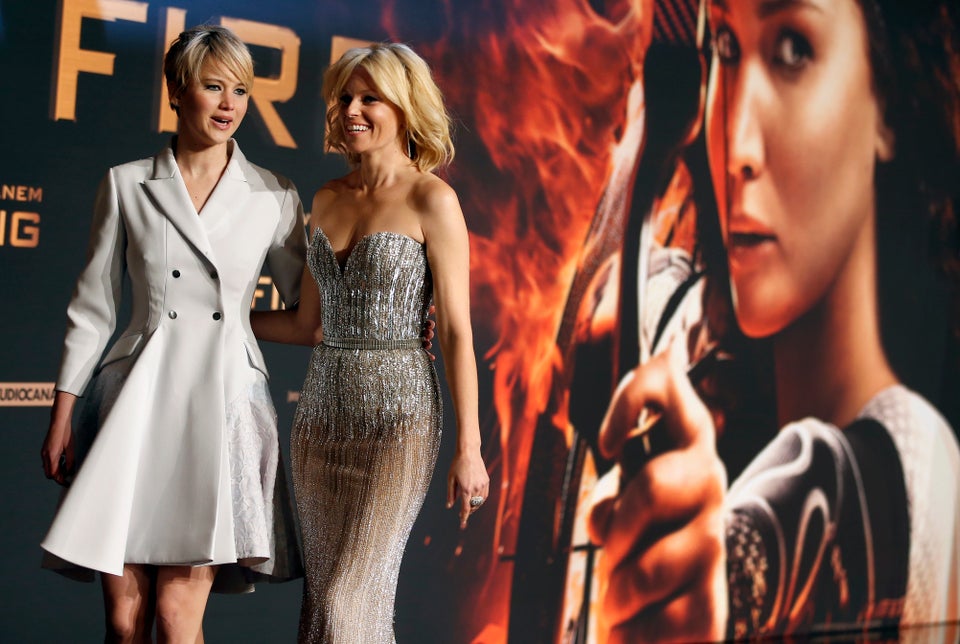 "The Hunger Games: Catching Fire"