Pruitt has an idea for a program that would have experts debate each other on the science of climate change, E&E News first reported in June. When "Fox & Friends" co-host Steve Doocy asked him about this approach, Pruitt said the American people "deserve that type of objective, transparent discussion."
"I mean, with this climate change, we know certain things," Pruitt said. "We know the climate's always changing. We know that humans contribute to it in some way. To what degree, to measure that with precision is very difficult. But what we don't know is are we in a situation where it's an existential threat? Is it unsustainable with respect to what we see presently? Let's have a debate about that. Bring scientists in — red team scientists, blue team scientists — have a discussion about the importance of this issue."
Pruitt said the exercise would shed light on what the scientific community does and doesn't know about climate change, and give insight into how to address it. (To be clear, 97 percent of climate research supports the finding that climate change is real and that humans are the primary cause.)
"Fox & Friends" co-host Ainsley Earhardt celebrated the plan as a "great" idea.
"Skeptics can talk to these scientists and they can challenge each other," she said. "That's what they're supposed to do."
Pruitt also rattled off several of his usual talking points. It took "tremendous courage" for President Donald Trump to remove the U.S. from the historic Paris climate accord, he said, adding that the United States has used technology to do "more to reduce our CO2 footprint that most countries around the globe."
"You would think that people would be happy with that, but many in Hollywood and many on the left aren't," said program co-host Brian Kilmeade. The network then showed a clip of music legend Stevie Wonder at a telethon for hurricane relief last week, during which he said, "Anyone who believes there's no such thing as global warming must be blind or unintelligent."
The Fox anchors also took the opportunity to highlight a new study out of the United Kingdom that Earhardt said shows "climate change is not as threatening to our planet as previously thought." But Media Matters for America, a media watchdog, called Fox's interpretation a "clear misrepresentation" of the findings.
Indeed, what the team of researchers found is that limiting global temperatures from reaching 1.5 degrees Celsius — the warming limit agreed to during the Paris agreement — "is not yet a geophysical impossibility, but is likely to require delivery on strengthened pledges for 2030 followed by challengingly deep and rapid mitigation." The study provides a bit of potentially good news, but it has been met with skepticism.
Pruitt's interview comes after he and other members of the Trump administration spent days dodging questions about the role climate change may have played in back-to-back hurricanes Harvey and Irma.
CNN's Jake Tapper asked Mick Mulvaney, the director of the Office of Management and Budget, last week why he thinks studying climate change is a waste of money, given the recent destruction caused by hurricanes. Mulvaney replied that the government remains focused on helping victims, adding, "There is plenty of time later on to have those discussions, and I know that we will because climate change is a clearly a big topic for the media."
Pruitt did not mentioned Hurricane Maria during Tuesday's segment. The storm slammed into Dominica late Monday as a Category 5 storm, then moved toward Puerto Rico and the Virgin Islands. Kilmeade, however, said liberals are "constantly blaming climate change" for such major hurricanes, and said the Trump administration is "looking for ways to challenge that theory to find out the real impact of these storms — if any."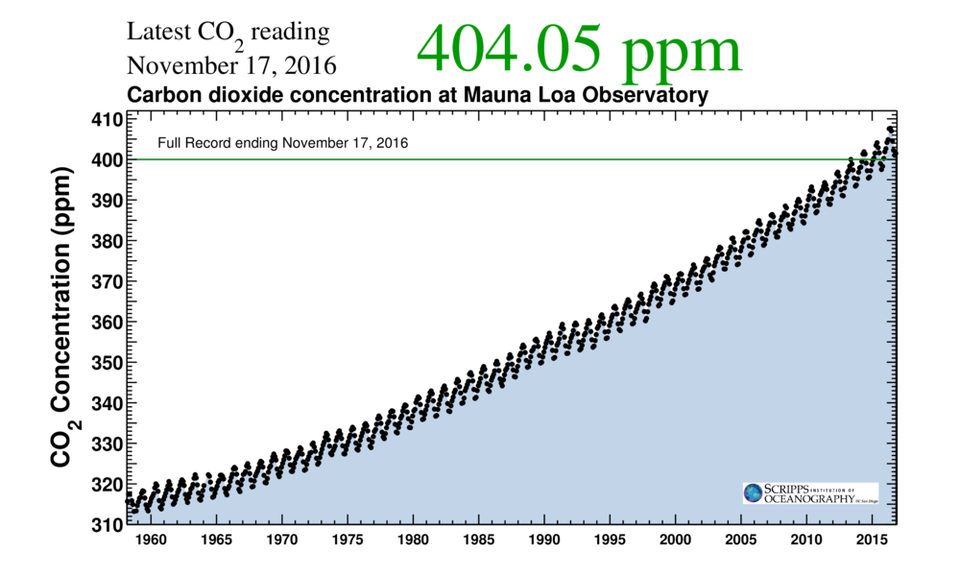 Climate Visuals For The Climate Change Denier In Your Life