Breakups are simply the worst. But when your heart feels like it's been trampled, know that there's a light at the end of the tunnel.
"Barely Functional Adult" illustrator Meichi tackles the pain, confusion and even humor of splitting up in her comics. Here are the seven spot-on stages of going through a breakup, in comic form.
1. Knowing when it's time to move on.
2. Feeling completely and utterly devastated when it's over.
3. Pretending like everything is fine.
We've all done it. We've bottled up our emotions and buried them, only to have them resurface at the most inopportune times. Our advice? Don't suppress your feelings. Wallowing can serve as a coping mechanism that will allow you to heal gradually.
4. Relapsing.
Listen, it's only natural to want to temporarily stifle the pain of a breakup by reaching back out to your ex. But the fleeting satisfaction of reconnecting with your former flame doesn't compare with the inevitable disappointment you'll feel when nothing changes.
5. Leaning on your friends and family for support.
6. Letting the heartbreak run its course.
Research published by the American Psychological Association indicates that getting space from a broken relationship allows you to heal mentally and emotionally. If you give yourself enough time, you will come out of this intact.
7. Finally getting over it.
One day, the pain will subside and you will finally feel like enjoying life again. On that day, here's hoping you have a friend as good as the one in the comic above to keep you from getting too out of hand!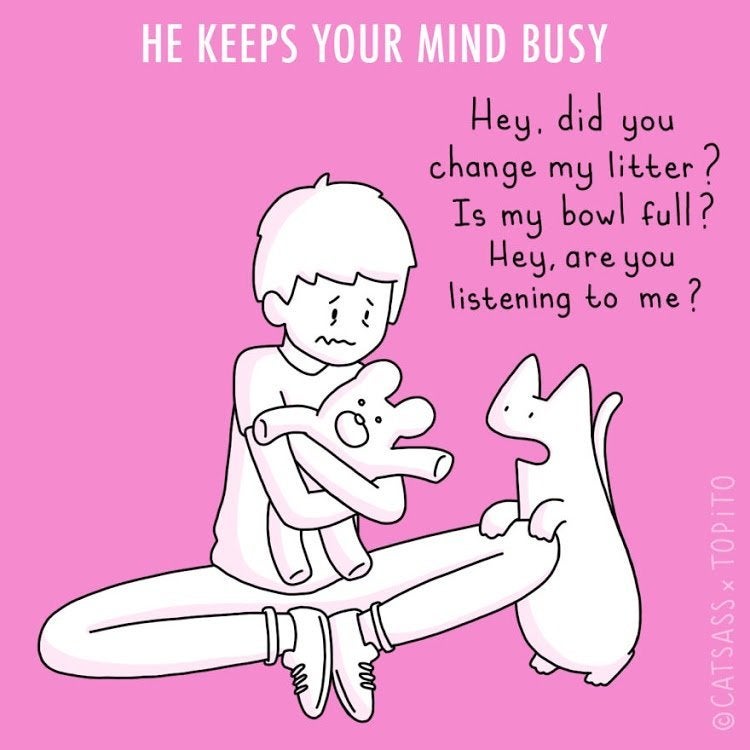 Why Cats Are Great Besties During A Breakup