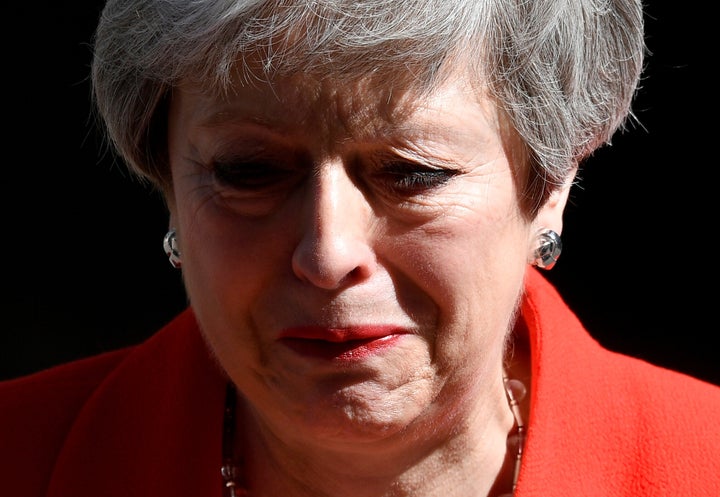 British Prime Minister Theresa May has announced she will resign as the U.K. Conservative Party leader on June 7, following a furious backlash to her last-ditch Brexit plan.
Speaking to reporters outside 10 Downing Street in London on Friday morning, May said: "I have done my best.
"It is and will always remain a matter of deep regret to me that I have not been able to deliver Brexit," she said.
Her voice cracked with emotion as she said it had been the "honour of my life" to serve "the country that I love" for the last three years.
May will remain as prime minister while the party holds a leadership contest beginning on June 10, with her successor expected to be in place by the end of the summer.
She was finally ousted by her party following a cabinet revolt over her decision to offer MPs a vote on whether to hold a second referendum.
Jeremy Corbyn said May was "right" to resign and said whoever replaced her must call an "immediate" general election.
The prime minister's husband, Philip May, chief of staff Gavin Barwell, and communications chief Robbie Gibb watched her deliver her resignation speech outside the iconic residence.
Boris Johnson, the Brexiteer former foreign secretary, is currently seen as the frontrunner to replace her.
But several other senior Tories, including ex-Brexit Secretary Dominc Raab, Foreign Secretary Jeremy Hunt, Home Secretary Sajid Javid and Environment Secretary Michael Gove are all expected to throw their hat into the ring.
Ken Clarke, the former Tory chancellor and veteran MP, predicted the contest would be "six weeks of chaos."
Andrea Leadsom, whose resignation as U.K. Commons leader, signalled the end of May's time in office, praised the prime minister's "dignified speech" as an "illustration of her total commitment to country and duty."
Steve Baker, the leading backbench Tory Brexiteer who led efforts to oust May, said it was a "sad but necessary day."
Work and Pensions Secretary Amber Rudd said the prime minister had "shown great courage."
"She is a public servant who did all she could to bring Brexit to a resolution. Her sense of duty is something everyone should admire and aspire to," she said.
Nigel Dodds, the Democratic Unionist Party's Westminster leader who has been propping up the Conservative government, said while he had "differences" with May, he found her to be "very courteous and pleasant to work with on a personal basis."