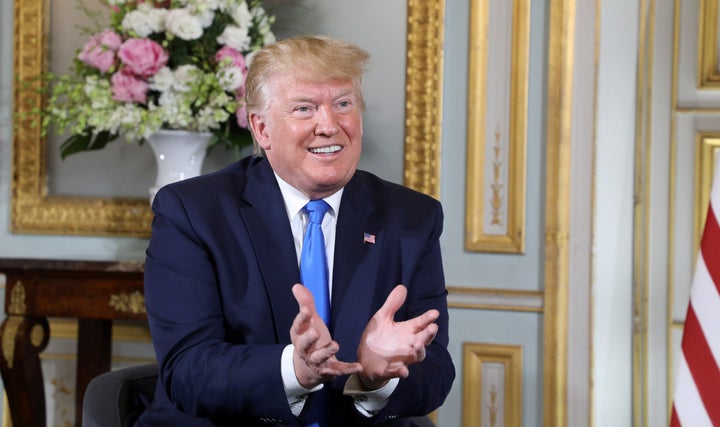 That's a record for Canadian jobs
Canada's unemployment rate hit 5.4 per cent in May, "the lowest since comparable data became available in 1976," Statistics Canada says. The country added 27,700 net new jobs, far less than the 107,000 jobs the country added in April, which marked an all-time record for jobs in a single month. This month's dip in the jobless rate is largely due to a drop in the number of people looking for work. Canada's labour force shrank by nearly 50,000 people in May, and a good chunk of those people were young workers between the ages of 15 and 24, Statistics Canada's data shows. Most of the job gains took place in Ontario, British Columbia, Nova Scotia and New Brunswick. Quebec lost about 12,000 jobs while Alberta lost 2,000.
Does the 'genius' have a genius plan?
David Rosenberg, the chief economist at Gluskin Sheff, is one of the most-quoted analysts in business news, and just last month he was declaring that Trump's tariff war would cost the U.S. president his job. But now, he has a new theory: Trump may be carrying out a "genius" plan to juice the stock market in time for the 2020 election.
If that notion rings true to some, it's likely because Trump has repeatedly called on the U.S. Federal Reserve to lower interest rates, accusing the central bank of holding back markets with rates that are too high. Though there is no way to know if Trump is carrying out this plan, the idea is gaining traction among some on Wall Street. Trump is "playing the Fed like a fiddle," said Michael Lebowitz of 720 Global, as quoted at MarketWatch.
Watch: Trade wars, tariffs and a slowing U.S. economy. Story continues below.
Twitter stays mum on Canadian election
Like other social media companies, Twitter is under pressure from politicians to get a handle on fake news related to this year's upcoming federal election in Canada. Democratic Institutions Minister Karina Gould took the micro-blogging site to task for not signing the Declaration of Electoral Integrity, an initiative to keep misinformation off social media platforms. Gould noted that Facebook, Google and Microsoft have signed on to the program. "We're still waiting to hear what their plans are here in Canada," Gould said. Twitter told CBC News it has no comment at this time.
Big tech ready for a fight with Trump
Investors panicked earlier this week after news reports suggested the U.S. government is investigating Amazon, Apple, Facebook and Google under antitrust laws ― the U.S. laws used to break up companies with monopoly power. But now the initial shock has worn off, the tech giants are girding themselves for battle with the Trump administration, Bloomberg reports. They're ready for the fight, Bloomberg notes, having already lawyered up and hired lobbyists to fight antitrust charges in the European Union.
Barnes & Noble's ignoble fate
Once upon a time, Barnes & Noble was criticized for ruining the U.S.'s independent bookstores with its department store-sized locations. Now, the company is in a losing race with Amazon, and has sold itself to a hedge fund for US$476 million, the Associated Press reports. Its new owner, Elliott Management, has been described by some publications as an "activist firm" that rescues ailing businesses, or a "vulture fund" that preys on weak companies. Last year, Elliott bought British bookseller Waterstones. The Barnes & Noble purchase has some analysts thinking the company is out to create a global bookselling giant.