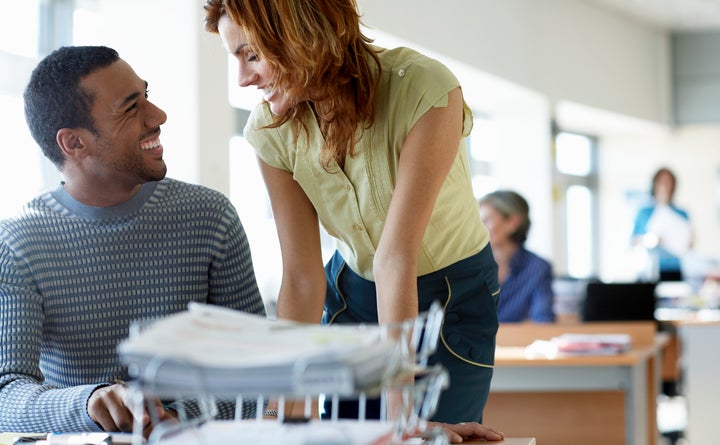 How's the dating scene in your office?
A third of Canadians say they are currently or were previously involved in a workplace romance, and many kept it a secret, according to a new survey from ADP Canada. Nearly half of those in a romance (47 per cent) said they kept it a secret from some people at work, while more than a quarter (27 per cent) said they kept it a secret from everyone at work. ADP suggests the secrecy is due to a lack of clear policies surrounding relationships at work.
That's not to say co-workers would mind: 83 per cent indicated they are open to allowing relationships among co-workers, or would like to be in one themselves. But the need for rules is clear, as 7.5 per cent of respondents said they felt pressured to be in a romantic relationship with someone at work in order to keep their standing ― to gain a promotion, access to a new project, or simply to keep their job.
"HR policies should not exist to control employees, but to protect them," ADP Canada marketing VP Heather Haslam said in a statement. "These statistics represent a call to action for organizations to make their policies clear to employees and to offer them the support and resources they need to feel comfortable navigating these situations."
Watch: Americans like to get busy at the office, study finds. Story continues below.
Google Chrome is surveillance software, WashPost declares
A tech reporter at The Washington Post decided to compare the Firefox and Google Chrome browsers on how well they protect users' privacy, and the result appears to be that the reporter has ditched Chrome altogether. Over a trial period of one week, Chrome would have allowed 11,189 requests from various websites for tracking "cookies" that Firefox blocked. "It turns out, having the world's biggest advertising company make the most popular Web browser was about as smart as letting kids run a candy shop," Geoffrey A. Fowler wrote.
New Ontario-Quebec rail corridor gets a financial boost
Plans for a new "high-frequency rail" corridor between Toronto and Quebec City are about to get a big financial boost from the Canada Infrastructure Bank, the Globe and Mail reports. The bank is a crown corporation tasked with helping build infrastructure around the country, and it's expected to announce backing for the rail corridor that will "de-risk" the project. In other words, the government-run bank will take on some of the financial risk, to make the project more attractive for private investors. Official announcements are expected to be made today, but they likely won't mean the project has been given a final green light, the Globe reports.
Reverse mortgages soar in Canada
With house prices at elevated levels and a new mortgage stress test in place, it's hard for many would-be homebuyers to qualify for a mortgage. But for those who have already bought, homes are increasingly becoming a new form of credit card. The balance outstanding on reverse mortgages has soared by 28 per cent in a year, to around $3.6 billion outstanding from around $2.8 billion a year earlier. according to data from Canada's banking regulator, OSFI. Better Dwelling describes it as "possibly the fastest growing segment of debt in the country." Under a reverse mortgage, borrowers don't have to pay back the money until the house is sold.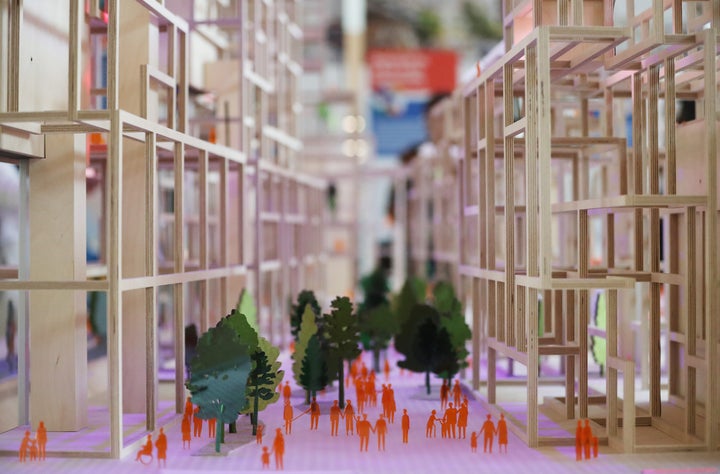 Google's Sidewalk Labs gets ambitious with Toronto waterfront
Google-owned Sidewalk Labs has released a detailed plan for its redevelopment of the Toronto waterfront, and it's much larger in scale than the original idea. Plans have gone from a 4.8-hectare neighbourhood on the city's eastern waterfront, to a 77-hectare district. The company plans to spend $1.3 billion over the next 20 years to "create a new model of inclusive growth, where cutting-edge technology and forward-thinking urban design combine to achieve an ambitious improvement in every aspect of the way we live." But the plans come among growing concerns over privacy, CBC reports. Sidewalk Labs has proposed putting the data it collects from its smart city project in an "urban data trust." City agency Waterfront Toronto says it needs more details on Sidewalk Labs' plans for data collection before it can approve of the project, the Financial Post reports.