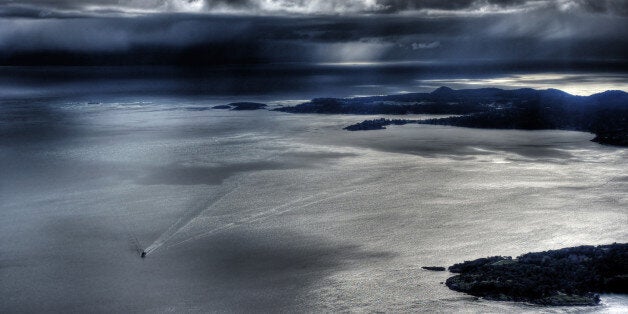 Last month, a permit for a proposed coal terminal on the west coast of Oregon was refused. The Department of State Lands rejected Ambre Energy's proposal, stating that the project was not "in the best interests of the state's water resources." The terminal would have handled eight million tonnes of coal each year from the Powder River Basin in Wyoming and Montana, enroute to Asian markets. But Oregon said "No."
Three days later, a similar facility in Surrey, B.C. -- designed to eventually ship the same amount of Powder River coal -- got the go ahead from Canadian regulators.
The story of new coal terminals being rejected or dropped by their proponents on America's West Coast is one of incredible movement-building and solidarity. Regulatory processes up and down the western seaboard of the U.S. have been overwhelmed with regular folks demanding an end to new coal exporting facilities -- and they have been listened to!
From a total of six new coal terminals proposed in Oregon and Washington, only two remain under review. The others have fallen by the wayside.
The people speaking up about these plans know our climate cannot handle the impact of all that new coal being burned in Asia. They know that our communities need to shift away from fossil fuels and build a cleaner, healthier economy.
The coal lobbyists spend their money on messaging that goes something like, "You should take the (few) terminal jobs on offer here in the U.S., because the Canadians will ship it if we don't." Up until recently, that line of reasoning had no legs to stand on. When the permit was issued for the Surrey terminal, the coal lobby engaged in a "See, I told you so" campaign in Oregon.
So long as all of that good work in the U.S. can be undone by backward Canadian decision-making, we'll never make true progress. That's exactly why it is so critical for Americans, Canadians, First Nations and Tribes to come together to stop fossil fuel exports from the west coast of North America -- particularly through the waters of Puget Sound, the Strait of Georgia and the Strait of Juan de Fuca, collectively known as the Salish Sea.
From proposed coal terminals and tar sands pipelines to liquefied natural gas (LNG) exports, the beautiful Salish Sea is poised to become a major export corridor for the dirtiest fuels on the planet. We can't keep considering these projects in isolation from one another. It's time to look at the big picture.
That's why we at the Wilderness Committee and Georgia Strait Alliance, in collaboration with U.S. partners, are launching the Pledge to Save the Salish Sea as a way to build solidarity between all the peoples living around this unique body of water. We are asking everyone who cares about this incredible place to join together to demand that new oil, coal and export facilities along the shores of the Salish Sea be rejected.
The federal approval of the Surrey coal terminal was disappointing, but it's certainly not the end of the story. As someone who campaigns to stop new U.S. coal export terminals in British Columbia, I can honestly tell my American counterparts that in the past couple years, the campaign against coal -- the world's dirtiest fossil fuel -- has grown massively here.
We are so close to achieving the groundswell of citizen pressure required to drag our elected leaders away from their party line on coal, we can almost touch it. The new coal terminal in Surrey may still require an air permit, and it isn't built yet. We will continue to fight it by whatever means we can. But I can speak for myself and say: I know we need help from Americans!
With more than a dozen new fossil fuel projects proposed along its shores, the Salish Sea could one day funnel over 300 million tonnes of climate changing greenhouse gases annually into the atmosphere. That's five times more than the official amount released by the whole province of British Columbia. When we combine that fact with the obvious risk of oil and coal spills in a pristine, vulnerable ocean environment, it's clear that it has to stop.
This weekend, people around the world will stand up to demand bold action on climate change, in solidarity with the People's Climate March in New York.
We will be at the Peace Arch border crossing to send a strong, united message to government and industry: we won't allow the Salish Sea to become a climate change superhighway. We'll be connecting with people from both sides of the 49th parallel, who pledge to take action in their communities and pressure their governments to lead the way toward a green economy.
How will we know when the pledge has been a success? When fossil fuel shippers no longer look north-west with confidence about their chances of building new infrastructure, we'll be well on our way. When the elected leaders of our western states and provinces begin to deny permits for those facilities on the basis of the common good, we will be almost there. And when we know each other as a community that bravely stood up together in solidarity when the odds were against us, and discovered our collective power as change-makers, we will have won.