.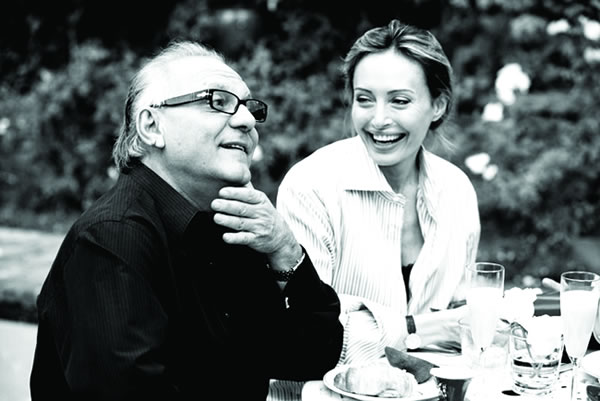 Max & Lubov Azria
During New York Fashion Week, we sat down with BCBGMAXAZRIAGROUP's creative director Lubov Azria. Born and raised in Kiev, Ukraine, Lubov relocated to the U.S. in her early teens and studied at the Fashion Institute of Design and Merchandising, later joining BCBGMAXAZRIA in 1991. Along with her husband, Max, Lubov overseas over 22 different brands under the BCBGMAXAZRIAGROUP including Max Azria, Hervé Léger by Max Azria, Max Azria Atelier and BCBGeneration.
A business woman and a mother, Lubov manages to juggle it all with style and grace. We caught up with her the day before BCBGMAXAZRIA's Spring 2013 runway show, the office was abuzz with excitement as the final hours counted down.
Tell us more about your role at BCBGMAXAZRIA. What are some of the things you do on a daily basis?
My typical day, I wake up in the morning and I work out. I want to keep up my energy. Usually I arrive at work around 9:00 or 9:30 a.m., then we have meetings in the morning about ads and different agendas, then we have accessory meetings and marketing meetings during the day. I meet with design around 4 p.m. A lot of designers get very creative in the afternoon. In the morning, we get the statistics and logistics out of the way. The morning is like my business side, afternoon is all about creating.
Tomorrow is going to be a crazy day with the show and Fashion's Night Out. What's your day going to look like?
I arrive at the venue at 8 a.m., then we go over lighting, music, model walking and backstage. Then there's backstage interviews and the show. After the show, we continue to the showroom, then we watch the actual show. I never get to see it cause I'm backstage. We watch it about three times. It's a ritual. And then I continue with my fittings for Hervé Léger. At 6 p.m., I leave for Fashion's Night Out events. We are going to 40th & 5th (BCBGMAXAZRIA), from 6 p.m., at 7p.m. we're at Lord & Taylor, at 8p.m. we're at Saks and 9 p.m. in SoHo. We're doing personal appearances and photographs.
Do you get any late night eats after that?
In the car.
Do you know what you're wearing?
I definitely want to wear a Fashion's Night Out t-shirt to support Fashion's Night Out.
What looks can we look forward to on the runway tomorrow?
Every runway show is a continuation of the last. In fall we showed colour-blocking, so there's a little bit of continuation of that, but it's really more seductive, there's a little bit of this femme fatale.
Social media has played a huge role in fashion the past couple years, BCBGMAXAZRIA is on Pinterest, Twitter, Facebook and Instagram. How do you feel social media has influenced your brand, how has it benefited you?
It's instrumental in how we speak to everyone about a brand. It's very important for us because as a creative brand we can showcase what we're inspired by, what we love about this, what pieces we think are fantastic, what are we seeing. We do a lot on Facebook, showing our fans the restaurants we love, hotels we think are amazing, art projects we think are fantastic. It's the way we communicate and I think what we gain from it, is to see what everyone reacts to. Educating each other, part of the social media is really to connect with people to educate, connect and grow.
How did the idea of Lubov's Look of the Day come about?
I wanted our team to take pictures of everybody -- chic girls who work here. Nobody wanted to do it! So I said, I'll just do it. Maybe I'll set an example, then it ended up being 360 looks.
Your closet is obviously amazing, what are some of the prized possessions in your closet?
Probably pieces from our first runway shows. Pieces you wore once that you could never part with. My closet is like my inspiration space. Things that I love and enjoy and I always get inspired. So there's not a particular piece. I can't pick.
Your daughters, do they come in and borrow things and if so, what do they borrow?
One daughter, she's not my size, so she borrows scarves and sweaters. My second girl, she's total tomboy-ish, she's 16. There's no way. She doesn't even look, maybe leather jackets. The third one is 15, so she's not there yet. But her shoe size, she's the one who's going to own all my shoes. The first two are 6 1/2 and I'm a 9 and I have the best shoe collection.
Five things you can't live without?
My executive assistants [she had two in the room], my iPhone, Starbucks card -- I drink a macchiato, an upside down macchiato and Aquafor which is my lip balm. I have big lips, you do too. It's the best thing -- you can put it everywhere.
BCBGMAXAZRIA's Spring 2013 runway show was very much inspired by the femme fatale muse Lubov mentioned, flowing silk crepe dresses, intricate leather harnesses, delicate lace and baroque printed fabrics made their way down the runway in a palette of black and white with hints of muted pinks. Outfits were accessorized with sleek portfolio clutches and ankle-cuffed heels. We know where we'll be shopping this Spring. See pictures from the show here.