Bill George has been up for two days picking Icewine grapes and is exhausted.
"Yeah, I'm pretty tired," the Chair of the Grape Growers of Ontario admits from his Niagara grape farm during a phone interview. "But you really go to town when the temperature is right."
And boy, is it ever right.
Southern Ontario is nearing the end of a week-long cold stretch that has been feeling all the more frigid, as it snapped the province out of a prolonged January thaw with at least one day with record-breaking warmth.
"In Niagara, there were 17 days in a row where there was thawing temperatures," says David Phillips, the senior climatologist for Environment Canada, noting one day reached nearly 18℃ degrees in St. Catharines. "It was downright balmy."
But all that came to a screeching halt last Sunday, when Arctic air blasted out the warmth, plummeting temperatures to about -10℃ and blowing such ferocious winds Niagara's Annual Icewine Festival was forced to shut down its Icewine Village -- when just the day before visitors were enjoying a very civilized +7℃.
"It's almost a black and white situation," says Phillips, noting that while this cold snap is not the coldest on record, it is 10 or 11 degrees colder than normal. "They [grape growers] must be gleeful. There's a nice, beautiful window here ...that's almost tailor-made for icewine production."
Indeed it is. This frozen week has given crews enough time to get in their entire crop before the weather warms up again on Monday.
"Most guys said they needed 2-3 nights to bring in their grapes -- the really big guys needed three to four," said George, who runs a 140 acre family farm growing grapes for wine companies like Constellation Brands.
George says ideal temperatures to pick Icewine are around -11℃ or -12℃, which usually means the harvest happens sometime between Christmas and New Year's Day. While some crews have managed to get out into the vineyards here and there, for the most part grape growers have been in a holding pattern, waiting for Mother Nature to give them the green light to pick.
In order for producers to legally call their product "Icewine" (yes, capitalized and all one word -- it's trademarked in Canada) a series of very strict criteria must be upheld, including picking grapes naturally frozen on the vine (no freezers allowed) and picking those grapes at a minimum of -8℃. Often that means picking in the dead of night, as the sun's warming rays can thaw frozen grapes -- even in sub-zero temperatures.
Another bonus for Icewine production, says Phillips, is that by the time the week is through, we will have had seven days without any thawing temperatures.
"There will be no grapes that will go unfrozen," assures Phillips. "They could not have ordered better weather."
Back in Niagara with all the vines picked clean, George says the three-week delay didn't hurt the grapes or the vines and he's happy with the quality of the fruit.
"Everything to me is in good shape," he says. "Now we're pressing and I can relax a little."
Can't wait for this year's Icewines to be ready? Here are a few of our favourites from past vintages that are available now.
Peller Estates Vidal Icewine VQA Niagara Peninsula 2010 $30.10
Delicious and flavourful with aromas of canned lychee, dried fennel seed and crunchy white fruit, with flavours of buckwheat honey, peach and tangerine peel.
Reif Estate Vidal Icewine VQA Niagara River 2011 $25.05
Beautfully balanced with a great backbone of acidity and flavours of passionfruit, lychee, sea salt and golden raisins. Fantastic pairing with salty cheeses.
Strewn Vidal Icewine VQA Niagara Peninsula 2008 $24.95
Complex and elegant with fresh pineapple, apple pie and butterscotch aromas. Great acidic lift on the palate with flavours of honey comb, paraffin, golden delicious apple and mineral notes. Terrific balance.
Lakeview Cellars Vidal Icewine VQA Niagara Peninsula 2011 $19.95
Very focused with ripe Bosc pear, sweet citrus and marmalade bitterness on the finish. Terrific length.
Inniskillin Riesling Icewine VQA Niagara Peninsula 2008 $69.95
Very pretty and inviting with lemon balm, floral and wet stone aromas that follow through to the palate with ripe stone fruit and mandarine orange flavours.
Chateau des Charmes Riesling Icewine VQA St. David's Bench 2009 $59.95
Elegant and complex with fantastic depth. Dried orange and clove/cinnamon spice with faint petrol. Very sophisticated with great balance between fruit and earthy flavours.
Caroline Cellars Sauvignon Blanc Icewine VQA Niagara on the Lake 2009 $48
Fantastic acidic lift offers a zippy wine with lots of personality. Gooseberry, candied kumquat, roast nuts and baking spice and a refreshing salty/briney note. Delicious.
Caroline Cellars Cabernet Franc Icewine VQA Niagara on the Lake 2008 $40
Very pretty pale ruby-garnet with crushed black pepper, cured meat, raspberry jam and fresh lychee on the nose. Spicy/earthy flavours of black pepper, sweet tobacco, plum and blackberry jam. Fantastic pairing with Blue Haze cheese.
Henry of Pelham Cabernet Icewine VQA Niagara Peninsula 2011 $39.95
Salmon-rose colour with fresh raspberry, watermelon and lime aromas and flavours. Terrific balance for a delicious, fruity and fresh quaffer.
Chateau des Charmes Cabernet Franc Icewine VQA Niagara on the Lake 2008 $75
This comes off almost closer to Amarone than Icewine. It's a beautiful deep ruby garnet with complex aromas and flavours of rich, ripe plum, raspberry and cassis, black licorice, vanilla bean, raisin and brandied cherry. Beyond just a dessert wine, consider pairing this with braised meats or even duck breast with fruit sauces.
Inniskillin Sparkling Vidal Icewine VQA Niagara Peninsula 2011 $69.95
Sparkling Icewine is simply delicious offering refreshing flavours of lemon curd, passionfruit and lychee. Firm bubbles and vibrant acidity give this elegant wine lots of food friendly options from fois gras to duck confit.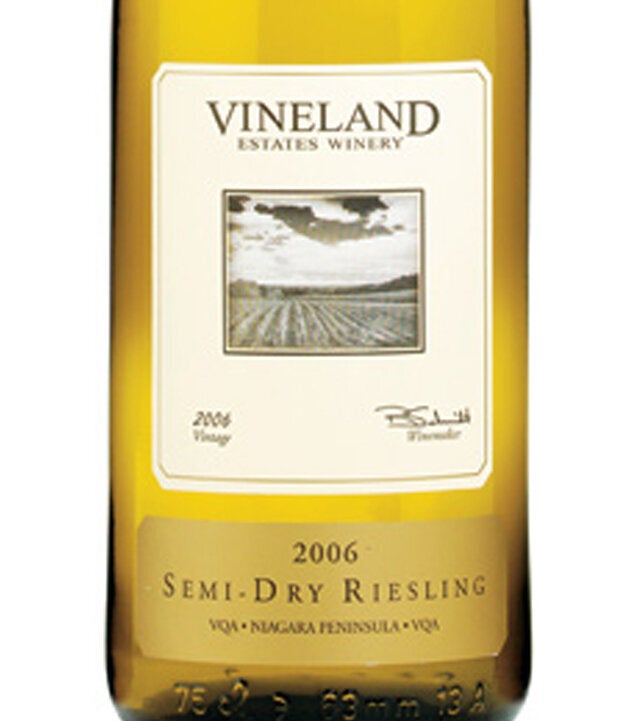 10 Wines That Go With Everything