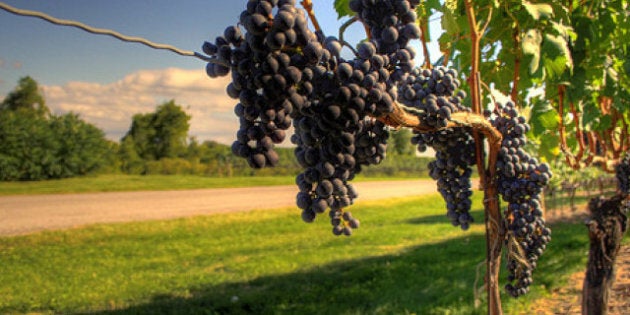 Despite enjoying a mostly mild winter, there have been a few days when frost has blanketed our windows, frigid temperatures have forced us to bundle up like that kid in A Christmas Story and howling winds have caused serious debate on whether going outside to get the mail can be put off for another day -- or month.
To us that means one thing: it's Icewine season.
About 60 wineries across Ontario -- in Prince Edward County, Niagara, Lake Erie North Shore and Pelee Island -- produce Icewine. Wineries began picking grapes in late December and continue to pick into this month.
To celebrate the annual harvest, Niagara on the Lake is kicking up its frozen heels with a party that will have the 28 wineries in that region throwing open their doors to teach the public all there is to know about the wine that landed Canada on the map for serious wine production. Everything from tutored tastings to ice sculpture carvings and even an outdoor hockey game are on the docket for the festival.
It's no wonder there's such hoopla surrounding the harvest. Making Icewine is not for the faint of heart: everything from bad weather, to pests and animals, to disease and rot can ruin a winery's crop (and income). Not to mention it's an expensive and laborious undertaking.
Once it's cold enough (like -12 C cold enough), winemakers are out, often in the dead of night, to pick the frozen crop largely by hand. By this time, the grapes are so withered that one entire vine will only produce enough juice for just about one glass of Icewine. For regular table wine, a vine can produce about a bottle. Needless to say, to make Icewine, it helps to be a bit of a risk-taker to endeavour in such a business.
Thankfully, many do -- and their efforts have made us a world leader in Icewine production. In China it's become so wildly popular, one bottle can run hundreds of dollars and a black market has sprung up, offering imitation bottles at a fraction of the price. Here at home, a 375 ml. bottle can start at as little as $40 -- still pricey to be sure, but a pittance compared to overseas prices -- and no black market necessary.
Festivals, black markets, freezing your tookus off in the dead of night... it's all for the love of Icewine. Good Icewines are rich and luscious in flavour with pineapple, peach lychee, apricot, ginger and spice with racy acidity to keep them from being too cloying. They're delicious on their own, but lovely when paired with blue cheese, foie gras, roasted nuts and custard-style desserts.
If you're still wondering what the big deal is, here's a few cold, hard facts:
The production of Icewine began in Germany centuries ago (where it's known as Eiswein), but Ontario has arguably become a world leader in its production
Ontario's climate of hot summers and brisk winters is perfect for growing Icewine grapes -- not even Germany can make Icewine every year
It's highly regulated in this country; grape growers and winemakers must be registered with VQA (Vintners Quality Alliance)
"Icewine" -- capitalized and spelled as one word -- is trademarked in Canada
Icewine is predominately made from Riesling, Vidal or Cabernet Franc -- though other grapes are gaining popularity
Grapes must be naturally frozen and cannot be picked until the temperature hits at least -8 C, though temperature between -10 and -12 C are preferable
Typically this means grapes are left on the vines until at least December and usually allowed to thaw and refreeze several times to allow for more concentration of flavour and complexity in the wine
Fermented Icewine must have a minimum of 35 Brix (sugar level in the grapes)
By comparison, table wines are typically around 18 to 25 Brix depending on the varietal
Grapes are crushed while still frozen; the water within the grapes remains in ice crystals while a few tiny drops of sweet juice is squeezed from each raisined grape
Grapes for Icewine will only produce about 15 per cent of what grapes for table wine can
Despite stringent regulations, Ontario winemakers are pushing boundaries to create exciting and award winning Icewines. This is not an exhaustive list by any means (there are 60 wineries making the stuff), but if you're taking in the festival in Niagara on the Lake, keep an eye out for these bottles.
Inniskillin Riesling Icewine 2008. The granddaddy of Icewine, Inniskillin is the widely considered the pioneer in the creation Canadian Icewine and certainly the winery to land it international attention. Dried apricot, ripe peach and honey notes. Try with crème brûlée.
Southbrook Vidal Icewine 2009. Canada's first biodynamic Icewine took the bronze at the 2011 Canada Wine Awards.
Peller Estates Ice Cuvée Rosé. A blend of Chardonnay, Pinot Noir and Cabernet Franc, this is sparkling wine that's topped up with Vidal and Cab Franc Icewine. What results is an off-dry, pink bubbly, filled with flavours of strawberry and apricot.
Pillitteri Shiraz Icewine 2008. Not often seen, this is one of the few shiraz Icewines being made in Niagara. Available in 200 ml.
Magnotta Vidal "Sparkling Ice" Icewine Limited Edition 2008. Vidal Icewine that has been carbonated. This wine has won many awards over the years.