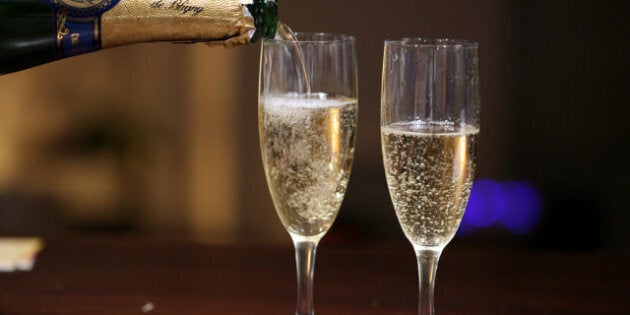 "Let's stop thinking of sparkling wine as 'special occasion wine,' and start thinking of it as everyday wine!" says Angelo Pavan, winemaker for Cave Spring in Niagara.
And so begins our lunch time tasting of 18 Ontario sparkling wines, somewhat ironically, at the start of holiday season.
But Angelo has a point; the reputation of bubbly is a double edged sword. On one hand it enjoys a reputation as the celebration wine, the defining beverage in elegance and luxury. On the other, it's rarely invited to the Canada-Day long weekend party, or the must have option for the Big Game (unless a trophy has been won -- in which case it's used for showering). It's the stuff milestone events and holidays are made of, but never called upon to come and enjoy life's simpler moments. Angelo understands the former, but takes exception to the later.
"What's better than sparkling and chips on a Saturday afternoon?" quips Angelo (for the record we whole-heartedly agree: popcorn and blanc de blanc is a strikingly beautiful pairing as the salty, buttery, carbohydrate goodness contrasts perfectly with the vibrant, fresh flavours and texture of the bubbles).
That's what this lunch was all about: to show how sparkling wine can be an everyday quaffer, great for both solo sipping and easily paired with a wide selection of dishes. Not that we needed much convincing, as bubbly is on high-rotation in our cellars.
In Ontario, we have just the right climate for making the stuff, too. Our cool weather is exactly what's required to get the naturally high acidity needed for sparkling wine. It also just so happens that two of the grapes we grow best -- chardonnay and pinot noir -- are the main grapes of traditional champagne.
"We in Niagara can do sparkling better than anyone else in the world, next to Champagne," Angelo instructs the group of sommeliers, wine writers and critics assembled for the luxurious sparkling tasting and lunch at the Trump Tower, downtown Toronto.
That's thanks to our terroir -- that indescribable word that encapsulates the places, soils, micro-climates and people who contribute to a wine's sense of place. Ontario, being roughly four times the size of terroir-driven France, has loads of it. So much so, it's tough to offer one general description for sparkling wines coming out of this province. Which is a good thing. A very good thing.
In addition to our various micro-climates and soils, our bubbly can be made from any varietal that tickles a wine makers' fancy.
At our tasting, there were the classic chardonnay and pinot blends, but also bubbles from Riesling, Gamay and Icewine. Some were rosé, others white. The overwhelming majority were elegant, classical wines of finesse. Some were such close facsimiles to champagne, you'd be forgiven for guessing it was. But unlike champagne, which can fetch stratospheric prices of several hundred dollars a bottle, the most expensive bottle at our tasting was $45 -- the average about $30.
Angelo insists he is not trying to make sparkling wines that taste of champagne. "It's not that we don't want to taste like champagne, it's that it's not fair to compare us to champagne. Champagne is its own area. All of our sparkling wines are unique to Ontario."
Here are a few of our highlights from the tasting:
Cave Spring Cellars Blanc de Blanc Brut, VQA Niagara Escarpment NV $29.95
Made from 100 per cent Chardonnay, this sparkler could be a dead ringer for champagne. Elegant and dry, this has a nose of field flowers and chamomile, lemon and an earthy minerality. Mid-weight and balanced with tangy acidity and soft but present bubbles, flavours of brioche, lemon and mineral dominate. Try this with poached lobster, sushi or grilled prawns.
Mike Weir Sparkling Brut, VQA Niagara Peninsula 2009 $24.95
Made in the traditional Champenoise method, this is a blend of pinot and chardonnay and aged on its lees for at least three years. The result is a very fine sparkler with herbacious, orange citrus and flinty aromas. Full bodied and soft on the palate with brioche, orange, lemon meringue and a long finish. Pair with oysters, mushroom risotto or duck confit.
Château des Charmes "Méthode Traditionnelle" Rosé, VQA Niagara on the Lake 2009 $28.95
Always a top pick for us, this pretty pink sparkler is a blend of pinot noir and chardonnay that's aged two to three years. Aromas of white crunchy fruit, lychee, ripe pear and peach are followed through on the palate along with red berries and floral notes. Soft and delicate mousse with balanced acidity this pairs nicely with soft, runny cheeses, roast chicken or BBQ'd salmon.
Trius Brut, VQA Niagara Peninsula, NV $24.95
A blend of 70 per cent chardonnay and 30 per cent pinot noir, this is a classic Niagara bubbly with yeast, lemon and green apple aromas and pleasant flavours of green apple, candied peach, lemon drop and bread-brioche notes. Enjoy with grilled white fish, vegetable tempura or roast pork.
Huff Estates "Cuvée Peter F. Huff" Brut, VQA Prince Edward County 2008 $39.95
A sophisticated sparkler that's fresh and vibrant with a brioche, lemon and green apple aromas followed through to the palate. Mid-weight and round with an exceptionally long finish this would pair well with strongly flavoured cheese plates, mushroom quiche, raw oysters or crab cakes.
Inniskillin Sparkling Vidal Icewine, VQA Niagara Peninsula 2011 $79.95
A truly hedonistic wine built for sensory overload. Succulent aromas of peach, crunchy white fruit and floral notes waft from the glass. Fantastically balanced acidity keeps this rich wine fresh and vibrant. Flavours of lychee, peach, honey and floral notes were dynamite paired with a white chocolate ganache flavoured yogurt, but consider ore savoury pairings as well: spicy sushi, cheese fondue or fois gras.