We love to read stories and we all have dozens, hundreds even thousands of our own stories.
Laugh 'til it hurts stories, devastatingly difficult to stomach stories, and stories that we know could change people's lives. Yet, many of us rarely want to tell them. We're ashamed, we may not want the spotlight on us and frankly we don't want to get vulnerable. But we must. Best selling author of Daring Greatly, Brené Brown says, "Vulnerability is the birthplace of innovation, creativity and change."
So if in order to birth innovation, creativity and change we must get vulnerable, what in the world are we waiting for?! Perhaps we are afraid what people will think. Perhaps we are embarrassed or can't handle the hit to our ego. How about we begin to set all of that negative chatter aside and take action. In fact, I've found with my clients it is the only way to get past it.
If we are going to impact the world for the better, we must tell our stories. In fact it's the most important story we can tell. Your story has the power to change misconstrued perceptions, ritualistic rules and most of all the world for the better.
When taking on the End Sex Trafficking campaign this year, I found I had no other choice but to get vulnerable.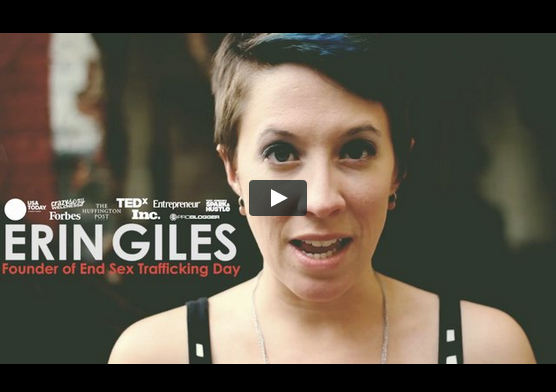 Last year when spearheading the EST campaign for the first year, I started it because I couldn't give myself, in fact my family was on food stamps. It wasn't until this year when writing the script for the campaign video that I knew I had to tell it.
And in fact because I've told it, I've found hundreds of supporters, clients and up and coming social entrepreneurs have been inspired to start something regardless of what part of their story they tell, regardless of how much they money they make per year and regardless of how big the idea seems.
When we live through something that wasn't in our "plan" we can either be bitter or better. And in order to be better we must share it. When we share our stories that make us vulnerable we evoke a contagious wave of, "I can do anything regardless of (insert what happened to you)." With this, a mental shift happens, we see our stories in a whole new light. Once we see what has happened to us through the eyes of the ones who listen to our stories we realize that this is just in fact a part of our journey and if our journey can help, inspire, enlighten or motivate someone else, why would we keep it to ourselves?
When telling your story realize that:
1. Although it's involves you, it's not all about you. Tell your story from a place of love and generosity, think how can this bring peace, enouragement and hope to someone else?
2. You don't have to share it while you're in it. I don't recommend you telling your story while you're in it especially if it's incredibly personal. You need time to heal, time to move from bitter to better.
3. Be sincere. Share what you learned, how it felt and even what others can learn from it. Avoid exaggerating to create a more captivating story.
As I venture through this years End Sex Trafficking campaign I will take with me the stories, lessons and mistakes I encounter (as there are already many) and bring them back to share with you. Until then, tell your story and know that even that has the capability to make our world a better place.