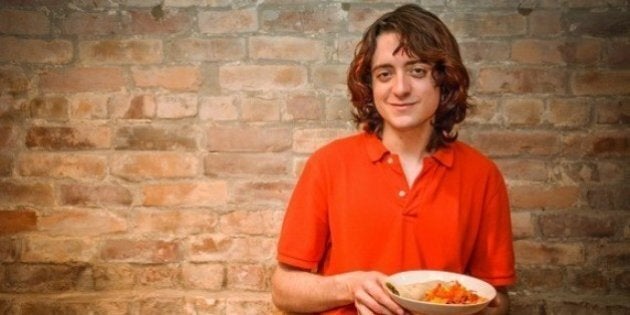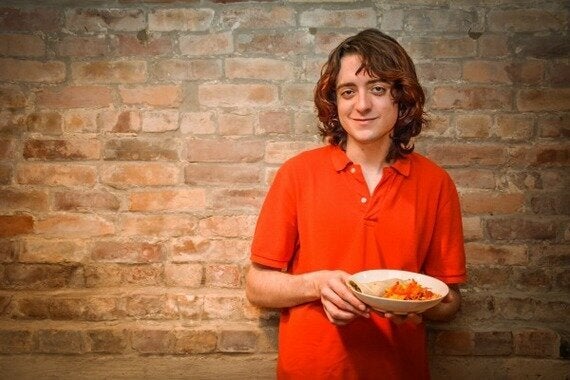 Luke Hayes-Alexander has been dubbed the "boy-wonder" of the culinary world, and, while this title might be cheesy, it's hard to describe Luke any other way. At age 11, Luke devoted himself to cooking so intensely that by age 15 he was executive chef of his own restaurant, Luke's Gastronomy in Kingston, ON.
After eight successful years Luke packed up his knives and relocated to Toronto where he is currently residing. Some of his recent ventures include an appearance on Chopped Canada, a trip to Australia, curating the June CHEF'S BOX monthly food subscription for FoodiePages.ca, and the launch of his "secret dinner club", L.U.S.T.
No longer a boy but still in the infancy of his career, the 23-year-old Luke is now developing his own unique approach to the world of gourmet food. FoodiePages sat down with Luke to talk career plans, fresh fast food, farm-to-table, and more.
-------------------------
First off, congratulations for everything so far. The culinary world can be intimidating so it's admirable to meet someone who got involved at such a young age.
Well, thank you. It can be, but I think I lucked out because I was just able to focus on it completely from such a young age. I was really able to immerse myself in cooking to the point where I'm not really intimidated by other chefs. I've always felt this great camaraderie between other chefs and cooks, so even when I was 16 and running the restaurant, for example, it was like "hey, you're just another chef like me."
A lot of the press about you is in regard to your Kingston restaurant. What are you up to in Toronto these days?
The Kingston restaurant was a really big thing for me and running it for eight years and getting all that press and attention was fantastic. Now in Toronto I'm doing a bunch of things. That's why I moved because there were so many opportunities in Toronto doing private dinners, pop ups, my "secret" supper club, and many opportunities moving forward. My latest project is "Global Fast Food the Groovy Way," because that's what I'm most passionate about and I'm slowly going to be rolling that out in a bunch of different venues around the city.
In terms of fresh fast food, is it nerve-racking -- from a chef's perspective -- to think about offering your food for say, 8-12 dollars a plate?
Definitely, I think a lot of foods go the opposite route, and that's what I was doing a few years ago with the restaurant. But I think you have more freedom and more creativity when you're cooking with fewer ingredients and it's all about streamlining it down to a central theme. And if you're making it accessible, exciting and affordable for everybody, rather than appealing to only those who can afford fine dining, to me that's the best type of business model there is.
You're known as being a self-taught kind of a guy. Any particular books that influenced you?
Ya, I mean, everybody has their own route that they take to education and my way worked for me. Some of the books that have helped me over the years are the classics -- you know, you have to learn your foundations -- so something like Jacques Pepin's Complete Techniques, stuff like how to chop, how to turn a mushroom, make your stocks, make bread, whatever. The most exciting thing for me right now is Christine Manfield's Spice. She's a chef from Australia and it's mind blowing to see what she can do with spices and herbs and seasonings from cultures all around the world. You put it on the plate and it's like "Holy shit! I've never had anything like this."
Your parents obviously played a big role and were a big enabler with everything you've done so far. Do you see yourself being drawn to food without their influence?
That's a tricky one. I was always in the restaurant when I was younger, after school hanging out there. When I was 11 it just felt like this natural thing. I wanted to become a chef and I pursued it like crazy from 11 to 15 and became executive chef at age 15. If it wasn't for the restaurant and especially for my mom's involvement in letting me do these things, pushing me to challenge myself and experiment, I don't think it would have happened. Maybe, but it's hard to tell.
Most challenging thing about being a young chef?
Hmm. It's probably the same challenge that you face as a young business man, or artist, or whatever. It's just about building a following and getting out there. You've got so many people trying to do their own thing, get their product in the marketplace -- and it's a busy marketplace, the food world.
Most rewarding thing about being a young chef?
I think the most rewarding part about being a chef period is being able to to bring a recipe from start to finish, and then you eat it and it's insanely good. You're like "Holy! I've made this, it's taken me a week to figure out, and it's one of the best things I've ever eaten." It just makes everything worth it.
You're noted as being a bit of an introvert, but you're not living a lifestyle that exactly... enables that. For example, you were on Chopped Canada -- how do you deal with that kind of exposure?
I don't think I'm really an introvert any more. I know I was when I was younger -- it was kind of a thing -- but I think everybody goes through that at some point. Obviously for me, I was getting a lot of press so it was like "ya, he's an introvert" but now I think I'm just as extroverted as most people I know. I mean, I'm always happy to be in the kitchen cooking but I love getting out there and meeting people and doing things, going to concerts etc. I think I'm just a normal 23-year-old who loves to cook.
You gave a TED Talk a while back where you mentioned your "heroes" being the farmers and producers who work hard every day to grow and produce good food. Do you consider yourself a proponent of the farm to table movement?
Yeah, the farm to table thing is hugely important for me. Any local ingredient is going to have more flavour, better texture, more nutrients -- all of that -- and I just feel that when you're living in a city like Toronto where so many markets carry these things, your local selection is a great place to get started when you're figuring out what you want to cook.
How do you think an online marketplace like FoodiePages.ca can help the support the local food movement?
I think that a site like FoodiePages.ca does an amazing job because it breaks down the boundaries. It lets people, no matter where they are in the country, order whatever they want and support farmers and producers and chefs and cooks all around this land. It's one of the best ideas out there are far as bringing local food to the masses.
Summertime in Ontario -- what ingredients are you excited about?
I'm excited for all of them because chances are they haven't been available for the last six months, so getting them for the first time is just going to be mind blowing. Whether it's asparagus, which has been available for a few weeks now, or strawberries and blueberries, peppers and tomatoes which are starting to come out now -- and I'm eating them every single day -- what else could you want as a chef? The local stuff is just the best stuff.
Are you a fan of barbecue?
I'm a big fan of barbecue, especially traditional southern barbecue. Whether your dealing with pork shoulders or beef briskets or even just a simple steak or delicious burger, it's a great way to cook and it gives you a certain flavour that you can't get anywhere else.
Is brisket something that we can expect to see at the Global Fast Food exhibits?
Definitely, one of the biggest things. It's been a family recipe for about 22 years now, and then it was gone for 10 years, and we finally got back. So, yeah its going to be featured at these events because it's so delicious.
Anything else you'd like to say?
One cool thing that I've done a bit lately is teaching young people how to cook. Recently I went with this journalist from the Toronto Star to an elementary school with some. Maybe the kids were 12, 13, and I thought it was the coolest thing to be teaching something so simple as how to make a salad or how to make noodles, and exposing a younger generation to that. To encourage people to cook, even if its something so simple, is always a good thing, and its something that I'm really passionate about.
I think that cooking goes hand in hand with health, as well.
Definitely. Even like, a homemade ketchup. Its just a little bit of sugar, and other than that its local tomatoes, preserved lemons and onions, and it's delicious. You can make it if you want and you know what you've put into it and you can feel good about using it.
Keep up with FoodiePages:
Website: www.foodiepages.ca
Facebook: www.facebook.com/foodiepages.ca
Twitter: www.twitter.com/foodiepages
Instagram: www.instagram.com/foodiepages