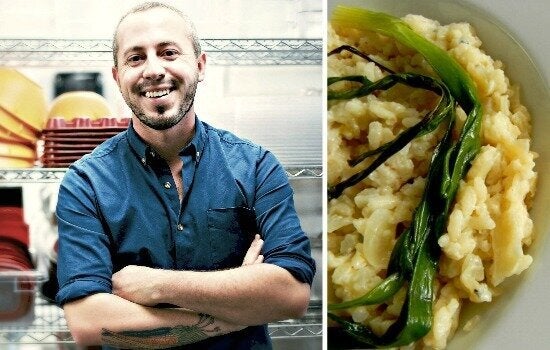 Dan Clapson is one of Calgary's top foodies -- eating his way across the city and rubbing elbows with some of the most exciting up-and-coming chefs. Dan curates the April edition of the CHEF'S BOX -- a monthly food subscription box delivered by FoodiePages.ca. We got the inside scoop on his favourite eats (in recent memory) and must-visit spots for Canadian foodies.
Signature dish: One of my chef friends says that all I cook at home is risotto. So, let's go with that. Honey and Blue Cheese Risotto with roasted scallions.
Day job: Food writer/columnist
Daily uniform: Levis, Medium Rare Chef Apparel T-shirt and a hoodie.
In the kitchen, I swear by: Trying to make everything once. Making mistakes is part of the learning process in my kitchen!
The taste I couldn't live without: Lemon zest. It's like eating sunshine and a touch of it can elevate almost any dish.
Hidden talents: I studied piano for 12 years and if you ask me a question about anything to do with Buffy The Vampire Slayer, I would likely know the answer. Wait, is that a talent?
If my kitchen could talk, it would say: "Why the hell are you so messy when you cook, Dan?! Jesus Christ!"
Coolest street in Calgary: 9th Avenue SE, the main drag of the Inglewood area. This neighbourhood has been getting more and more revitalized in recent years and with a couple brand new restaurant concepts moving in later this year, including The Nash by Michael Noble, I think I'll be spending even more time on that street!
Last place I travelled: Palm Springs. What a low key little place. Not much in terms of fantastic food there, but definitely relaxing.
I get nervous when: I'm meeting a notable chef for the first time. They're intimidating creatures! [Laughs.]
My top five meals of all time: All time? Hm, tough... Here are some more recent memorable experiences...
1. Raw Bar by Duncan Ly, Calgary -- This restaurant serves up modern Vietnamese and amazing cocktails. I'm obsessed with the fresh flavours of Vietnamese cuisine, so seeing them utilized so beautifully on the menu here is a wonderful, wonderful thing.
2. Ayden Kitchen and Bar, Saskatoon -- Canadian food folks have been paying a lot more attention to my hometown this year and that's largely because of celebrity chef, Dale Mackay, moving back home to open this spot. With refined plates and craft cocktails, the experience here stands up to anywhere I've dined at across the country lately.
3. Maison Publique, Montreal -- Great food in a casual atmosphere, Chef Derek Dammann puts up some interesting dishes here including a pork tartar that I dived right into. Definitely worth checking out.
4. State Bird Provisions, San Francisco -- I think my friend and I ordered most of the menu, as well as whatever 'dim sum' style appetizers they had floating around. Love this little spot.
5. One-Pot Clambake, someone's backyard -- My favourite meal of the year is always this take on a clambake. Bust out the newspaper, crack some beers and dive into this mountain of seafood, sausage and more. Fourth annual this year, my friends and I are already excited.
The best farmers' market: The Calgary Farmers Market, of course! If you haven't had some smoked brisket from Big D's Smokehouse, then you haven't lived!
The best burger: Richmond Station in Toronto. Calgary is arguably the burger mecca of Canada, but Carl Heinrich's offering is ridiculously delicious.
The best cheap eats: In general, I find Winnipeg restaurants to be fairly inexpensive. Segovia, a tapas place in the city, has a crazy cheap 4-course sherry/pintxos tasting menu for like $15 or something. Sometimes a cocktail alone in Calgary costs that much!
My motto: "It never hurts to ask. The worst someone can say to you is no."
The April CHEF'S BOX curated by Dan Clapson is available on FoodiePages.ca until April 30th and includes his Canadian artisan food finds and recipes for a Spring meal, delivered to your door.