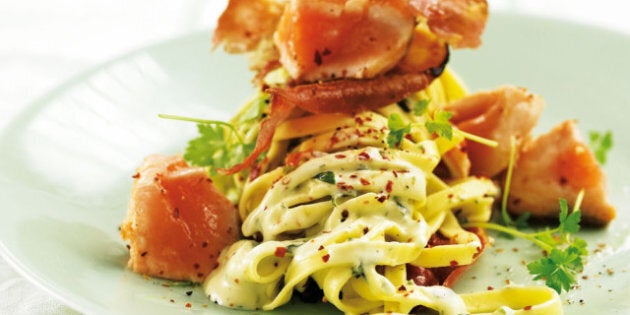 In 2006, Omnnivore launched its first food festival in Deauville, France. This year, the French gastronomic group went international, and selected Montreal as one of its 12 destinations. The focus is on the young, innovative talents taking on the food scene. The event took place at the Société des Arts Technologiques (SAT) -- four days where chefs from Paris and Quebec, plus one invitee from Toronto, demonstrated their techniques for local (and sometimes not so local) foodies.
We couldn't resist attending the party on Saturday evening, where for a modest price the public was invited to see a group of these chefs prepare amazing small bites, and sample their wares. While the event was billed as an opportunity for the public to talk with chefs, it was a bit of a challenge. At least 500 people converged into the hall where chefs were preparing and offering their samples!
It was a bit of a food frenzy, and I'd hazard that a few of the chefs were frustrated from time to time, although all exhibited the best of humour as hands reached in eagerly for a succulent bite, sometimes before the chef had time to finish the preparation of his signature delicacy. And so it was challenging to ask questions, let alone even compliment the outstanding efforts of the evening. And as signage was lacking, it was often difficult to know who was preparing which dishes. That being said, every single thing was absolutely scrumptious.
Our first stop was for a taste of braised veal tongue, topped with a scallop ceviche, prepared by Marc-Andre Royal from Le Saint-Urbain. The succulent tastes set the stage for the evening. Samuel Mathys from Bar et Boeuf prepared an amazing beef tartare and smoked cod. And we made sure to save room for the carrot cake with pineapple confit from Pastaga and Mlles Gateaux.
My favourite was John Horne's (from Toronto's Canoe, and the only Canadian chef outside of Quebec invited to participate) incredible albino salmon (direct from B.C.), planked with a caramelized brown sugar rub, and served on a crisped tortilla-like base, topped with a horseradish cream and some lively cilantro sprouts. Beautiful!
So, despite the mayhem, it was a delight to participate, enjoy a lovely glass of Rhone wine, and experience so many talented chefs all in a single evening. With a little logistical help, this event will be hard to beat in the future!
Erin Maynes is the CEO and co-founder of FoodiePages.ca, an online marketplace where Canadians can discover and buy artisan food directly from foodmakers across Canada.