KCTV
Mustard is a craftier condiment than it gets credit for. A truly versatile ingredient, it's used in the cuisines of countries across the globe and therefore is one of the most popular spices and condiments around. I tend to think that a person's choice in mustard can reveal a lot about them... are you inclined to reach for French's or the Grey Poupon? I like to search for something with a bit of a flavour twist, made in small batches with quality ingredients.
Janet Campbell is one of Canada's top artisan mustard makers, having honed her condiment craft for over 20 years in the Ottawa area. The Mrs. McGarrigle's brand is well known to Ottawa area condiment lovers and offers all natural, handmade, artisanal mustards in 14 different flavours.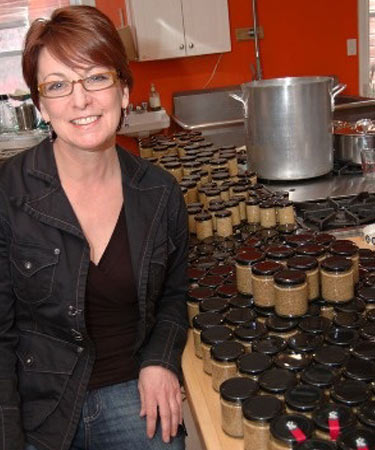 How did your love of mustard begin?
I have always loved to cook and making preserves was a passion of mine. I was making my son's baby food and that led me to experiment with other products like mustard. There wasn't much, if any, choice of tasty flavoured mustards 24 years ago.
Walk us through the production process. What distinguishes your process from other mustards?
The key is starting from an all Canadian-grown, whole mustard seed. The seeds get cracked and soaked in a liquid such as wine. Also, using quality ingredients, like real Champagne, wine, etc. The final step is blending by hand.
You have 14 flavours of mustard today. What are some of your favourites and why?
Chipotle Lime Mustard is still one of my favourites because it has a nice smoky heat and is great for grilled foods. Cranberry Port is another favourite because of the subtle nuttiness that roasting the mustard seed before crushing imparts and the fresh citrus and cranberries.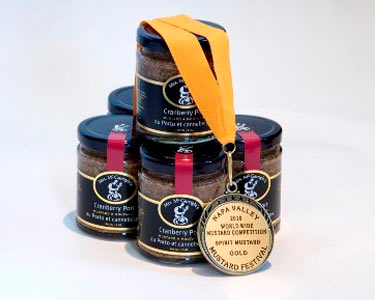 What three things contributed to the fast growth of the Mrs. McGarrigle's brand?
Actually it was a slow and determined process (otherwise known as stubbornness!) I've been making mustard since 1988! We added one or two flavours every year and really listened to peoples' feedback, played with new flavour combinations and focussed on making the tastiest mustard we could. Winning our first medal at the Worldwide Mustard Competition at the Napa Valley Mustard Festival was a proud moment, we were honoured, especially since we were competing with over 300 invited mustard makers from 12 different countries. It gave us a lot of great publicity and brand recognition and really propelled things forward.
What is your proudest moment since the launch of Mrs. McGarrigle's?
Our grand opening in 1999 of our current retail location in Merrickville, Ontario. We bought this old c1888 general store which we renovated ourselves, with the help of many friends, in seven weeks. My two children were young at the time, and I remember them helping to cut the ribbon with the mayor.
Share an interesting fact or personal memory about the business that people might not know.
We are re-launching our Cajun Spice which was actually a product which I started the business with 24 years ago.
What challenges do independent food producers face?
Sourcing affordable quality ingredients.
Establishing the brand at the beginning and getting shelf space with retailers.
The fact that we pay more to make the mustard lovingly by hand which can make it difficult to compete, from a cost perspective, with those who mass-produce it.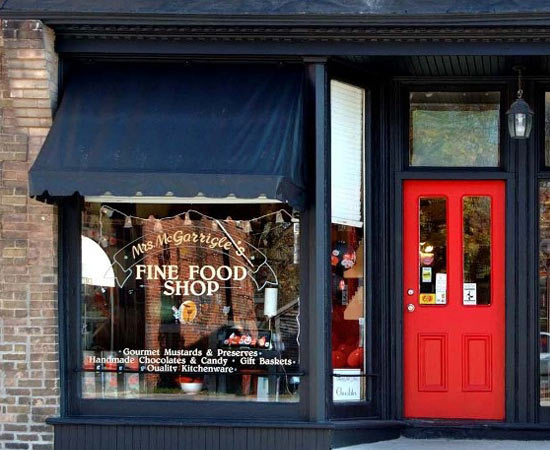 Rapid Fire Questions:
What food items can always be found in your shopping basket?
Umbrian extra-virgin olive oil, Mrs. McGarrigle's mustard, Bellei aged Balsamic vinegar, Ludwig's dark chocolate, fair trade locally-roasted coffee, white tea.
Best piece of advice you've been given?
Follow your passion.
Three words to describe the Mrs. McGarrigle's brand?
Quality, innovation and passion
Three words to describe you?
Passionate, sincere and enthusiastic
Favourite local foodmakers?
Campbellford's Empire cheddar, Sharbot Lake's Seed to Sausage charcuterie, Ottawa's Michael Dolce jams, Kilmarnock Island's Angel Manor honey, Perth Pepper & Pestle red pepper jelly, Roothams Gourmet Preserves made in Guelph, Ottawa's Degas Chocolates, Ludwig's Chocolates from Crowe Lake, Nigel Smith's Bushgarden Farms raw milk cheese... I could go on.