The holiday season is fast approaching, and so too are all of the season's parties and after work functions. As they start to jam up our calendars our closets flash through our minds, and so begins the, "what to wear"? Transitioning into the evening does not have to be stressful. Here are some helpful tips to consider before the holiday party season begins.
Decipher the Code: Identifying the dress code for your upcoming holiday party can take the guess work out of deciding what to wear. So how do you determine the dress code? I always look to the venue of the party. I ask myself where is it being held and is the party after work or over the weekend?
An easy day to night transition is key for an after work function. After all, who has time to go home and change? Think about wearing your favourite dress underneath a classic blazer to work. Bring an oversized statement necklace, stiletto bootie, and interesting clutch to work and "voila" instant outfit change. And if you are wearing a black pant? Well then, why not switch it up with an oversized sparkle sweater worn slightly off one shoulder for a sexy vibe.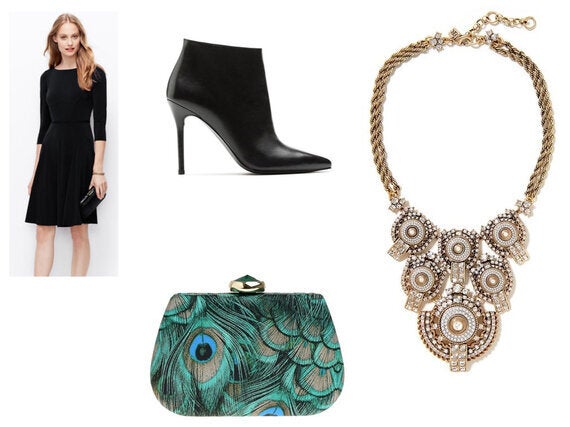 Necklace: Banana Republic
Consider a long sleeved tunic blouse paired with your sleek leggings, knee length riding boots, and fur vest. Or, if it's a cozy look you're after then opt for a chunky sweater, skinny jeans, leather jacket, and your casual booties! Don't forget a long u-shaped pendant necklace for added interest and fun. Lastly, a little tip since most hostesses will request you remove your footwear, bring your desired shoes with you and change into them at the party that way nothing stands between you and your perfect outfit.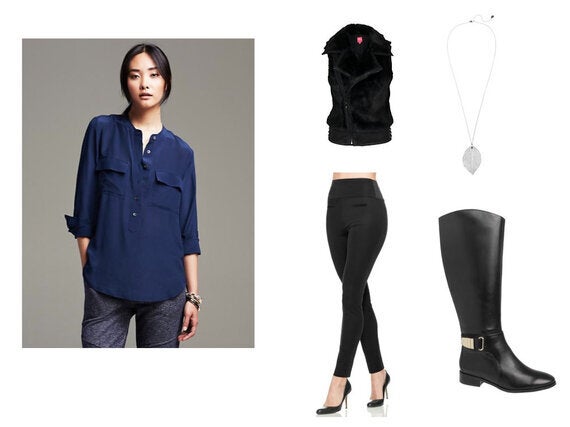 Vest: John and Jenn available at The Bay
Re-purpose items you already own: No one wants to run out and purchase a top or dress that they are only able to wear once. More and more women are thinking about how they can use what they already own and just give it a splash of holiday or evening. If you are going to purchase something new for your evening style, think about whether you can wear it casually or to the office. Sequined tops are not only great for under a basic black suit for an office function, I also love it with denim jeans and an oversized cozy cardigan for casual.
Add a little bling: the easiest way to take your look from day to night is to add a little sparkle. From colourful, to chunky, or long and layered, jewellery can instantly change any outfit. Your simple white blouse can be jazzed up by adding an over the top statement necklace and your classic yet comfortable black sweater can sing holiday with a sparkled infinity scarf.