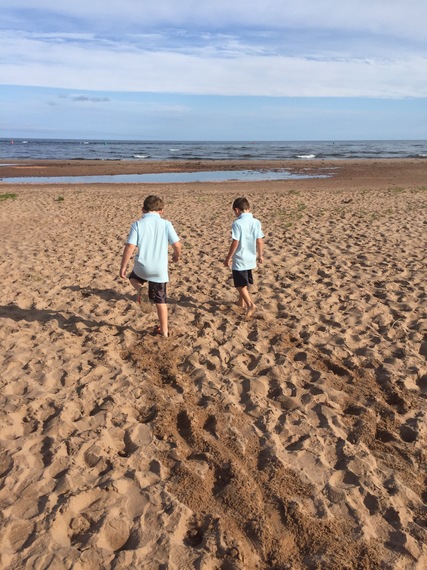 I wanted to take my kids on a trip. Somewhere, anywhere in the world. I've always loved to travel, and one of the things about having kids is that travel plans tend to be put on hold until the kids are older or away at overnight camp. But I was feeling the wanderlust. Craving an adventure. And I wanted to experience the excitement of going somewhere new with my boys.
Of all the places we discussed, nothing brought such whoops of joy as when we landed on an ad in a travel magazine for Prince Edward Island. As Canada's tiniest province (population: approx. 146,000), I'd never thought about going, and Charlottetown, its capital, certainly wasn't on my radar. Yet when I started doing some Googling, I realized this might be the family travel adventure I was seeking.
As we began researching our activities, my boys, ages 6 and 7, were thrilled with the chance to trap lobsters, go clam digging in the red sand, swim in the ocean, pitch in on a farm, and, of course, eat at Cows ice cream. I booked us a room at the beautiful Holman Grand Hotel, rented a car and scheduled our nautical and farm adventures, cross referencing the tourismpei.com and experiencepei.ca websites with reviews on Trip Advisor. Within a day, it was all organized: we would spend day one shopping and eating our way through historic Victoria Row and Peake's Wharf and taking a Harbour Hippo tour through the city streets and the harbour. On day two, we would go lobster trapping with Captain Mark Jenkins and his brother Cody on Top Notch Charters. That afternoon, we would clam dig with Happy Clammers' John and Jackie Gillis. I even hired a photographer, Louise Vessey, to take our family photos at Stanhope beach one morning. In the afternoon, we would drive out to Hope River Farm, near Cavendish, to help Nancy Sanderson feed her chicken, sheep and pigs.
By the time we landed in Charlottetown, our suitcase full of everything from rubber boots and rain gear to bathing suits, it was clear we picked the right place. We loved the fresh sea air and the friendly people who were quick to smile despite how my boys ran up and down the sidewalks and through the hotel lobby. When we started to take in the sights by foot, the downtown area was picturesque and manageable enough to find our way to two different Cows locations several times over. We also had the best meal ever at a restaurant on Queen St. called Terre Rouge. My boys ate steak and PEI potatoes and I had the freshest scallops and a seafood platter featuring lobster, ceviche and an array of other chilled seafood. Dessert was divine. We splurged on chocolate mousse, creme brulé and ice cream. We waddled back to the hotel, which was so centrally located that we were never more than a few blocks away.
Besides the food, each activity was a highlight in itself. On the lobster charter, my kids held lobster and crab and got to help haul the trap. We learned about the lobster industry and about the fisherman's way of life. It felt like a once-in-a-lifetime experience, and ones they will be talking about when they head back to school. But the "how I held a lobster" story will be followed quickly by the "how I dug for clams and fell in the mud" story. That afternoon, we never laughed so hard. Shovelling the mucky red sand looking for clams quickly turned into a whole other adventure. My boys got their boots stuck in the mud, and when they tried to pull one another out, they both ended up rolling around in it. We had to be saved and hosed down by our guide John. His wife Jackie boiled clams for all us diggers and John shucked the most delicious Pinette oysters. This culinary experience was lost on all the kids, but the adults devoured it. After clam digging, we headed to an oceanside restaurant called the Point Prim Chowder House. We were treated to delicious food and the most breathtaking view in which red rocks met the ocean. The boys climbed on the rocks and walked along the shore collecting shells as we waited for our food. On our way back, we stopped off at a fruit stand and bought several jars of homemade jam to bring home as souvenirs. And of course, they ate more ice cream! The beach photo shoot was a blast, and we had an amazing time driving through the country on our way to the farm. We stopped at a goat farm and ate goat cheese and goat milk ice cream and continued on. The boys and I put on our rain boots once again and got to hold chickens, pet sheep in the pasture, and feed crab apples to the pigs with farmer Nancy. It was another amazing highlight.
There is so much more to see and do in PEI. We missed out on all the Anne of Green Gables fanfare and two Tranquility Cove Adventure tours (starfish hunting and deep sea fishing) were cancelled because of inclement weather. We also didn't end up making it to a fair, the squeaky sand beach and the famous Charlottetown Farmer's Market, but my kids are begging to go back again next year. We had such an outstanding time; we might have to do just that.