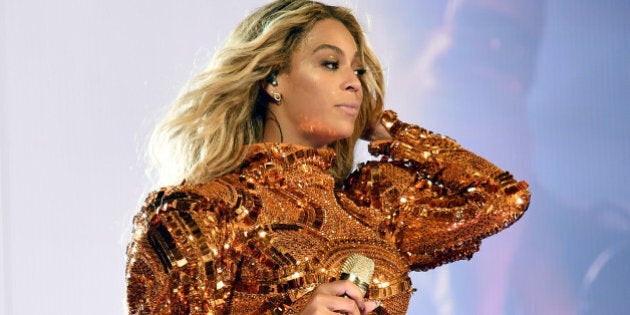 I'll admit, I'm confused. I mean, I love Beyonce. I've loved her from the start of her career in Destiny's Child and I love her now, but with the release of her new album, Lemonade, featuring a series of tracks about her husband's infidelity, I can't help but ask what her lyrics say about strength and female empowerment.
Is a strong woman someone who stays with her husband, forgives him, even after he cheats? Why would she continue loving someone who has mistreated her to the extent that she can write an album about it? With tracks like "Sorry" and "Hold Up," "Don't Hurt Yourself," "Love Drought," "Pray You Catch Me" and "6 Inch," I'd think that of all people, Beyonce would be empowered enough to leave her hubby Jay Z.
She's got everything: beauty, talent, money. She's in the best possible position to get divorced. Why would she allow someone to hurt her the way she has? Why would she just sing about her husband's betrayal when she could kick him to the curb? What message is she sending the rest of us if she decides to stay with someone who has deceived her?
I suppose some could argue the exact opposite. Maybe there is strength in staying in a marriage even if one partner has been unfaithful. Maybe being able to forgive, persevere for the children, is the way to go. Divorce is life-altering, and if you can avoid breaking a family apart, if you can move forward together, face your challenges and overcome them as a unit, isn't there something to be said for that? I know lots of people who have been able to put affairs behind them and continue on. I know lots of people who haven't. And who am I to say who's stronger or which option is better?
Yet still, something about the fact that Beyonce has been deceived is unsettling. If someone can betray Beyonce, what chance do the rest of us mortals have to expect a faithful partner?
I mentioned my beef about this moral dilemma to my BFF. She had a completely different take on things; one I hadn't considered. "Maybe a strong woman is someone who can write an album about her deepest, most personal pain and share it with the world," she said.
Released in April, Lemonade debuted at number one on the US Billboard 200, selling 485,000 copies in its first week. It has already reached critical acclaim, and been praised as Beyoncé's boldest and best album to date.
It is definitely bold in its level of intimacy. She talks about being cheated on, lied to. She can smell deception. She basically tells her husband to F-off. Her words are angry and vengeful. They are filled with power and emotion. Her songs expose her dirtiest secrets. They shine a spotlight on her most painful experiences.
At the end of the song "Freedom," Jay Z's grandmother, Hattie White, is heard saying: "I had my ups and downs, but I always found the inner strength to pull myself up. I was served lemons, but I made lemonade." Indeed, the concept behind Lemonade is described as "every woman's journey of self-knowledge and healing."
Maybe this says it all. Maybe this was Beyonce's way of acknowledging the cracks in her marriage, of showing us she's just like the rest of us. Maybe this album is meant to heal not just her, but provide an anthem for everyone who was ever wronged by a cheating partner. When I think of it like that, I realize she's stronger than thought initially. She will always be the Queen Bey in my eyes.
Follow HuffPost Canada Blogs on Facebook