This year I wanted to do something different for my son's eighth birthday. I'd always thrown big birthday parties for them in the past, but this year, I didn't want to have a birthday party at all. It's always a big production. I end up entertaining 40 kids, working so hard to organize the venue, food, invitations, loot bags. It all costs a fortune, takes more creativity than it should and becomes overwhelming and stressful. Never again, I promised.
I decided instead to take my two boys and three of their closest friends indoor skydiving. I had to book five spots at iFly, buy a few snacks for the car ride, and off we went. I didn't even have dinner reservations until we got there and realized there was a Boston Pizza nearby. It was easy and stress-free, and the kids had a blast.
I was happy my son's day ended better than it began. That morning, my two boys and I woke up and something seemed amiss. I could see in his eyes he was a little sad that it was just us, the three musketeers. The house was decorated, but quiet. There were only two other voices to sing him happy birthday. I made a cake but it wasn't very good and I had to throw it out. I put on music--Josh Donaldson's walk-up song--to make the party more lively. I even danced. Their dad came by to say happy birthday and play video games and then I took the kids to their swimming lesson, as per usual.
"Mama, now that I'm eight I don't get as excited about birthdays," my birthday boy told me after swimming. Even if he couldn't quite put his finger on it, I knew he was processing what I was feeling, too: divorce is hard, no matter what age you are.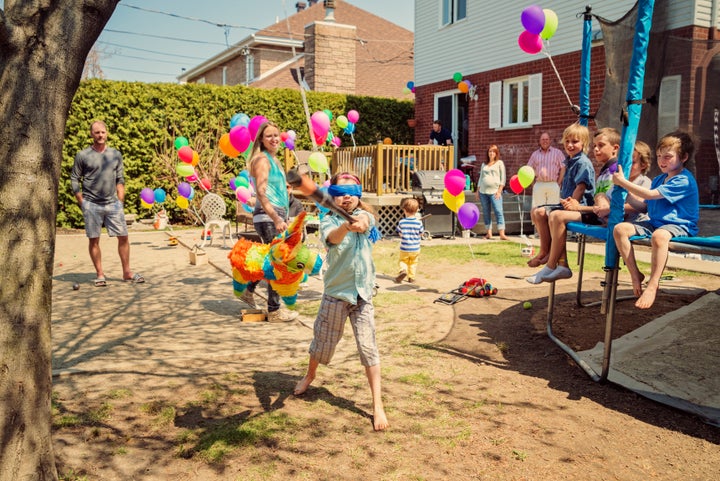 It was a sentiment too mature, too wise, for an eight-year-old to formulate into words. Birthdays are still supposed to be fun and exciting. You're supposed to not be able to sleep the night before. You're not supposed to lament the days when celebrating your birthday was fun. Should I have thrown him a big, party, I wondered? Would that have made everything seem more fun and exciting? Would that somehow have made him feel more loved?
I knew a big party wasn't the answer, and I couldn't let his comment get us down. My kid was going to have the best non-birthday party there ever was. I picked up their friends and drove them to iFly. Their dad met us there and I could tell by their wide smiles that our boys were happy to see us together, even if we're not together.
They were nervous at first, but each of the kids overcome their fear and took that leap into the wind. We watched them laugh and play and enjoy each other. Because the group was so small, my son didn't get an abundance of gifts, but I was so proud he didn't even care. He appreciated the chance to have a cool experience with his best friends. He loved their handwritten cards -- notes that were more thoughtful and meaningful than any cards I've ever read. It just seemed to confirm that kids don't need big elaborate parties to have a special day. They need their closest family and a couple friends who love them.
By the time the day came to an end, and I'd dropped everyone off, including my own kids with their dad, my son told me he had the best birthday ever. And apparently I was the best mom. I think he gives me too much credit, but after the adventure we'd had, I was too exhausted to argue.