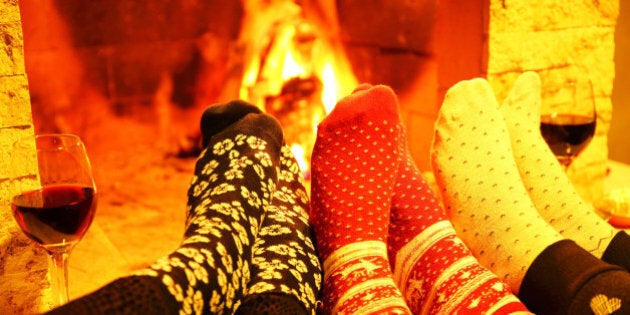 The kids and I are heading to our happy place. We go to Arizona every year for winter break to spend time with my parents at their desert home. It's the highlight of our year; the time when the fondest memories are made, when the best photos are taken.
As soon as we get there, we mark their height on the same wall year after year to chart their growth. We play baseball, hike, swim and hop in and out of the hot tub. The kids love being reunited with their grandparents, their old toys that are suddenly new again. They try on clothes that were too big last year and are now suddenly too small.
This place, this home, is especially special. It's where my oldest son first crawled. It's where my youngest first hiked a mountain. It's where they learned to swim and catch fly balls. We cry every time we have to leave. Then the countdown to next year's trip begins, first with months, then weeks, days, and now hours.
I remember the days when my husband and I would go with a big double stroller, bottles of formula that had to be screened by airport security, and two babies we desperately tried to entertain on the five-hour flight. After I separated, I still made the journey with my boys. Despite my sadness, I wasn't going to let it stop me from taking my kids to our happy place.
I remember getting up to use the airplane bathroom and hearing them banging on the door and screaming for me. "Mama! Mama!" They were afraid when I was out of their sight. It was so much harder being a single parent travelling with two little kids.
But then it got easier. They can pull their bags through the airport now and don't get stressed when their bags are screened. They walk through security one at a time, without holding my hand. They run all the way to the gate without complaining about the distance. They can entertain each other on the flight. I am able to go to the washroom and know they will stay in their seats. They trust me to get them there and back safely year after year.
I always reflect on the previous year as we head off to Arizona. It's funny how time passes and life changes in expected and unexpected ways. I expect them to grow too tall for their pants, lose their teeth, learn to read. All of these things have happened in the last year. I never thought I'd see the day when they'd let me pee on a plane without hearing them whimpering at the door.
They are growing up emotionally, too. One day, they will refuse to be measured against the wall. They will want to travel on their own, without needing me to guide them. Or maybe they won't want to go to Arizona at all, preferring to spend the holidays elsewhere with their friends.
When that day comes, when I make the trip without them, I will miss the baby bottles and double stroller. I will cry at the markings on the wall, when I hold up their tiny clothes, see their empty beds. I will think of that famous song from Fiddler on the Roof, "Sunrise Sunset," which I can relate to more and more as the years go by, as the markings on the wall get higher and higher.
I don't want to get nostalgic now. I'll save it for the way home when we all cry on the drive to the Phoenix airport. Now I want to be as excited as my kids. I long to see the mountains, to see what the kids will accomplish this year that they couldn't last year. Soon enough, it will be 2017 and we will be scrolling through the photos on the flight home and counting down until next year's trip.
Follow HuffPost Canada Blogs on Facebook