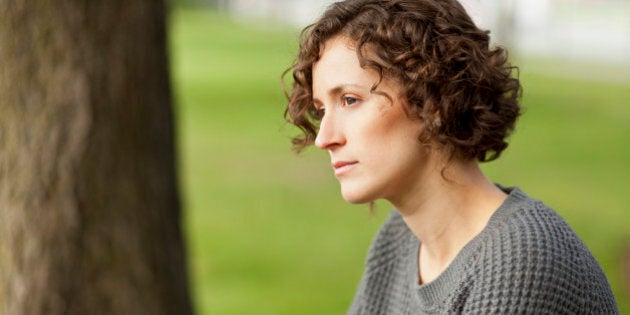 I guess I'm having a moment. I hope you'll allow me it just this once because right now I'm really feeling sorry for myself. I've put my kids to bed and they are snoring softly in the room next door. I'm all alone, left to my own devices. Namely, I flip open my laptop and binge watch Netflix most nights.
And now I'm wondering how of all things to happen to all people I ended up divorced. Facebook is contributing to my malaise, I'm sure. I keep seeing people post family photos. All I see are smiling kids and a married mom and dad. Other couples are posting their 10th anniversary trip albums and I can't help but be a bit envious. I never got to have a 10th anniversary. Write that card. I might never, since I'm in the mood to believe that will likely be the case. I'm unlucky in love. I'll just say it like it is. Very unlucky.
When I was younger and naive, I thought I'd end up married with kids, of course, but my visions of family bliss extended further. I wanted the mundane things, like family dinners and photos on a beach. I wanted my kids' dad to coach hockey, or encourage our kids from the sidelines. I thought we'd go to a cottage in the summer, take our own trip to celebrate our 10th anniversary. I'd wanted to go to Japan. Now it feels like I'm counting backwards. I'm in the negative numbers, counting how many years I've been divorced. How many years we could have been married if only...
Right now, I'm even envious of people who amicably divorced. I mean, if I had to get divorced, why couldn't we have been one of those couples who just fell out of love and decided to be friends. We could have had houses three doors apart, so that our kids could see each of us every day. But that was not to be either.
One of the only things that makes me feel better at times like these is going to the gym. I love the feeling of sweating, of pushing my hardest, exhausting myself, giving myself a mental break from what awaits after my one-hour class.
I was at the gym a couple of weeks ago where I ran into this amazing mom, whom I met when our kids became friendly in nursery school. I haven't seen her in years and was excited to reconnect. Marina has a fascinating story of her own, has been a single mom, blended families, and now has three kids. She's a career woman and a life coach, and I guess it was meant to be that I'd run into her at the gym during this time. She and her husband invited me and my boys for lunch the other day and we had a really nice time. They are so gracious and happy and they put us at ease. Usually clingy, my kids had fun, and I even had time to chat with Marina about what's on my mind of late.
Afterward I thanked Marina for lunch -- just a quick email to let her know how much we enjoyed ourselves -- and the life coach and former single mom in her responded. "In short my dear beautiful and smart Erin, you don't have any problems. None of the things missing in your life is a must have. It's a nice to have. What you must have is already here -- kind, resilient and committed mom and two beautiful and healthy boys. Each time you think "but I'm just sad that.." I want you to pause and change it into "but I'm just grateful that.." I want your young and vibrant years to be spent giggling your way with the boys, baking for them and cuddling their worries (which all kids have) away. Everything else will be figured out along the way sometimes all by itself, with no effort required."
It makes me feel better to read and re-read her email. Sometimes all it takes is a kind word or email, someone who understands, who can help you flip your mindset on its head, to make you realize that one way or another everything's going to be alright.
Follow HuffPost Canada Blogs on Facebook