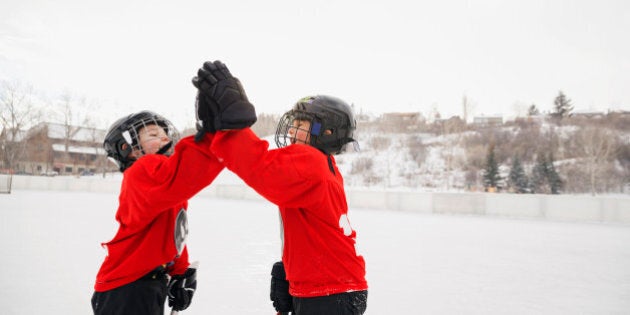 It's not always easy having boys 15 months apart. Now ages six and seven, they have always wanted the same thing at the same time -- same toys, same food, same clothes. They often feel they are somehow competing for the same resources, too, whether it be our time or attention.
Though I never compare or expect them to have the same talents and abilities, I'm starting to see that they are taking note of the differences. Josh, the younger one, is way taller and more studious but not as agile, and Ari gets Josh's hand-me-down skates and winter jackets, but has amazing athletic abilities. I always tell them that I never compare, that I love them both equally and that I'm proud of them no matter what.
But it wasn't until yesterday that I had the chance to reinforce how important it is for them to be proud of one another, too.
The chance came after their first house league hockey game. They play on the same team and as a parent it's so cute to watch them skating next to each other. After the game, the coach named Josh player of the game and awarded him the game puck. He had been nervous to play -- with all the buzzers going off every few minutes it was intimidating and he didn't know what he was supposed to do. The coach gave him a good pep talk before the game, reassuring Josh that he'd be fine. Josh listened to the coach and tried his best. He played amazing defence, and most importantly, he looked like he was having fun.
I don't want anything to come between them, especially not jealousy.
Meanwhile, my brothers had given Ari some shooting tips, and Ari worked really hard to improve his shots on net. During the game, he ended up scoring the tie-breaking goal. I've never been so proud in my life, and not because they scored or won something, but because it's truly amazing to watch your kids work really hard and be recognized for their accomplishment. They were both glowing and I could tell their respective goal and award meant the world to them.
Yet the idea that they should be proud of themselves and equally proud of one another seemed lost on the boys at first. "I'm kind of jealous of Josh," Ari admitted to me as we got them undressed after the game. I was proud of him for communicating such deep feelings to me. He didn't say anything rude to Josh or begrudge him of his puck. He simply told me how he was feeling. I was stunned not only by his maturity but by the fact that he had nothing to feel jealous about. He had worked hard and scored, after all.
It made me think it was time to give them a little chat on the car ride home. "Boys, I want you to say congratulations to each other," I told them. "You both did well and I'm so proud of you, but you are brothers and brothers support one another. You have to be proud of one another, be happy for each other and say congratulations. We don't get jealous or upset, we encourage each other and cheer each other on no matter what."
"Con-gab-tu-lations," they said to each other, giggling at how they mangled the word. It was good enough for me. I knew the message got through when Josh let Ari hold his winning puck and Ari admired it. The puck now sits in a labelled Ziplock on their shared dresser for them both to cherish. I know as the season goes on there will be more opportunities for me to reinforce this message. More chances for me to explain that the bond between brothers is bigger than goals and pucks. I don't want anything to come between them, especially not jealousy.
So far, they seem to be on the right track. The other day they boys were watching tv together on the floor and I noticed they were curled around each other, Ari's head resting on Josh's stomach. As a mother, it was the most heartwarming moment. I wanted to laugh and cry and hug them both. Instead I took some photos lest I disturb their moment. Somehow I must be doing something right. Somehow my motherly wisdom must be sinking in.
Follow HuffPost Canada Blogs on Facebook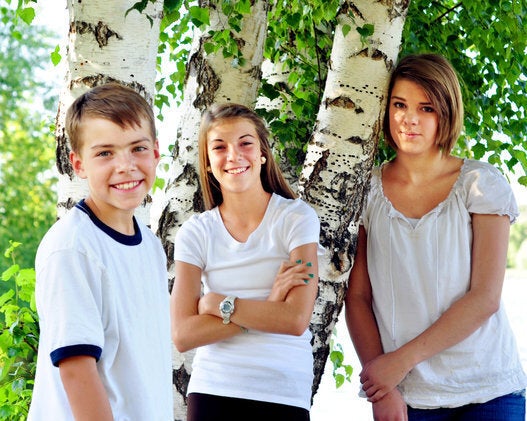 Reasons To Be Glad You Have Siblings