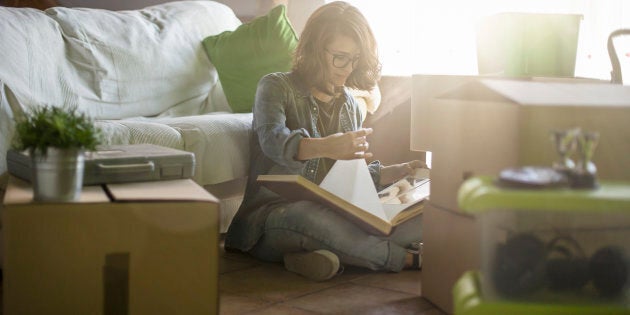 I started to pack up my house.
I'm not going anywhere yet, but I thought it would be a good project for the summer, to start getting rid of books and things in my basement I never use. It will make things that much easier when my fiancé and I merge houses in the new year.
I expected the task to be a pain. So much so that I thought I'd never get around to it.
I began in earnest. First I ordered some boxes. Then I packed up some books from my storage room in the basement and donated them to charity. I felt pretty accomplished.
Yesterday opened my boys' closet and began to put their baby books into a bin for my nephews. That's when I started to cry. All the books I used to read them when they were babies brought me to tears: Sandra Boynton, I Love You Forever, even a touch-and-feel book about trucks brought back memories. I came across old photo albums -- I created one for each year of their lives. Thoughts and feelings I'd tossed to the back of my mind came rushing back to me so vividly. I remember their tiny fingers in mine. I remember their fine baby hair, their little voices as they learned to string together sentences, their energy as they ran across the room in their diapers.
Sheesh. There I go again. Crying and typing. Where has the time gone? It feels like a lifetime ago that all this growing and action happened in my house. Soon I'll be moving. It's so much easier to keep things in a closet. To know it's all there without actually having to face it. Now looking at it brings me such mixed emotions -- happiness, sadness, longing to recapture their baby smell and soft baby skin. I'll never have that again. I'm packing things up and it feels rather final. They aren't babies. They are boys. My buddies. And we're moving on.
But I didn't just find baby books and baby photos. I found other things, too. There was my high school prom photo, which I attended with my ex-husband. I found our engagement photos from when we were naive and 23 -- a time when we thought we'd spend all our days together. There were photos from our worldly travels and letters to one another I thought I'd thrown out during our divorce.
At this age and stage in my life, I'm old enough to know what I want, but not young enough to believe in fairy tales.
How stupid was I, then, to believe life was simple. That things would work out according to plan. I look at myself in my photos and wish I could have told young me how things would unfold in real life. My engaged 23-year-old self would never have believed it. I was confident then about the future. Now I'm living the future and it's so different than what I expected at that time. I want to scream at my young self. I want to tell her to wake up. To watch out.
But it's just a photo. And if that photo wasn't taken, if life hadn't panned out the way it did, I wouldn't have the baby photos and books and blankets to caress with my 37-year-old newly engaged hands.
At this age and stage in my life, I'm old enough to know what I want, but not young enough to believe in fairy tales. At least not anymore. I've been shaken to my core. Slapped around a bit. I see things more clearly. That can be a good thing, but it's scary, too. How do I know if things will work out well the second time around? How do I know that this time I've found someone who can grow old with me?
I'm going to jump. I'm taking that leap of faith. It's not a good time to shrivel up and give in to whatever fear of the future that has suddenly surfaced after looking at old albums.
When I pack up the closet in my bedroom--the one I use everyday--I will find photos of me and my fiancé over the last four years. I have lots of beautiful cards he's written to me for every occasion. I have albums of our kids growing up together. When I look at them, I'm happy. I become confident about whatever lies ahead. I look forward to this next phase of life with a wonderful partner. It's not the partner I thought I'd be with when I was 23, but that girl is gone.
She's been replaced by someone who is strong enough to pack up a house and move on.