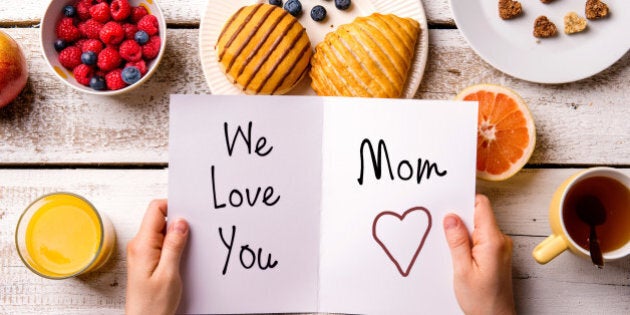 I must have done something right in life because I have very good kids.
Don't get me wrong -- they aren't easy. In fact, they are exhausting. I'm always running them to activities, making them food, cleaning up after them, hosting play dates, helping with homework, reading to them, breaking up fights and negotiating with them. Parenthood tires me out like not even a marathon could.
But they are now getting older and easier and I can see the kind of men they are going to be if things continue on this path.
On Mother's Day, for instance, I heard their hushed whispering at 6:30 a.m. On their own initiative, they got up early and ran straight to the kitchen to make me breakfast.
I heard chopping, but no click-click-click of my gas stove being lit. They were using a dull butter knife, not fire, to cook, so I figured I'd give them some independence. I put my head back down on my pillow, too tired to physically see what they were up to.
A few moments later they rushed into my bedroom. "We made you breakfast! Happy Mother's Day!" they announced.
"Boys! Thank you so much!" I lavished them with hugs and kisses and filmed our excited progression to the kitchen. They couldn't wait to show me what they had made: chopped apples with vanilla yogurt and baby carrots that spelled "I love you."
It was the most touching, unexpected and loving gesture a mother could ask for. (As a bonus, I managed to get out the door for their baseball practice at 8 a.m. having eaten the apple and yogurt, but avoiding the bag of carrots.)
Not only was their gesture thoughtful, but they took initiative and worked together to accomplish something from the heart. There was no fighting. Nobody was bossing anyone around. Nobody cried or ran to me to complain about something the other one had said or done.
They had suddenly become a team. It was no small feat, considering they are so close in age there is always something to fight about. Is it because I shuttle them around to so many team sports that they finally got the hang of things?
Did they finally realize what I've been telling them all along: that they are brothers and brothers have to get along?
Did they just want to make me happy and realize getting along would be the only way to accomplish this all-important task?
Do they see my siblings, friends, parents and our family doing kind things for one another?
Have they seen their dad and I do kind things for each other despite our divorce?
And how did they even think to cut an apple and arrange carrots into a message? Did they know I like to eat healthy? Have they been watching me all this time, seeing what I like and don't like?
And the carrots -- for that I will credit my fiancé, who writes me thoughtful messages with candy in the snow every year on Valentine's Day. He hugs me, brings me flowers and writes me meaningful cards -- they have surely seen that.
Something must have stuck. I must be doing a good job, along with everyone else in their lives who have helped to shape them into what they are becoming. Despite being a single mom, they are seeing a lot of love from a lot of sources and it makes me so grateful and proud.
I hope as they continue to grow, as they continue to be surrounded by people who love them and who aren't afraid to exemplify love themselves, that they will always be this thoughtful. That they will know how to treat their family, friends and spouse. They are learning respect, kindness and affection. These are qualities that don't necessarily come naturally, not even to adults.
Mother's Day is typically a day us moms like peace and quiet -- a much-deserved break from our kids.
But this Mother's Day was something special. I relished every moment with my boys, from the very first carrot to the last. It was an especially happy day. For this, I have everyone to thank.
Follow HuffPost Canada Blogs on Facebook