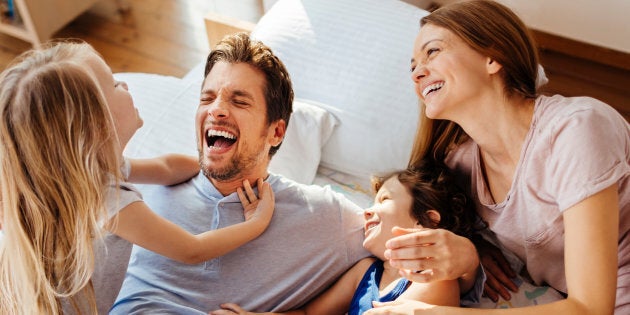 I looked at the calendar recently and had to count the years on my fingers. It added up to five. I counted again from 2012. Had it really been five years since I was first separated? Five years since my husband moved out and I was left to pick up the pieces of my life and care for two little boys on my own? It didn't sound right... and yet it was.
There were times early on in my separation I didn't think I'd last five days on my own. I certainly couldn't imagine what my life would look like five years from that point. I remember being completely bewildered and afraid, a shell of my former self, wondering if I would survive five months from then.
I was in a dark place and couldn't see the light. It sounds cliche, I know, but it's the only apt way to describe how it felt to be me five years ago. There was so much I had to navigate. Never mind my own personal feelings of self-worth and the confidence that left me along with my spouse. I didn't know how to pay my bills online. I was scared to be home alone when my kids slept at their father's. I didn't know how to date, deal with lawyers, or even get out of bed some days.
Though it's been a steep learning curve, I was lucky to have my family supporting me along the way. My parents helped with my kids more often than most grandparents get the opportunity. My siblings dressed me, fed me, put locks on my doors and accompanied me to lawyers meetings. They listened to me, cried with me and — perhaps even more importantly — showed me how to tie my boys' skate laces when I found myself helpless once again.
I was scared to be home alone when my kids slept at their father's. I didn't know how to date, deal with lawyers, or even get out of bed some days.
Looking back, I barely recognize myself from those early days when I needed so much care. In those five years, I've pulled my life together. Where do I even begin?
My boys are older, more mature, funnier than I can handle at times, and so unbelievably smart they inspire me and give me things to think about every day. It was hard to appreciate how far we'd come until recently, when I was able to get my boys on the same competitive hockey team. When they high-five each other or hug on the ice, that's all me. When I see them make a save as goalie or fly around on the ice and score, that's all me, too. I'm the one who signed them up for sports, chauffeurs them to lessons every day of the week, ties their laces, clips on the goalie pads and encourages them to love and support each other. The three of us have a bond like no other and that relationship extends way beyond the ice.
Though my boys are my proudest accomplishment to date, I've also done so much more. I went back to school and got my Master's degree, something I'd always longed to do. I've written a book, and though it was never published, getting to that very last page is an accomplishment in itself. I'm done with lawyers and therapists, I can bake my own bread, I can manage my own finances, and I'm planning a wedding... my own.
I've chosen someone who is kind to me, not someone who puts me down. He is generous and thoughtful and smart and honest. He's been there for me through every up and down. He believes in me. He shows up at my boys' baseball and hockey games, even when they are an hour's drive away or at 8 a.m. on a Sunday morning. He gives me advice when I need it most, and it comes from the most selfless place in his heart. We are building a life together that is happier than I ever thought I'd have or deserve.
I'm not getting divorced twice. I'm putting safeguards in place to make sure of that. For instance, my fiancé and I spend time together, we make each other a priority, we plan fun trips and experiences. We even recently went "glamping" together at an amazing wilderness retreat called Whispering Springs. He didn't want to go at first. In fact, he was too embarrassed to even tell anyone that he was basically spending a night in a luxurious tent, but he trusted my judgment and went with it. We spent an amazing day reading on the deck, relaxing in the hammock next to our tent and staring at the stunning scenery. At night, we sat outside by the fire and roasted marshmallows under a starry night sky. We were completely happy to be sitting side-by-side in our Muskoka chairs, not needing to say a word.
I looked up at the vast sky, breathed in the crisp night air and listened to the crickets chirping in the background. The moment took my breath away. I'd never felt so happy and whole.
Also on HuffPost:​​​​​​​​​​​​​