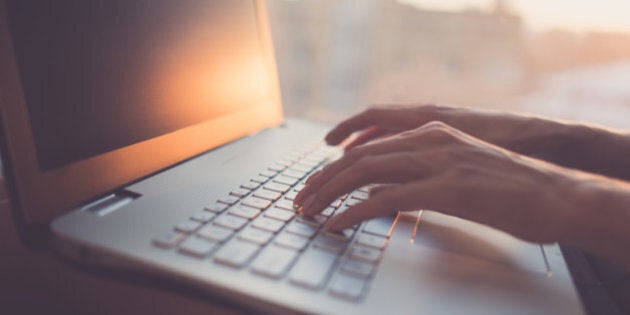 I had such an overwhelming response to my last blog post, in which I described my recent trip to Arizona and how having some "family time" with my kids and ex eventually resulted in tears. I want to thank you for reading, empathizing, and for sharing your feedback with me. It really means a lot to know that when I pour my heart out it actually matters to someone.
As a writer, it's hard to know what to share and where to draw the line. This is especially the case since I tend to write about my kids, whom, for the record, are the most interesting people I know. We have been through all the ups and downs you can experience in the wake of divorce, plus all the ordinary experiences of childhood and parenthood. Perhaps because they spend so much time with me, an open person, they have become particularly good at expressing themselves.
I know them so well -- all their thoughts and feelings -- that I have become adept at knowing exactly what's going through their brains just by looking at the way they walk or carry themselves, even when I'm looking at them from a distance. I never tell them to keep it in, not to share, not to feel. They tell me everything, and I often carry the burden of their worries on my shoulders, along with my own. I spend a lot of my own time, after I've soothed them to bed, fretting about their fears, their failures, and feelings. I want to fix everything, shield them from harm and be their warrior.
Sometimes, though, all I can do is write.
After my last post, my ex and I had a big discussion. He's afraid that years from now, our kids' peers will read my words and laugh at my kids for crying when they were little or for fantasizing about their parents getting back together. He feels I'm exposing their vulnerabilities, showing their weakness, and that one day someone in their class will use this as some sort of bullying tactic.
I understand that not everyone is as expressive as I am. Not everyone blogs about personal things. People make a choice. But what do you do when parents don't agree as to how their children are depicted on social media? What happens when you're divorced and don't agree? What happens when one of these divorced parents is a writer who somehow feels it's her mission to help others by sharing her own stories? I've been thinking about this a lot lately. I'm not sure there's a right answer.
All I can speak to is the reasoning behind my approach. To begin, it is completely normal for kids to cry. In fact, it's a healthy form of stress relief and even helps get rid of toxins in the body. All kids do it, and while, over time, we learn to control it, I hope nobody would judge me or any parent, for that matter, for admitting to what we already all know. Kids cry. Big deal.
Second, it is completely normal for kids to fantasize about their divorced parents remarrying. It's nothing new or ground breaking. I really just said the obvious, but perhaps more poetically than someone who isn't a trained writer.
Third, I don't know much about SEOs, but one day, these blogs from 2017 will be buried beneath lots of other blogs and articles about other topics about which I will choose to write. If someone wants to do the research, dig these up these old posts, and somehow use it to laugh at my kids then I hope they enjoy wasting hours of time online.
I'm trying to teach my kids to be strong, capable people who will stick up for themselves and each other when they need to. I'm not posting naked photos of them online. I'm not posting inappropriate pictures of myself. Those would be fair game for anyone who wanted to laugh. The truth is, I'm not going to be writing about this moment in time forever. At some point, as they get older, I won't write about my experiences with my kids at all. It will be off limits. I'll have moved on to other things.
But for now, I take precautions. I don't post their names or advertise our address online. There are no photos. I don't say anything embarrassing or out of the ordinary. It's my job to protect them and I will do that online and off.
I think what might have struck a chord in my ex and perhaps any other detractors I may have is that I actually said something personal aloud; that I actually shared with readers what it's really like to cope with the aftershocks of divorce. Families don't just spit and go their merry ways once the divorce papers are signed. It just doesn't happen.
I always want to be honest. I always want to be true to myself and my experiences. If I, a writer, am not able to share my stories, how will anyone else going through the same thing know that what they're going through is normal? Somehow divorce and single parenthood happened to me. For good or bad, I have a mission, perhaps even a bit of a talent, to write. If I'm not able to write about things that matter to me you might as well tear out my heart. This is just who I am now and it's what I do. If anyone asks, you can attribute the following quote to me because I'm making it up on my own: I write, therefore I help.
Follow HuffPost Canada Blogs on Facebook