"It's not a meal unless there's at least seven courses."
-Erin Wotherspoon, serial dater.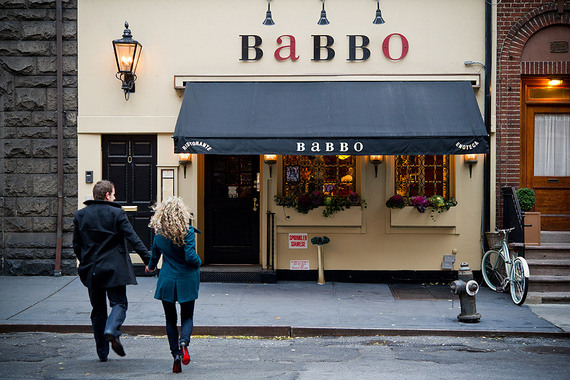 I haven't been in New York too long, though I have managed to meet a handful of men in "consulting". Hmm consulting. I like it, it's vague and I don't understand it at all, similarly how I feel about the decor at Babbo. What is happening here, if anything? We appear to be eating in someones house, most likely the rich aunt (how she acquired her fortune no one really knows and no one ever asks). It is a cozy house, I'll give it that and who ever did the drapes isn't trying to hard so kudos. Impromptu yet insightful genius tip: No one will like you if you look like you're trying, that's just tacky.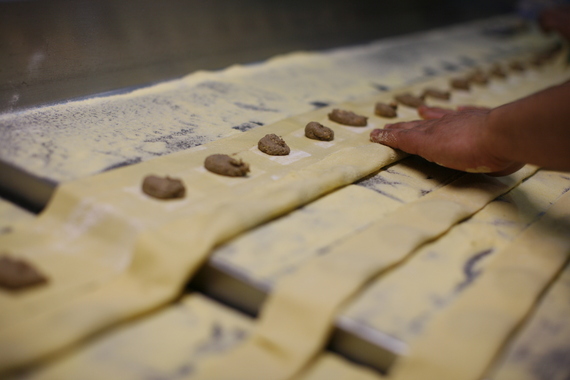 Babbo, celebrity Chef Mario Batali's baby, no doubt has a dish for every palate. The menu is quite lengthy, Babbo is so much more than four options for mains. The wine list (rumoured to be one of the best in the city) is justly extensive and cryptic, the whole I don't speak italian thing really worked to my disadvantage tonight. I let my date choose the wine as I start scoping the antipasti. My date is the kind of man who pronounces things wrong and then refuses to correct himself. The adjective stupid comes to mind. He is unflinchingly confident in all he does, ranging from his golf swing to his polo performance to the way he obnoxiously grabs the waiters attention in poorly pronounced spanish, "queso queso queso!" he yells. Flash forward a couple of years, one can only imagine him hollering at me in broken spanish. Why he insists on debauching this language I don't know. Maybe it's a consulting thing?
He has a credit card for every colour of the rainbow though and not going to lie, my eye has been caught by all the pretty colours. Maybe I can put up with the horrible spanish if I'm being driven around in a porsche? Yea that wouldn't be so bad. It's not love though. That sounds more like sacrifice and a whole lot of pretty things to make up for it. At the end of the day what do I want? Do I want dessert? Am I too full? Do I want a man with lots of money so we can facilitate a life together much more easily than scrounging for pennies and pipe dreams? It's tempting. The olive oil cake can only be described as that. It's my vice, olive oil. I don't smoke so shots of olive oil is completely justified in my life. Well I'm only sure about one thing. And that is, we're going to have to order that olive oil cake.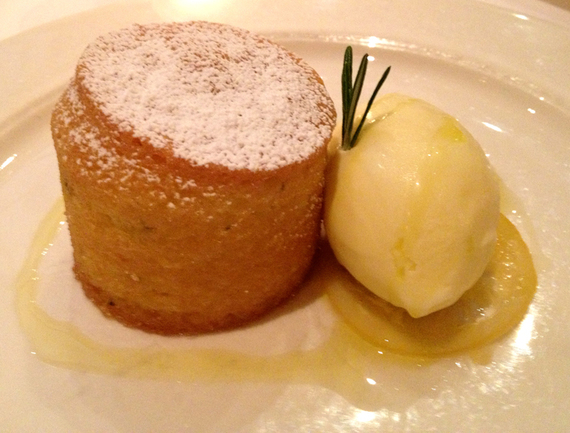 The goose liver ravioli with a balsamic vinaigrette & brown butter looks like something you would find in the deep sea. The balsamic vinaigrette paints a very dark picture and dare you dive in, your taste buds will be rewarded. The tanginess of the vinaigrette pairs well with the subtle fatty flavour of the goose liver. Try it, love it, tell everyone you know about it. Moving on. If there's yet another thing I love in this world, it's sweetbreads, something about that velvety texture, gets me every time. How about fennel dusted sweetbreads with some duck bacon all sitting atop a pool of membrillo vinaigrette? Yes please. This dish had me lusting for more, I can definitely say I would slurp up that sauce all night long...
As the evening winds down, I'm still unsure about love. His job doesn't interest me at all, but does that really matter? In fact, it flat out bores me, but hey we're different people right? He's a man, I'm a woman... different.
Please continue to read my mind-blowing spectacular conclusion. It's just a restaurant. There was no aquarium that doubles as a cutting board, no chairs imported from Peru whispered to be the last of their kind, and no they didn't have a 3 million dollar marble floor. It's just a restaurant, but don't be fooled, that is not an understatement. Similar to my dates designer suit (probably the only noiseless thing about him at this point) there are no ribbons, no ascots, not even pinstripes and thankfully he isn't wearing pink socks. He did however pay good money for it. Money, love, sigh.
ALSO ON HUFFPOST:
What I Love Most About Being Single