Location? Shangri la hotel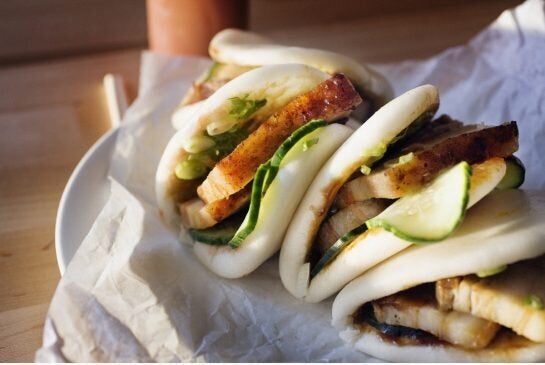 A nice restaurant is a nice restaurant. You can't argue with that. There's a sommelier, a coat check offering, an extensive wine list that could satisfy any intensely snobby past her prime -- I'm going to take out all my anger on you and this wine list, middle aged women, there's olive oil instead of butter...we get it.
You did your homework. Congratulations you own a "good" restaurant. But what I'm beginning to wonder is, where are the great restaurants? Where is the food that instead of nodding awkwardly and saying "it's good," instead I'm telling the server not to interrupt me because its too fucking good. Where's that food? Where's that date? The date without the unibrow, the date whose good-looking but not too good looking so that I can still trust him, the date without all those stupid flowers. Where's the date with the slim-fit pants and basic conversation skills? I guess "I like long walks on the beach" doesn't attract a terribly interesting breed of men circa the online dating scene.
Maybe I'll add whale poaching to my interests and see what kind of men come my way. I need chemistry, people. And no I'm not talking about that molecular shit they've got going on at Barchef. I ask again, where is the great food? Not only that but where is the great food that is universally agreed upon? Yes, we all have our differences -- Nancy likes sashimi, Bill is partial to burgers, but where is that dish, or menu rather that's blowing us all out of the water. Where is the meal of my dreams?
I honestly didn't think I'd find it so soon. Flash forward a couple of months -- granted all goes well, "Mother, I'd like you to meet Momofuku." Momofuku Daisho, a disciple of the David Chang empire -- this restaurant is run by hipsters and frequented by the rich. Momofuku is where all the great food is hiding. The menu is fairly simple consisting of things like brussels sprouts, nugget potatoes, and rainbow carrots, but don't be fooled, these seemingly simple items are nothing short of spectacular.
To start? An ever-so-delicately steamed shrimp bun, which was both soft and crisp. I could bore you, give you the whole "the sauces swept me off my feet and left me in a delicious haze that was subtle yet pungent," but I'll save it and just say you should order the shrimp bun, you know, if you like shrimp buns. The rice cakes shouldn't be missed either. Each tiny cake was perfectly crisp on the outside and warm and gooey on the inside, piled high with ground pork and tofu.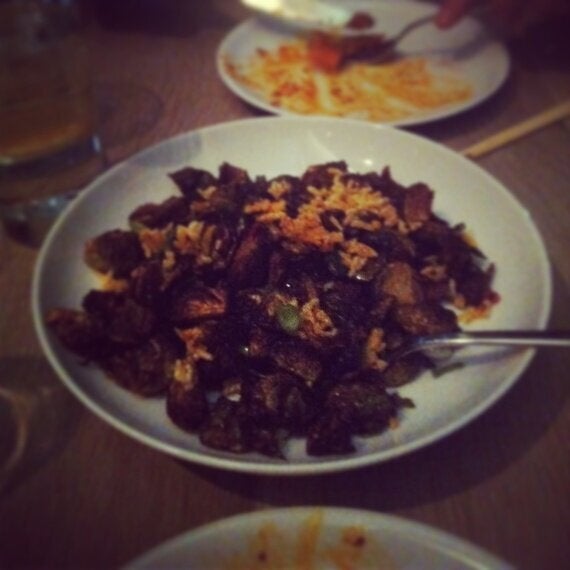 "Is that a plate of cockroaches?" Oh wait, those are the brussels sprouts we ordered. This just in, brussels sprouts are the new kale, but let's not confuse things, these are not the brussels sprouts your mother in the suburbs makes. These brussels sprouts look like nothing I've ever scene before, except maybe a pile of barbecued cockroaches. Looks have never been so deceiving. First off, I don't even like brussels sprouts, and the idea of ordering them at a place like Momofuku was slightly off-putting, but my date persisted. "Better than sex," as my date puts it and I would have to agree.
Those brussels sprouts are bad ass, though I'm pretty sure I liked them because they tasted nothing like actual brussels sprouts. Mint and popcorn comes to mind while indulging in this aesthetically unpleasant dish. It all hangs in the sauce and without a doubt the sauces at Momofuku deserve so much more than a special mention -- if I could give them the moon and the stars I would.
For our main course we shared the muscovy duck, which hails from Everspring farm, Ontario. Their menu, like everyone else's focuses on local, farm fresh ingredients, nonetheless still a great angle. Nestled on top a turnip cake, Momofuku even slices the duck breast for you. Not a Peking duck, this was a very lean piece of meat that went well with the moist turnip cake and currants. When you are finished eating your meal at Momofuku Daisho there is only one thing you can really do. And that is go to Milk Bar and pretty much raid the place. Act like the apocalypse is about to happen and it's every man, women, and child for themselves and get as many goodies for yourself as possible before it all goes to shit.
I would most definitely push an old women with a walker out of my way to get to those birthday truffles and I highly recommend you do the same. No regrets.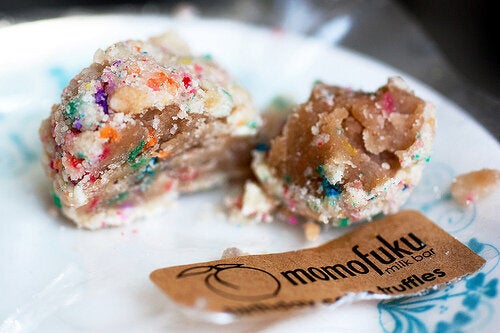 As far as the great food goes, it looks like I'm getting a little closer to the gold, but in terms of dating, it looks like my online profile may need a bit of a makeover. Maybe I should Google online dating tips? Alas the search continues.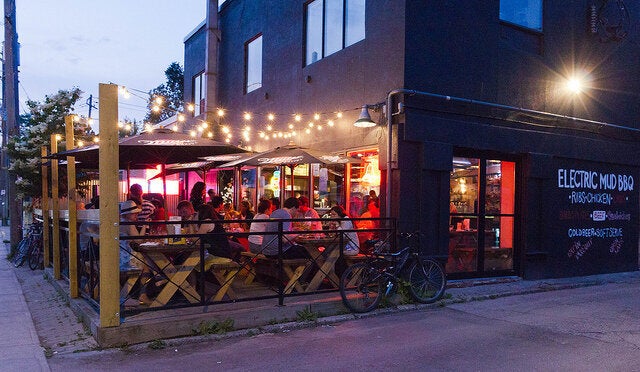 Best Toronto Restaurants (HuffPost Picks)