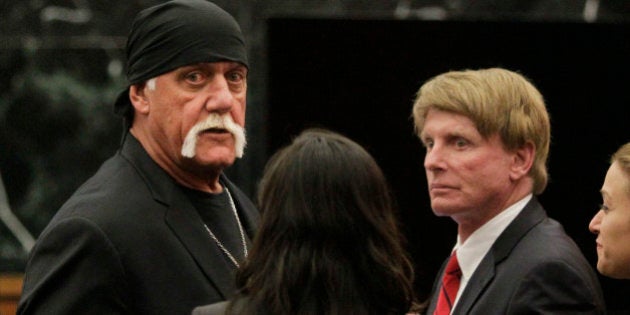 I am not a journalist and certainly not a billionaire -- not even within close proximity even after many zeros left out -- which is why I think I can cool-headedly add some perspective to the intensely charged opinions that are circulating in the media these days.
I'm talking about the Gawker case where some good media commentators are voicing their well-intentioned but misguided concerns about the violation of the free press.
You must have heard of it, unless of course you were on a cruise ship with unaffordable and sluggish Internet access, or you were someone who preferred to pick up a book rather than tuning into a cable TV network that will drive you crazy these days. (If you want to know why, look up "the great wall syndrome" on the Internet. It's a condition which is defined as "exposure to particular images and sound bytes travelling on airwaves that may strike shock and awe to your very core being, leaving you stunned." And no, it's not a reference to the wall in China. I know that for a fact because the neighbouring Mongols and other nomadic tribes did not [will not] have to pay for it).
It all started when Terry Bollea a.k.a. Hulk Hogan filed a defamation suit against Gawker Media some time ago. The court recently ruled and awarded Hogan a hefty sum of $140 million, which many fear will put Gawker out of business.
It was later established (by admission) that the billionaire PayPal founder Peter Thiel was paying the legal expenses for Hogan (Bollea) because he did not approve of Gawker's journalistic ethics. Gawker also had written an article about him (Thiel) which probably triggered the "vendetta," a choice of word Thiel would prefer not to use.
As soon as this news came out, some media contributors and journalists unleashed a campaign expressing consternation, and at times resentment: "This is the rich controlling the agenda of the world" is how it resonated with readers. "They are now creeping into the media, targeting freedom of the press."
Dear commentators, yes, you may be saying the right things but your starting point looks amiss.
One article said something to the effect that a century or more ago, it was the car manufacturing czars and the oil barons who were in charge, but now it's the techies. Those weren't the exact words but you got the idea. "These new generation of billionaires are now even smarter than their predecessors" some insinuated, because they are, well, "techies."
Here is the gist (all in my words and my interpretation) of further comments that were embedded in articles about the Gawker case: "While they (techies and super rich) know how to park their money in safe havens deploying their finger print and retina scan activated encrypted passwords to avoid taxes, many give back only a small fraction of their fortunes to charities." "Or even worse, they make pledges to their own start-up charities that may be virtual just like their line of business in their digital worlds."
By the way the subject of the one per cent wealthy has now become our favourite theme this year and the "forerunner" who has been addressing this subject overzealously is the second reason why I don't tune into CNN and the likes. There is a third reason too, but I couldn't figure out yet how to insert her seamlessly into this article.
Back to the main topic: Dear commentators, yes, you may be saying the right things but your starting point looks amiss. There seems to be a fallacy in your logic when you criticize the involvement of a third party for supporting the plaintiffs in this legal case.
The Gawker case is nothing compared to the circus grand finale that is coming soon to this continent.
Why on earth would you have to make the Gawker case the centerpiece of your story if what you really want to talk about is the power of the super-rich?
If highly paid powerful attorneys can influence a judge's decision and twist the verdict, then it's the "justice system" you should be talking about. Once you do so, the Gawker case would be about "how money influences the verdict," not about "how money influences the free press."
You cannot dismiss the former statement by saying: "Well nobody should be surprised that it's a well-established fact that money and power can buy justice." At least I really hope that is not what you are saying. And in the improbable case (heaven forbid) if that "is" what you are actually saying, then you should reflect upon the fact that the very building blocks of our society are laid upon the foundation of law and order. Any forecasts about "the state of the union," or, particularly in this case, "the state of the press" would be rendered pointless if the very grounds we are standing upon are shaky and ready to give away, just like a sink hole under our feet.
There are too many things going on. The Gawker case is nothing compared to the circus grand finale that is coming soon to this continent. I plan to disconnect myself and return to the comfort of my books in my spare time, as this will be a long summer and fall.
Follow HuffPost Canada Blogs on Facebook