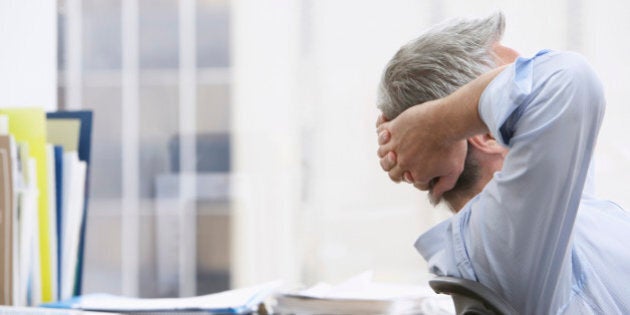 We all feel "stuck" from time to time -- when your personal brand suddenly (but hopefully temporarily) loses much of its appeal to prospects, clients, and yourself. You might sit through meetings with the same people over and over to jump-start projects that have stalled. More attempts to reach prospects who seem to still be in hibernation. Your motivation dwindles and it seems like a case of "same old, same old."
You are stuck in a rut and it's time to figure out what grounded you and then get airborne again. Here are three potential scenarios to help you get back on track.
Scenario 1: You are spreading yourself too thin running your business
It's tempting when you consider the variety of roles that combine to create a successful business to try and do as much as you can with the resources at your disposal, which might include you and a business partner or employee.
For example, let's say you are an independent financial advisor or manage your own law, communications, or accounting practice. Your individual job description might look something like this:
Marketing director - overseeing brand, content, events, lead generation, etc.
Operations director - monitoring compliance, paperwork, human resources, benefits, payroll and technology
Chief investment officer - as a financial advisor, you are responsible for portfolio decisions, fund selection and monitoring, performance reporting and communication
Business planner and client liaison - responsible for planning your business, client meetings, client requests, and ongoing relationship management
You are wearing many hats running your business and can only commit about 25% of your talent to each business responsibility. There isn't enough of you to go around and quality has slipped in favour of quantity. Your personal brand will take a hit as you find yourself spread thin in your business and your client relationships. It suddenly dawns on you that you are not really doing anything to the best of your ability.
Assuming you have the revenue to support him or her, delegate increasingly larger projects and responsibility to a new hire or intern. You can reduce concerns over increasing your overhead by taking on a new hire part-time and working up to full time. This will allow you to gradually shift your focus to what you are good at and why you went into business in the first place while your new hire can cover the tasks that are not your strong points. Part of having a strong personal brand is knowing where you are weakest. You will want to work your strengths and hire your weaknesses.
Scenario 2: You are trying to accomplish too much in your day
It's tough to be "on" all the time, consistently putting your best foot forward at every networking event, client, or prospecting meeting.
You might attend four or five events each week to make new connections and maintain those you have already made - and sometimes you attend two events back-to-back. Despite your hectic schedule, you are increasing the frequency of your blog posts and social media updates, but maintaining content quality is getting more difficult and you are running out of ideas. It seems you are always running late and rushing all the time. Increasingly, you forget important meetings or phone calls all together.
You will be amazed by how much more productive you become when managing your time with purpose and commitment. Purposeful time management can eliminate "pin-balling" - the time-consuming act of moving quickly from project to project while leaving them all unfinished. Assign the toughest tasks to times of day when you are most productive. Set realistic time frames for their completion and work to those deadlines. And be prepared to put the "fun" but less important tasks on hold.
Scenario 3: You are too busy to stay fit or spend time with friends and family
While you vow to make time to set work aside and get fit when the weather turns nice, these days you just can't find the time to get to the gym, walk the dog, play squash, or exercise at all. When you don't exercise, you may have trouble sleeping, eat badly, and quickly lose mental and physical energy, which is essential to fuelling your brand. Family and friends combine to give you positive energy. When you feel those relationships starting to slip, it can create feelings of guilt, loss, and even loneliness, which further lowers your mood and self-esteem.
If you find yourself on a work treadmill, start by slowing it down gradually rather than bringing it to screeching halt. For example, take small and manageable steps to getting fit again by starting with one hour a week at the gym. Set aside a couple of hours each Saturday and Sunday for friends and family, and increase that time as you get more comfortable away from the office. It's the same with diet, which is part of slowing the treadmill. Go at it gradually and reduce the empty calories during the week and then extend it to the weekend.
The first step is realizing that you are stuck. How you deal with it depends on your ability to pinpoint what the issues are before you can come up with a solution.
Follow HuffPost Canada Blogs on Facebook