March 8 was a historic day for Ontario. Yes, it was International Women's Day, a beautiful day indeed, but there was another reason to celebrate: Bill 175, The Safer Ontario Act, was passed, and received Royal Assent, making it a new law that will govern policing and police oversight.
As a member of the Justice For Abdirahman Coalition, however, the victory was bittersweet, due to how our group got involved in the battle in the first place.
Before forming as group, we were concerned members of the Somali community in Ottawa. Then, on July 24, 2016, an Ottawa police officer killed Abdirahman Abdi, a 37-year-old Somali man with mental health issues.
When news broke of Abdi's death, we met with the leaders responsible for community safety in our city and province: the mayor, the chief of police and the attorney general.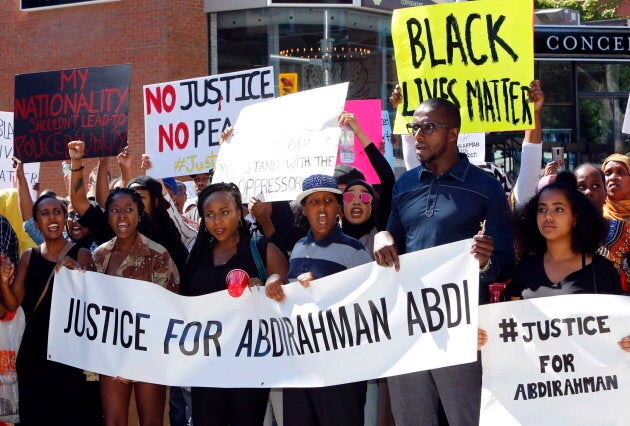 We were shook, upset and confused. We were full of questions in these meetings, including: how can a police officer beat a man to death in broad daylight, while the man's family and friends, and passers-by, watch? How can such a thing happen in Ottawa? Why is the Special Investigations Unit (SIU) taking so long to report back to the community? How does a public official charged with manslaughter still get paid a full salary?
Our demands for justice were at first met with empty responses such as "our hands are tied" or "the Police Act doesn't allow me to suspend an officer without pay." Many of our questions didn't have answers. So we went looking for them.
We weren't alone in our search. Local, national and international organizations, independent lawyers and community advocates all supported our efforts. As if with divine timing, our efforts converged with the work of Justice Michael Tulloch, to whom we are indebted to for his contributions toward the development of this legislation. Tulloch's independent review included recommendations that reflected extensive consultations with grassroots communities as well as established organizations across the province.
These improvements will go a long way toward restoring public confidence in police oversight.
Specifically, we are most pleased with the expansion of the SIU's mandate, its improvements to its public reporting and its commitment to more timely investigations into police misconduct, as well as measures to provide chiefs of police with proper authority to suspend officers without pay in certain circumstances. These improvements will go a long way toward restoring public confidence in police oversight.
It's been a long road that has included nearly two years of asking questions, searching for answers, consulting officials, community and experts, combing through best practices in other jurisdictions, speaking out in the media, drafting position papers, submitting written recommendations, and appearing before committees and boards.
During public hearings on the Bill, we were joined by many diverse communities and key stakeholders, including the Ontario Human Rights Commission, who supported our position that the Actis a giant step forward in the right direction.
We know this new law won't bring anyone back to life. But it will help restore trust and bring the necessary transparency and accountability to policing, which will help ensure that what happened to Abdi, and many others, will never happen again — at least not without serious consequences!
While it is a bitter sweet victory, the Act is proof that ordinary citizens can make meaningful contributions and effect far-reaching changes to strengthen our democracy. We couldn't be prouder!