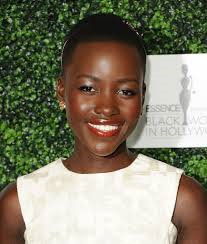 The 86th Academy Awards finished with a bang as 12 Years a Slave won best picture -- the unsurpassed, highest accolade of the night. The film, directed by Steve McQueen and produced by a team of seven including McQueen and Brad Pitt, also saw its leading lady Hollywood 'It Girl' Lupita Nyong'o win the hardware for best supporting actress. When Yale School of Drama graduate, Hollywood newcomer Nyong'o's name was read, I almost broke my laptop as it cascaded off my lap when I jumped three feet in the air off of my couch in a burst of sheer ecstasy. Childishly, I felt like it was my moment too.
Undeniably Nyong'o has taken center stage as not only a world-class talent but also as a world-class beauty. A striking woman, who with her very embodiment defies the assumption that 'beauty' and 'femininity' are prized to only the 'fairest of them all' with cascading curls. It's an assumption that many of us black girls, and black women have been socialized to believe and is a direct consequence of stifling Eurocentric body ideals.
I am no exception. From my childhood longings for caramel skin, to the countless dreams to the 'hair gods' for 'airborne' hair, I knew the narratives all too well. After all I had seen with my own young eyes the different treatment friends, or even lighter-skinned family members of mine, received courtesy of the privilege of lighter, white(er) skin. Have times changed? It's according to who you ask.
Having seen her riveting performance, her win was clearly no 'surprise,' but also being aware of how the Oscars, as an institution, hasn't exactly been the place where 'Black star power' has been recognized fairly historically or quite frankly contemporarily (do the math and check the stats over the decades), I still sat with baited breath moments before as the names of the Best Supporting Actress nominees were called. I mean...Julia Roberts...arguably someone who will remain 'America's Sweetheart' at 101 years of age!?!
With these two wins secured, could this be the turning tides so many of us -- black, white, green and purple -- have been waiting for in the industry? Only time will tell. Nyong'o's speech was selfless. Describing her experience with the film as "the joy of her life" she rightfully shared her win with our countless ancestors who could never receive enough for what they endured for us, for humanity. My heart galvanized by her words.
And for me, the icing on the cake was her last words: "When I look down at this golden statue, may it remind me and every little child that no matter where you're from, your dreams are valid. Thank you." Lupita didn't say every dream will come true. Sadly, despite the myth of meritocracy, we know that fairytale just isn't reality. Instead she reminded us of what is, at its core, the most important: that dreams are valid.
Lupita reminded me of the power of not getting sucked into cynical cycles of skepticism and self-doubt. There are many barriers we all have to face, some certainly more systemic, and therefore much harder than others, but in this instance I can wholeheartedly say that her sublime delivery inspired me to dream bigger and bolder and to make sure I believe in every second of it.
JILL ANDREW | FATINTHECITY
Some of FatinTheCity's Favourite Oscar Moments:
1. Matthew McConaughey's acceptance speech for Best Actor | Dallas Buyers Club
2. Jared Leto's acceptance speech for Best Supporting Actor | Dallas Buyers Club
3. Glenn Close's Zac Posen Black Gown (we don't care what the tabloids say!)
4. Ellen DeGeneres Period.