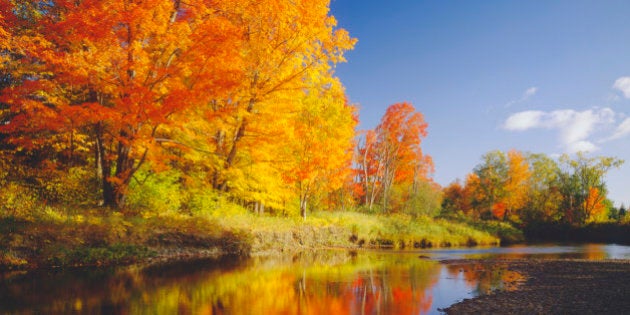 Some travelers assume fall is a difficult time to travel. Kids are back in school, calendars are full of events, temperatures are falling and the excitement of summer getaways has passed. However, fall also means less crowded destinations, lower prices and comfortable temperatures for hiking, mountain biking and other outdoor adventures.
Fall is one of the best times of year to get out and explore places near and far. The following eight tips will help you plan the perfect fall getaway, so you can take some time to relax and have an adventure in this otherwise hectic season.
Start planning your fall getaway weeks in advance to ease the stress as your trip approaches. Fall often means busy school schedules, sports games and an increasingly chaotic schedule. Reserve a week, or simply a weekend, for your fall getaway, mark it on the calendar and be diligent about sticking to your plan.
Planning ahead doesn't mean you have to set your entire trip's itinerary in stone. Book your accommodations, prepare your transportation, and the rest will fall into place.
2. Ask for Off-Season Rates
Most popular travel destinations experience their busy season in the spring and summer months. Fall is often considered the off-season, especially at well-traveled beach or outdoor destinations. Ask for off-season rates when you book your accommodations, and you'll save big bucks compared to those that visited in the high season.
Not every vacation has to be to a tropical island, World Heritage Site or bustling city. Fall getaways to nearby destinations can be just as relaxing as those that require a plane flight. Even better, short getaways can provide the break you need without having to take too much time away from your school or work obligations.
Chances are that your friends have visited someplace you've never been. They can be a helpful resource for locating new, nearby destinations that are easy to access in a short amount of time. Friends can also help with advice on affordable accommodations and which activities to do when you arrive.
5. Consider Traveling with Friends
Traveling in groups can save you big bucks over the course of your getaway. It also doesn't mean that you have to spend every waking moment with your travel partners. Join forces with another family to rent a house at your destination, and you can save big by splitting the cost of your accommodations, home-cooked meals and even a rental vehicle (if needed).
6. Pack for All Conditions
Fall weather conditions are always unpredictable. You don't want to be caught on the beach with shorts and a t-shirt when it's 50-degrees and raining. You also don't want to be wearing long pants when that freak fall 85-degree day occurs. Check the weather forecast before you leave, but be prepared for the extremes the changing season can bring as well.
You don't have to know exactly what you'll do when you arrive at your destination. However, making a list of things you want to do or places you want to eat (if you're a foodie) can help ensure you make the most of your time away. Your fellow travelers, especially kids, will love playing a part in vacation planning and choosing a special place they want to explore.
8. Don't Sweat the Small Stuff
Your fall getaway is an opportunity to get away from the stresses of school and work for a short amount of time. However, things don't always go as planned when you hit the road or the skies. Don't let delayed flights or flat tires ruin your relaxing time away from home. After all, travel is as much about the journey as it is the destination.