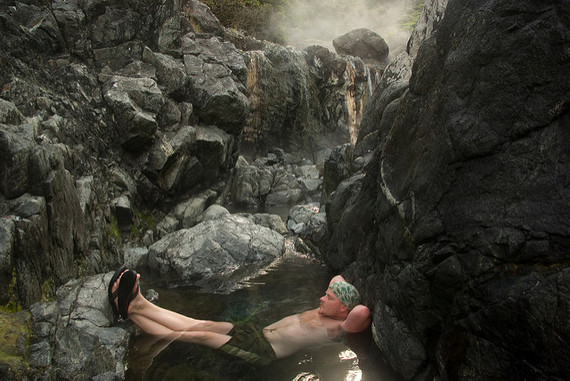 Photo credit: footloosiety
Canada is known to many for its cold temperatures. But those who avoid the Great White North for its chilly air are missing out on some serious hot spots. The country is loaded with natural hot springs surrounded by towering pines, mountain peaks, jagged rocks and many of the earthy wonders that make this country so special. The following five Canadian hot springs are ones you should plan to visit when the outdoor temperature starts dropping.
Banff Upper Hot Springs -- Banff National Park, Alberta
You don't need hot springs to fall in love with picture-perfect Banff National Park, but the constantly-flowing, 100-percent natural mineral water will make your visit a little sweeter. Soak in the steamy 37- to 40-degree Celsius waters as you admire the Canadian Rockies from the highest hot spring in the country.
The park's hot springs were discovered in 1884, and the waters -- naturally infused with sulphate, calcium, bicarbonate, magnesium and sodium -- are said to have healing properties. For $7.30 per adult, relaxing in a hot spring while overlooking Banff National Park is an experience that shouldn't be missed.
Lussier Hot Springs -- Whiteswan Lake Provincial Park, British Columbia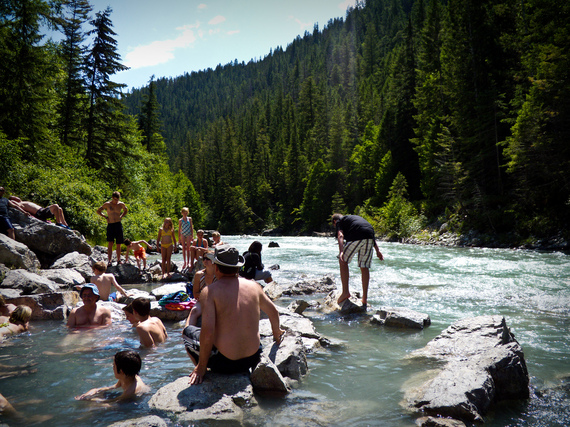 Photo credit: Smath.
One trip to Lussier Hot Springs in B.C.'s Whiteswan Lake Provincial Park is never enough. These springs, in the heart of the Kootenays, sit feet from the chilly waters of the Lussier River. The hotter pool hovers around 43 degrees Celsius while the cooler pool is 34 degrees. These hot springs aren't developed like many others across the country. The road is rugged, there are no changing rooms, and you'll have to walk five minutes from the parking lot to the rock-surrounded, natural pools, but that's what makes this place so special.
Lussier Hot Springs has become more popular in recent years, but the off-the-beaten-path adventure keeps many tourists at bay. Free admission is another perk.
Miette Hot Springs -- Jasper National Park, Alberta
Jasper National Park is in constant competition with Banff National Park in terms of mind-blowing natural beauty. It's hard to choose between Jasper National Park's Miette Hot Springs and Banff's Upper Hot Springs, but you don't have to decide when you plan trips to both. Jasper is home to the hottest hot springs (flowing at 54 degrees Celsius) in the Canadian Rocky Mountains, but the water is cooled to a comfortable 40 degrees Celsius for those in the pool. End your epic mountain biking excursion or gruelling Sulphur Skyline hike with a dip in the natura Miette Hot Springs waters while overlooking snow-covered mountain peaks and statuesque evergreens.
Hot Springs Cove -- Near Tofino, British Columbia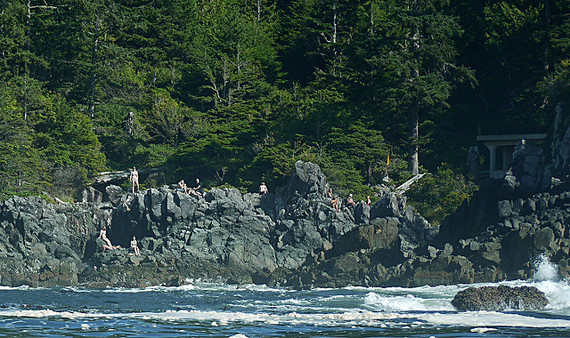 Photo credit: Hardo
Hot Springs Cove is a reward for hikers who take the 2-kilometre-long (mellow) trek through Vancouver Island's Maquinna Marine Provincial Park. The adventure begins when you arrive at Vancouver Island's Clayoquot Sound by boat or plane. The journey is well worth the effort, when you arrive at the 47-degree-Celsius, admission free, natural springs at Hot Springs Cove. Best of all, the hot springs overlook the deep blue Pacific Ocean and are naturally cooled by its splashing waves.
Takhini Hot Pools -- Whitehorse, Yukon
Heading to the Yukon is an adventure in itself. That adventure is made even more exhilarating at Takhini Hot Pools. It's one of the Yukon's most visited destinations for its mineral-rich waters and year-round operation, which means you can dive into feet of snow before submerging yourself in the roughly 40-degree-Celsius waters. Takhini Hot Pools offers an on-site campground and hostel as well as 300 acres of wilderness, making it an ideal vacation destination for budget-minded travelers.
Follow HuffPost Canada Blogs on Facebook