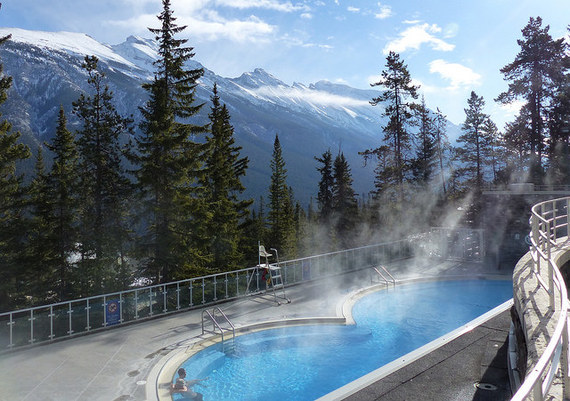 Credit: FancyLady
Making it through the long winter season in good spirits isn't always easy. Shoveling snow into towering piles can give anyone the blues after a couple of months. However, you don't have to let the cold weather and frequent snowfall get the best of you this year. Make the most of winter, and help the season fly by faster, with these four Canadian weekend getaways that are guaranteed to kill the winter blues.
Banff, Alberta
Banff is a town that will encourage you to embrace winter instead of despise it. This stunning town in Banff National Park offers some of Canada's top ski resorts, including Lake Louise, Sunshine Village, Mount Norquay and more. Although, you don't have to be an avid skier to enjoy Banff in the winter months. The town offers everything from premier spas to hot springs, museums, galleries, world-renowned restaurants and countless outdoor activities for adults and kids.
Outdoor ice skating, ice fishing, sleigh rides, cross-country skiing, dogsledding and scenic gondola rides are just a handful of the many activities that will lure you into the great outdoors and make you appreciate the area's abundance of snow.
Niagara Falls, Ontario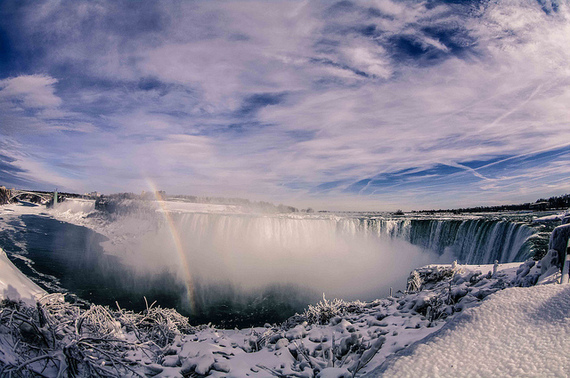 Photo credit: Shaheen Karolia
If you thought Niagara Falls was stunning in the summer months, prepare to be amazed by what you see in winter. The crowds thin drastically this time of year, but if you bring your camera and bundle up, you'll be blown away by the frozen winter spray that traps buildings, trees and walls in ice to create stunning, impromptu ice sculptures. Niagara Falls' Winter Festival of Lights takes place until the end of January, so there's still time to admire the show without the heavy holiday traffic.
The town of Niagara Falls, Ontario, is also bustling with activities, ranging from helicopter rides over the falls to the Waves Indoor Waterpark, spas, theaters, the Niagara Skywheel and so much more.
Montreal, Quebec
Montreal is a city that will transport you halfway around the world in a single weekend. The old world feel of the French-speaking city will make you feel far away from a boring Canadian winter. Dine on some of Canada's best French cuisine, visit the Notre-Dame Basilica, wander Old Montreal's cobblestone streets or indulge in some of the city's countless entertainment options. Travellers looking for a little more late night excitement will love shopping Boulevard Saint-Laurent in the day and hanging around for the bars and nightclubs to come alive at night.
Vancouver Island, British Columbia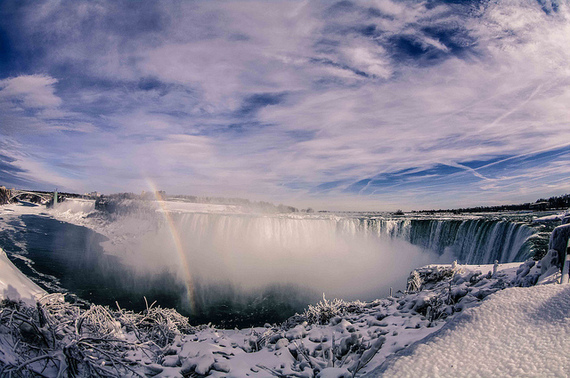 Photo credit: A.Davey
Whether you're into snapping photos, backcountry skiing, the arts, snowshoeing, spa days, shopping or whale watching, winter on Vancouver Island offers something for everyone. In fact, many of Vancouver Island's whale watching company's claim to have a success rate of 75 per cent or higher when searching for whales in the winter months.
Even better, Vancouver Island is known for its year-round mild climate, which is the most temperate in all of British Columbia. Average highs this time of year are in the mid 40s, and if you're willing to throw on a few layers for your Vancouver Island adventure, you'll enjoy steeply discounted accommodation and tour prices. A trip to the wild, artsy and downright cool atmosphere of Vancouver Island may be just what the doctor ordered for your winter blues.
Follow HuffPost Canada Blogs on Facebook
ALSO ON HUFFPOST:
Alberta's Coolest Winter Travel Destinations