Shutterstock
Whether you're seeking pumpkin patches, lavish parties, or hair-raising haunted houses this Halloween, there's no better place to be than Montreal. The City of Saints becomes a city of ghosts, goblins, and other spooky creatures during the month of October, and the following are five events are ones you won't want to miss.
Montreal Zombie Walk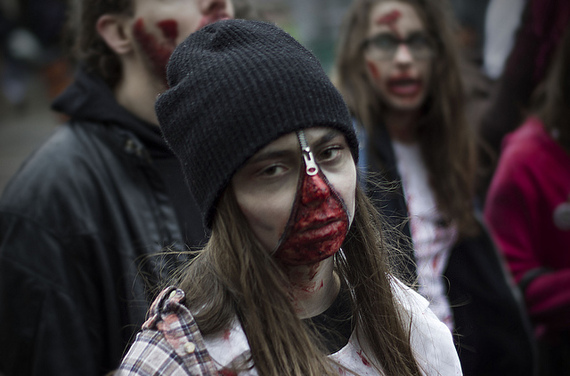 Photo credit: allen
Join roughly 10,000 other Halloween enthusiasts dressed as zombies on the streets of downtown Montreal for the 2016 Montreal Zombie Walk on Saturday, October 29. What started as a grassroots movement for zombie enthusiasts has since turned into a must-visit event, featuring extravagant costumes, Hollywood-worthy makeup, and creepy theatrics. The walk departs from the Place des Festivals at 4 p.m., and winds through the streets of downtown Montreal. Zombies of all ages are welcome, but keep in mind that young kids may be afraid of some of the realistic costumes.
Montreal Ghosts
Montreal Ghosts offers hair-raising haunted tours through historic Old Montreal from May through October. However, you can only experience the spooky Halloween Special Ghost Hunts from October 27 through 31. Gather your family and friends and embark on a ghost walk through town, filled with the phantoms of former criminals, witches and other creepy creatures, sharing their tales, secrets, and the mysteries of Old Montreal's streets. The special Halloween tours include real-life stories of four ghosts that are said to haunt the streets in this part of town, creating an especially spine-chilling atmosphere for the nights surrounding the holiday.
The Rocky Horror Picture Show Halloween Ball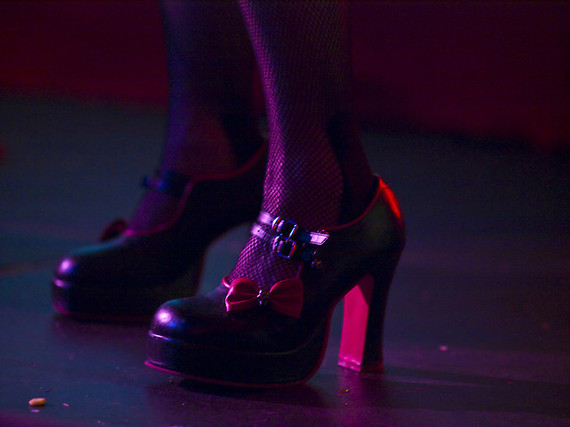 Photo credit: Sebastian Dooris
It wouldn't be Halloween in Montreal without The Rocky Horror Picture Show. Dress up like your favourite character from the cult classic film and head to the Cinema Imperial in Montreal's Quartier de Spectacles for a viewing of the movie on the big screen with a cast of performers on stage as well. The audience is encouraged to participate in what is often called the most spectacular Halloween event in Montreal. Tickets are on sale now, and the shows will take place on October 28, 29, and 31, at 8 p.m. and 11 p.m.
Gardens of Light
From September 2 through October 31, the Montreal Botanical Garden will shine a bit brighter with multi-colored lanterns and artistic lighting for the annual Gardens of Light event. This glowing fall festival continues through Halloween night, offering a family-friendly activity that won't spook the little ones.
Fright Fest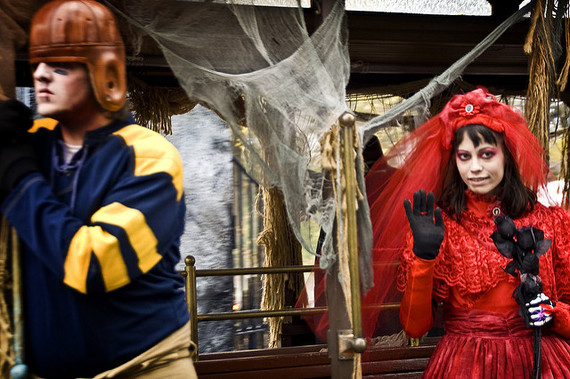 Photo credit: yenna
Montreal's La Ronde amusement park has been transforming into Fright Fest for the month of October for 15 years. Every year, visitors are wowed by the park's transformation into a giant haunted playground, complete with terrifying thrill rides, scare zones, and haunted houses. Ghouls, goblins, and other evil creatures wander the park, scaring visitors every step of the way. The park remains family-friendly in the daylight hours, but the fear factor is turned up at night, when it's recommended that kids under the age of 13 stay at home. Be sure to check out this year's new and ultra-freaky attractions, Demons' Hell, The Cursed Farm, and The Rage of the Gargoyles.
Follow HuffPost Canada Blogs on Facebook