It's no secret that Vancouver is a foodie city. A Conde Nast Traveler's Readers' Choice Awards survey recently named it one of the top food cities in the world, and Fodor's Travel listed Vancouver as one of the best Canadian destinations for foodie travel. But the British Columbian city isn't just known for its award-winning sit-down eateries. Vancouverites and visitors eat some of the city's best meals while standing up.
These 10 Vancouver food trucks are guaranteed to change the way you feel about dining out on your next visit to one of Canada's favourite foodie cities.
#1. Roaming Dragon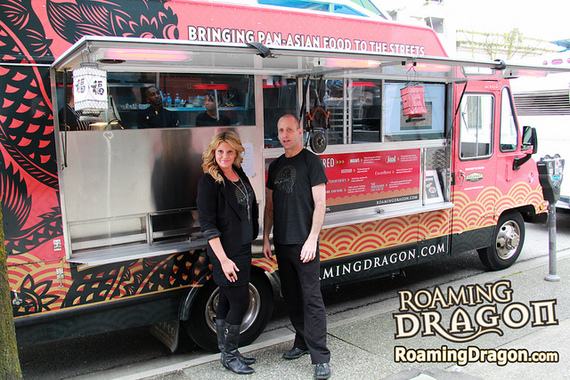 Photo credit: Sombilon Photography
Roaming Dragon is Vancouver's most recognized food truck, and that's partially because it was the first to hit the streets. The food truck's Pan-Asian cuisine includes dishes like steamed pork buns, Korean short rib tacos, and deep fried rice balls with curry sauces. You know your tastebuds are about to freak when this Asian-fusion food truck starts rolling your way.
#2. Mr. Shawarma
Mouthwatering Middle Eastern food isn't something that's easy to find in every city, but in Vancouver, it comes to you. The Robson Square food truck Mr. Shawarma is known for serving up some of the best falafel in B.C., fresh shawarma wraps, pitas, and poutine for those who don't want to stray too far from the Canadian staples.
#3. Japadog
Japadog has graduated from a food stand on the corner of Burrard and Smithe Streets to a network of food trucks, restaurants, and stands throughout British Columbia and all the way down to Los Angeles, Calif. It's no surprise that the famous hot dogs -- ranging from plain all beef dogs and bratwursts to the signature Terimayo smothered in teriyaki sauce, mayonnaise and seaweed -- have become staple parts of the Vancouverite diet.
#4. TacoFino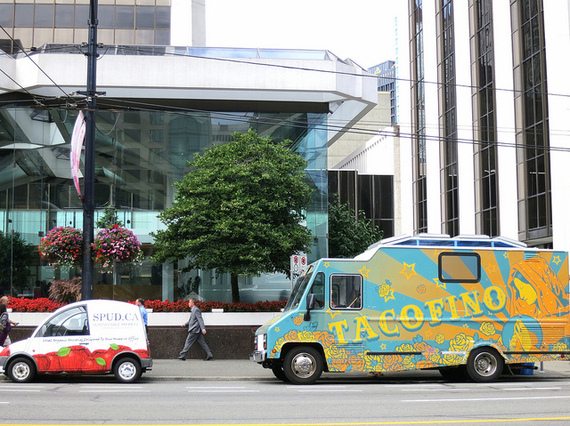 Photo credit: Ruth Hartnup
There's something about tacos and food trucks that go hand in hand, and Tacofino is one of the best Baja-style food trucks in the country. Whether you're into authentic Baja California-style fish tacos or a massive pork burrito, Tacofino offers a small but diverse menu of southwestern eats.
#5. Fat Duck Mobile Eatery
Many foodies are convinced that food trucks don't serve up the same high-quality eats you can find at a restaurant, but the Fat Duck Mobile Eatery, Ltd., is changing that misconception. This truck serves up quality dishes, like duck confit "Philly" style with marinated mushrooms, pickled red onions, swiss and a truffle/parmesan mayo, in a quick manner that makes it easy to eat gourmet foods on the go.
#6. Yolk's Breakfast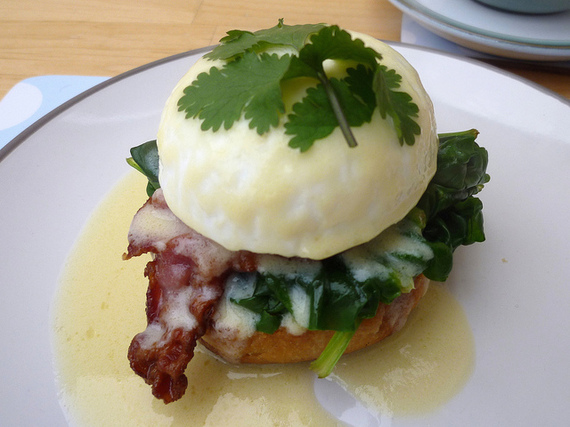 Photo credit: david coombes
Yolk's Breakfast is bringing back the most important meal of the day. It's hard to be too busy to eat breakfast when a food truck in the heart of Vancouver's West End is serving up poached egg sandwiches, crispy potato skewers and eggs benedict in a matter of minutes. Don't forget to squirt a hearty dollop of Yolk's signature spicy ketchup on your meal before walking away.
#7. Loving Hut Express
Food trucks should never be compared to fast food, and that's what Loving Hut Express is trying to prove. Yaletown's Loving Hut is a gourmet, vegan food truck, but even the most serious carnivores are bound to fall in love with the vegan Sunshine Teriyaki Burger, yam fries and crispy onion rings with vegan ranch dressing. A variety of gluten-free options make it even easier for Vancouverites to eat right on the run.
Follow HuffPost Canada Blogs on Facebook