Getty
Searching for one of the best places in Vancouver to take in the city's history and culture? Head to Chinatown. Vancouver is home to the largest Chinatown in Canada and the third-largest in North America, following New York and San Francisco. Amazingly, Vancouver's Chinatown dates back to the 1800s, and it's a place that every visitor should see. The following are just a few of the many reasons why Vancouver's Chinatown district is one of the best in the world.
You Can Stock Up on Affordable Souvenirs
There is no better place to stock up on budget-friendly souvenirs than in Chinatown's many furniture, clothing, jewelry and import shops. Whether you're searching for unique finds at the Ochi Chinese clothing boutiques, cramming into Bamboo Village for Chinese imports, or searching for quality jewelry on the cheap at Ultimate 24K Gold Co., you're bound to leave the district with a bag full of goodies.
You Can Stock Your Pantry at an Authentic Chinese Market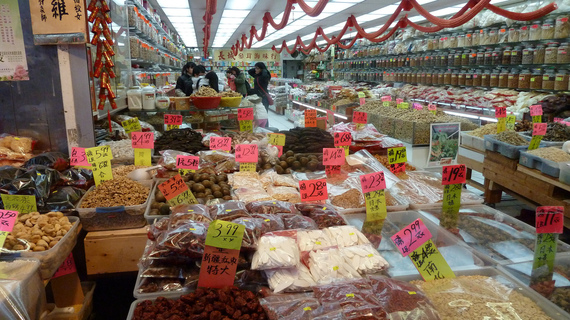 Photo credit: mertxe iturrioz
There's nothing quite like the hustle and bustle of a true Chinese Market, and if you're not planning on traveling to China anytime soon, Vancouver's traditional Chinese markets are the next best thing. Peruse the aisles in search of rare fruits and vegetables, dried goods, and exotic meats. Find everything from wild ginseng to chicken feet, dried scallops and natural Chinese medicines all under one roof.
You Can Eat Some of the Best Food in the City
Vancouver's Chinatown is best known for its incredible array of top-notch restaurants ranging from trendy eateries to historic staples. Ask a Vancouver local, and they'll direct you to Phnom Penh -- a Vietnamese and Cambodian restaurant, serving up authentic lunches and dinners that are packed with flavor. The Ba Le Sandwich Shop prepares traditional Vietnamese banh mi (subs), while Oyster Express offers a cozy atmosphere for slurping down freshly-shucked oysters. Maximize the number of renowned restaurants you taste by making frequent stops while you cruise between shops and cultural sites.
You Can Wander a Classical Chinese Garden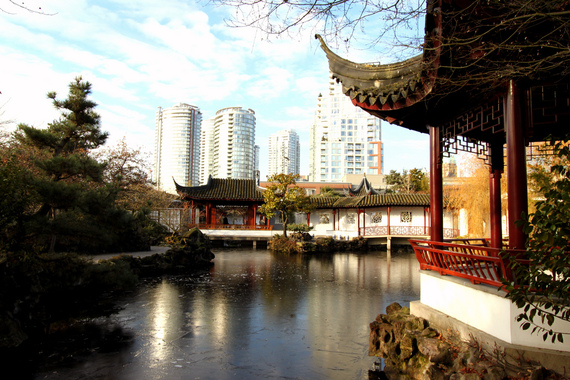 Photo credit: Prayitno
A visit to Vancouver's Chinatown isn't complete without a stop at the Dr. Sun Yat-Sen Classical Chinese Garden. Modeled after Ming Dynasty gardens, this oasis in the heart of Chinatown features carefully designed stone pathways, ornate gardens,traditional pavilions and tranquil ponds. The authentic garden was constructed in 1986, by 53 Chinese master craftsmen who used 950 crates of traditional materials. Traditional Chinese tea and free guided tours are just two more perks of making a stop at this piece of paradise.
You Can Experience Traditional Chinese Celebrations
Visit Chinatown during one of the area's traditional Chinese celebrations, and you're in for a treat. The annual Chinese New Year parade and festival, featuring more than 3,000 performers and drawing more than 50,000 visitors, features a full day of ceremonies, fireworks and other celebrations. Visit in the warmer month of August, and you may catch the TD Vancouver Chinatown Festival, a must-visit festival celebrating that tumultuous and rich history of the area. The outdoor bazaar will transport you to the streets of Hong Kong, where markets are constantly buzzing with shoppers in search of the latest electronics, handicrafts and clothing.
Follow HuffPost Canada Blogs on Facebook