Finding an abandoned home or building is mostly luck, mixed with knowing where to look, and most importantly knowing what signs to look for. Many of the abandoned houses I've found looked abandoned. There are those that you just aren't sure about though...like the subject of this blog post.
Driving around on a summer night I saw a property with a very faded sign with the painted name of the farm barely visible. Beyond that sign was a slightly overgrown lawn that showed some signs of maintenance. There were rows of trees and an old car parked in the driveway. The house was set far back from the road almost totally out of sight.
Pulling in, I acted as thought I made a wrong turn, in case someone was actually there. First thing I noticed was a chain across the front door and overgrown weeds on the long steps leading up. The inside doors were open and part of the ceiling tiles had collapsed from water damage, but I still was a little unsure of whether this is abandoned or perhaps a renovation project.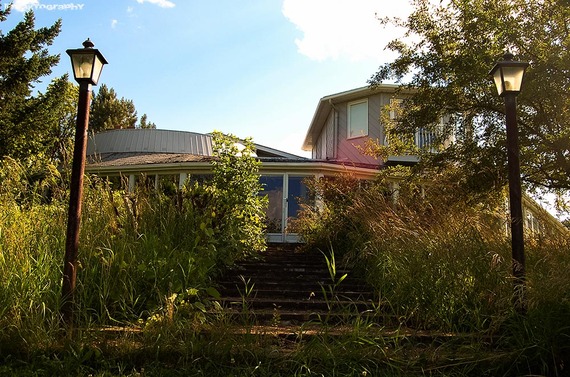 I decided to take the chance, all signs pointed to abandonment! I was right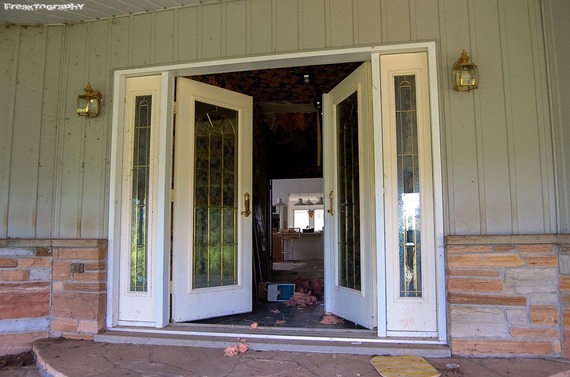 After circling the entire house in the surrounding sun room I made my way inside the house, I was immediately overcome by the smell of cat...cat urine, cat feces, cat litter...cat death.
Then, I realized it's not only cat smells all around me, it's also cat stuff, and the woman who lived here was most definitely a cat lover. She had cat trinkets, cat paintings, cat music boxes, she had cats on her car...and she certainly owned a lot of cats.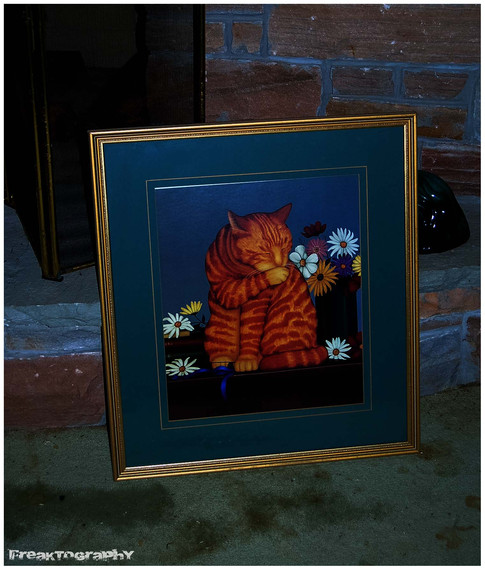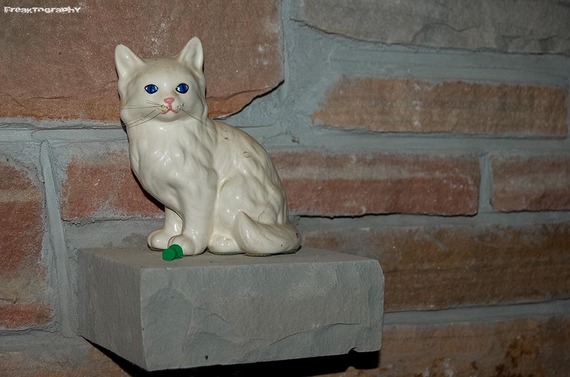 I had not, up to that point, ever been inside an abandoned house like this, this size, the amount of items left behind, it was a very overwhelming feeling.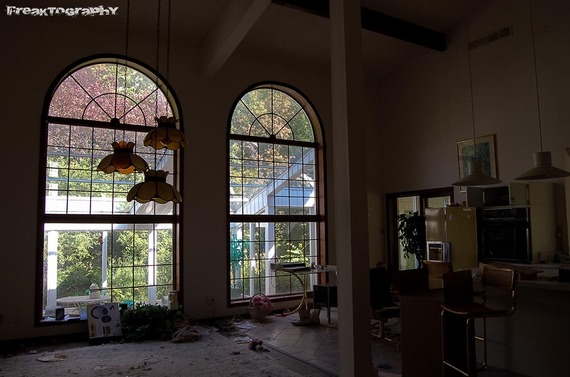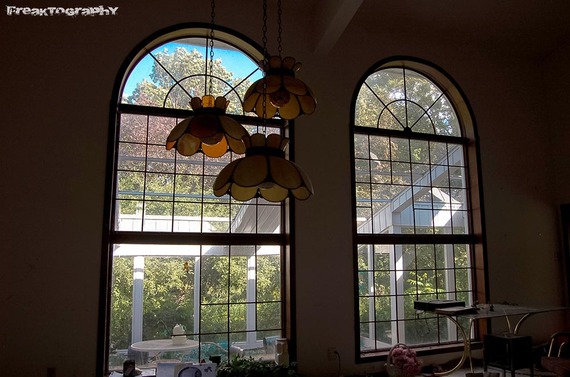 The next thing that I could not avoid was the wallpaper...awful, awful wallpaper in every room...not cat wallpaper, as you might expect -- but just terrible bright flowery wallpaper...even on the ceiling!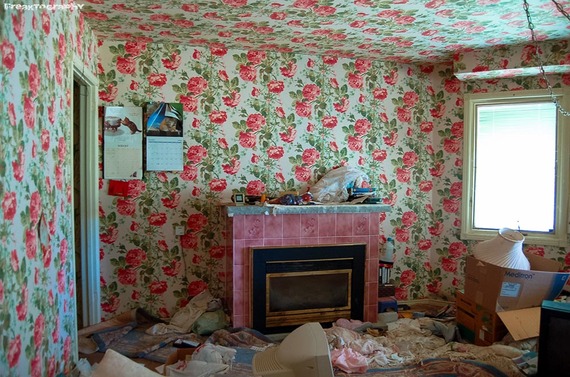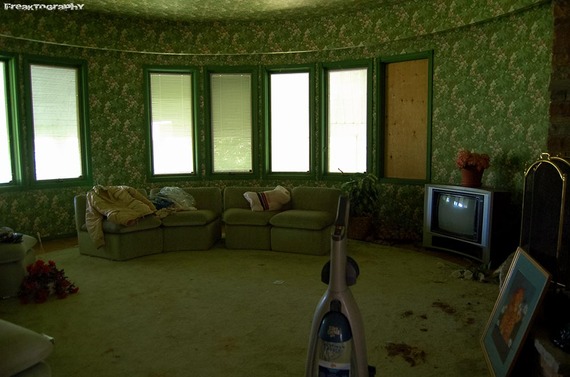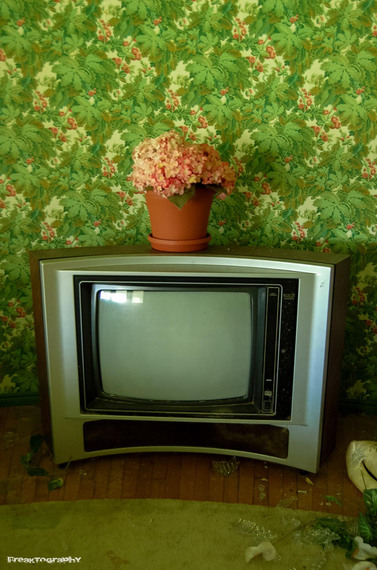 There are times in an abandoned house where you only need to photograph the rooms and some small details of interest in order to tell a story of the experience. There isn't always a need to poke about and look in drawers, but in the case of some houses, there is just far too much to see to not be curious. Some may frown upon the thought of someone poking around through a deceased person's belongings and letters, and I will accept that criticism from those who feel that way. In the case of this house and the images that accompany, it's my hope that the reader understands why I do what I do and perhaps will feel the same sadness as I did when visiting.
Upon further exploration of the house, the many rooms and the two floors, you get a strong sense of sadness and loneliness; it's very hard in abandonments like this one to not draw your own conclusions of what happened. There are so many personal items all over the house, not claimed by any family members....just left behind. Art, movies, furniture, photo albums -- every piece of life you would expect to see in a home when it's occupied, but not after the owners have passed.
One of the two most heart breaking things that I found in this house was a cane, resting against the couch...as though that's where it was left when the owner passed away, alone in the living room.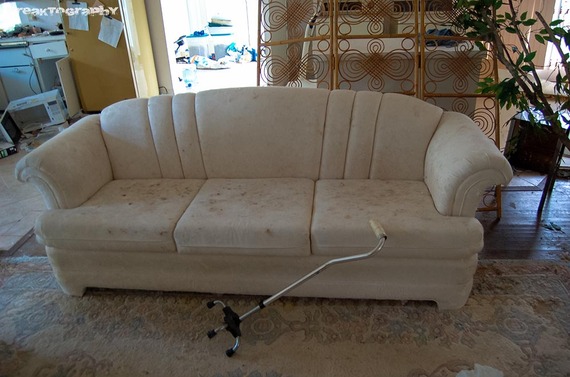 The other was a card written to a father by his daughter who has moved away to Germany, she talks about keeping up his daily walks and to not smoke so much. I am keeping the inside of the card off of the blog as it is very personal.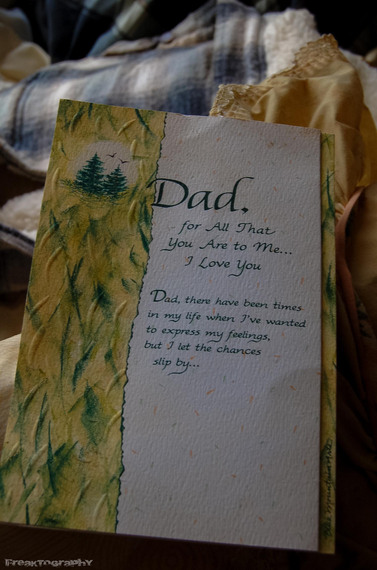 There are countless other items throughout the home, like a jewelry box -- the ballerina still spun when I opened it and the song played one whole time, and then it stopped.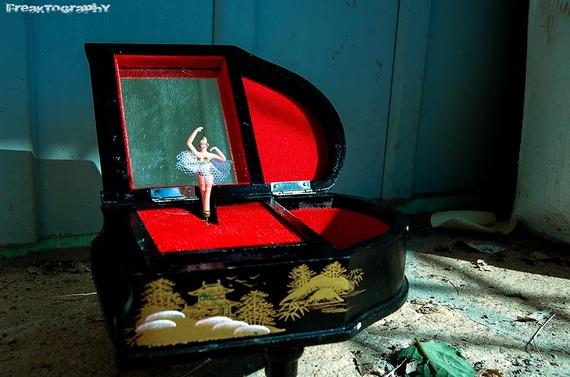 A thank-you card from a wedding that took place in 1987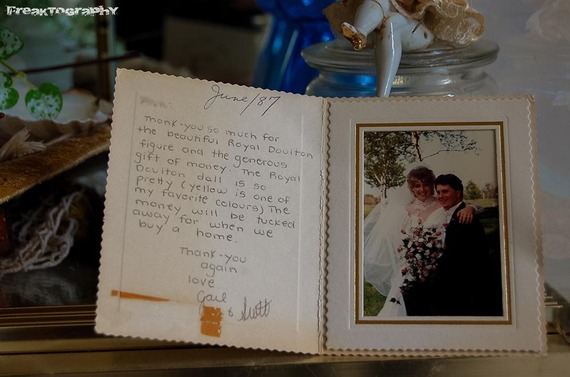 I spotted two entire sketch books of drawings, done by one of the owners. There were dozens of pages of these sketches.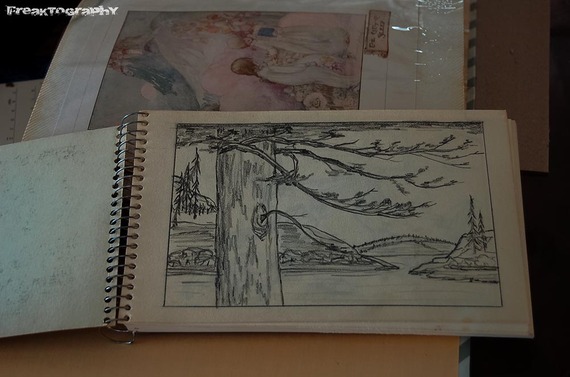 In a drawer I found a few photos taken inside the house when it was active that I had carefully placed in the same spot as where the photo was taken to show a sad scene of now and then.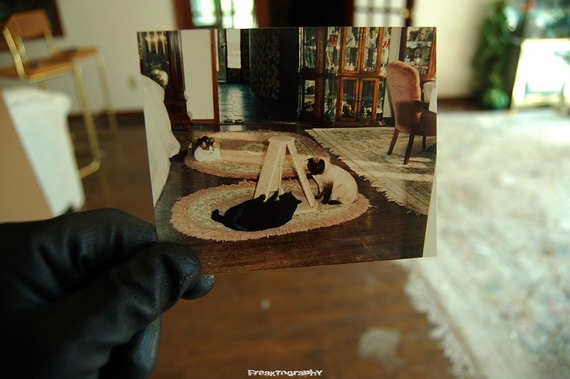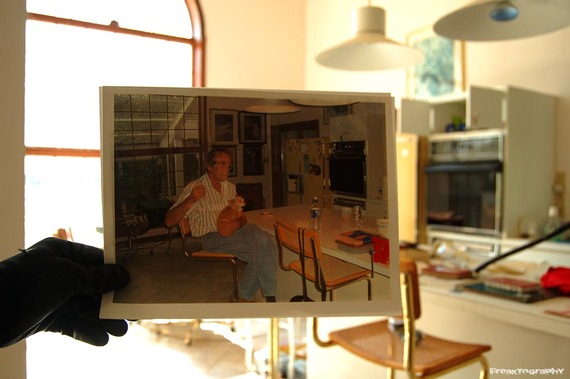 And finally, as if there wasn't enough sadness in this house, and proof that the owner had possibly died in the house, I found the remains of their last cat. I wondered how long it wandered the home afraid before she tucked herself underneath the chair and let herself die...
After my first visit I had invited a few friends to see the place, and not long after that the copper scrappers made their way there. The copper pipes had been pulled from the walls, the brass light fixtures gone, the kitchen and living room looted.
I have been two times since my first visit and this place has become a popular spot among local explorers, regardless of the looting, scrapping and the fact that nothing is as it was when I found it, every shot I see from another explorer is a reminder of how sad it felt on that first visit.
Others have dug deeper into the details and stories that are found within this house and there is no question -- this was a very sweet old woman. She could be anyone's grandmother. The fact that the story left behind shines such a wonderful light on this sweet woman just adds to the curiosity of why her most cherished items are still sitting there, so many years after she passed.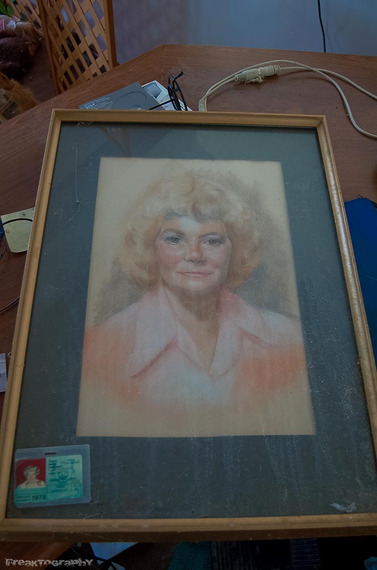 This originally appeared on the Freaktography blog.
SEE MORE FROM FREAKTOGRAPHY: