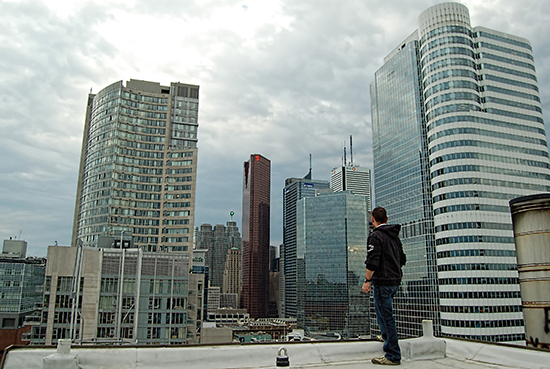 2012 was my first year of exploring abandoned places, I started as most do, with simple abandoned houses -- then those houses got larger and my need to explore got bigger. I moved up to a few industrial facilities and eventually worked my way up to some of the larger institutional locations in New York State and Ontario. I had also been following along with the rooftopping craze that was taking off in Toronto and other major cities.
Finding myself obsessed with wanting to try this, in November of 2012 I started researching and seeing what I could learn and where I should go. I got onto one of the easiest roofs in the city, only about 19 floors up but that was enough to make me want more.
BLOG CONTINUES AFTER SLIDESHOW
Freaktography Rooftopping Photography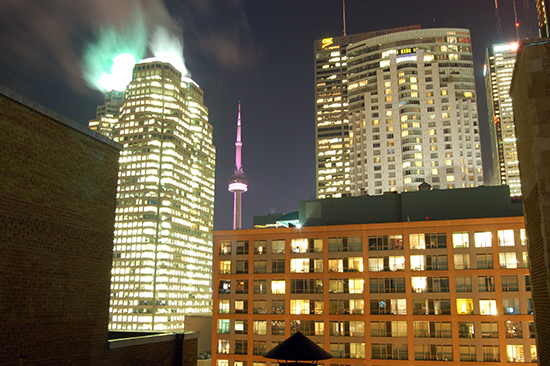 In December I climbed up and out of another well known roof in Toronto but the weather was awful that night so I got a few shots off with a plan to return.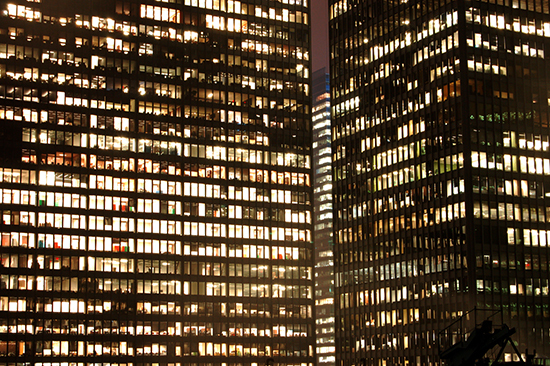 Fast forward a few weeks and it's now January 2013, a new year with new goals. My first plan was to finish off that last roof from December, having received a hint on what to look for, I made my way over. It was a cold January night and it was a long, dirty climb up to reach the bright red sign at the top. Once I made it up I felt a sense of accomplishment, by no means was this a high roof and it wasn't all that hard either -- but I had been amazed by the shots I had seen up here from others. It was very warm up there, the exhaust from the heating systems inside exhale out at the top of the building, so it was very warm. There were also dozens of dead birds up there, something I didn't expect to see.
This first rooftop gave me the bug and I knew then that I wanted to spend the majority of my year seeking out bigger and better rooftops to get even higher vantage points of the city below.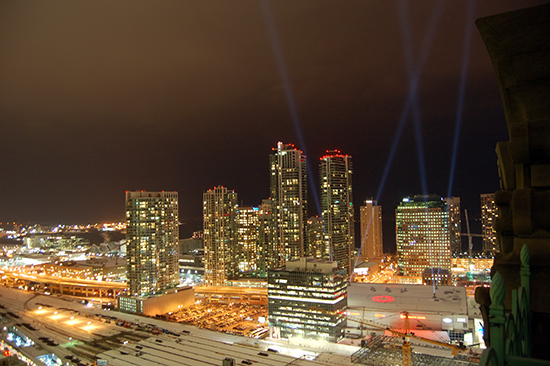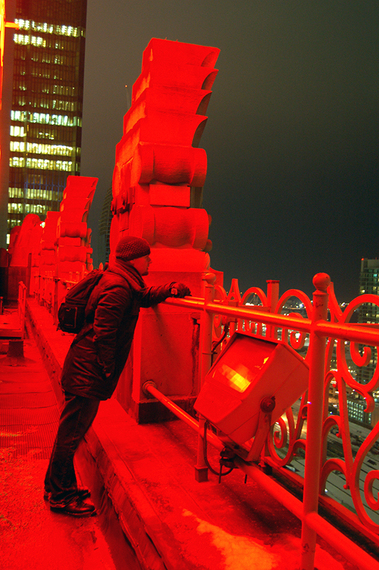 A week or so later, I did just that -- going from 30 to 50 floors up at the next rooftop. Being up this high at night was a fantastic experience, the hum of the city, the honking horns and sirens -- they all work in harmony to create a song, to provide a soundtrack to the experience of being up above it all. This roof, when I first came out shocked me -- there was barely a ledge, maybe one foot or so of a small ledge -- so I moved slowly and calculated each step. Over the course of the year I would visit this roof two more times.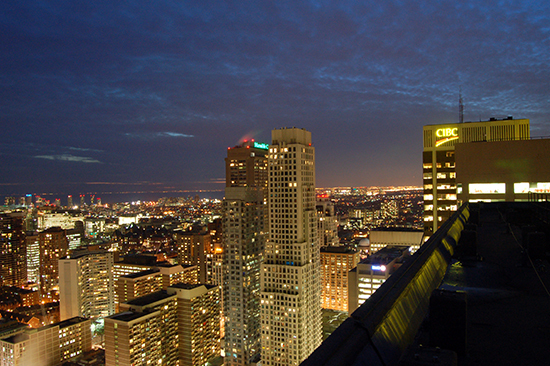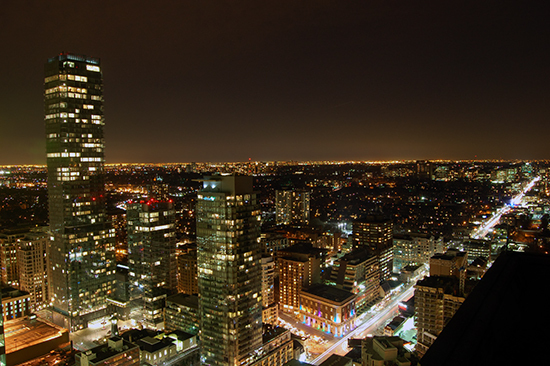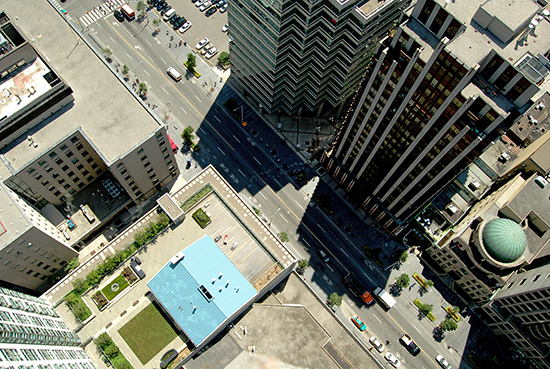 Having only been up on fairly cold nights, once the seasons changed and spring had arrived I was anxious to get up on a building I had attempted once before but had not made it all the way up. This time I would walk up 65 flights of stairs. I stayed up until around 9:30 p.m., spending some of the time just being in that moment alone and some of the time shooting the city from all angles and directions. It was a whole new experience to be up above the city while the sun was setting, take in the sunset and then enjoy the view and the scene as light turns to dark, and the city begins to sparkle as the lights come on.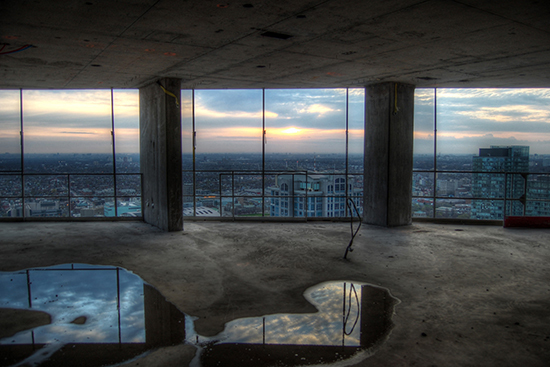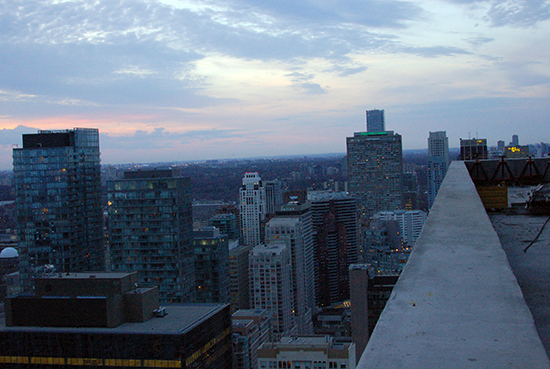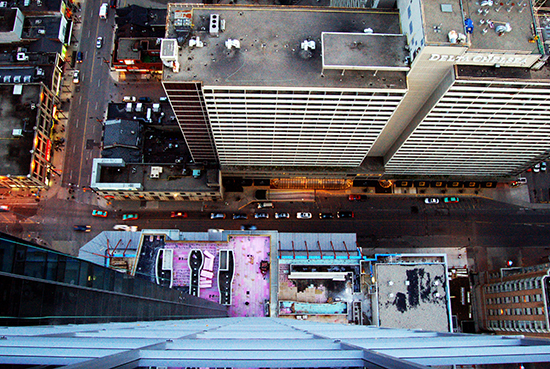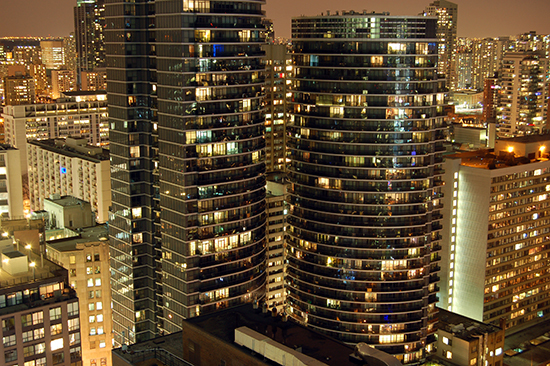 Getting up onto a building's rooftop is exciting, but getting up and into an active construction site is a whole other kind of exhilaration. I had been taunted on a daily basis by one particular site in Toronto, having seen many shots from others who had climbed to the top I knew I had to get in there soon. At 60 plus stories and given its location in the city the vantage point is perfect.
My first time up was a wet and windy night, rain peppered my lens and the heavy winds vibrated my tripod, I was able to get some good shots -- but not good enough, so I would have to return on a better night. In the late spring I returned and at this point the building had been topped off, I went all the way up to its uniquely shaped peak and I spent hours taking it in and capturing the city as the sun set and the dark crept in, I watched a rain storm circle the city and I watched as emergency helicopters flew to and from the roofs of the nearby hospitals.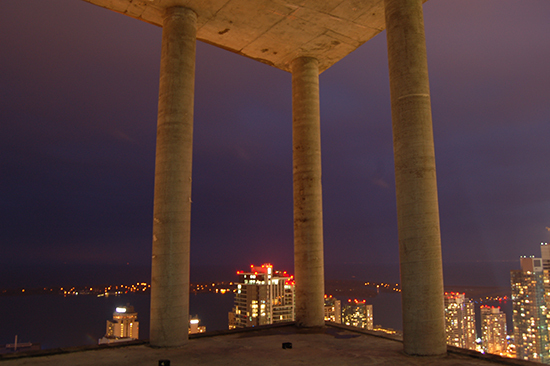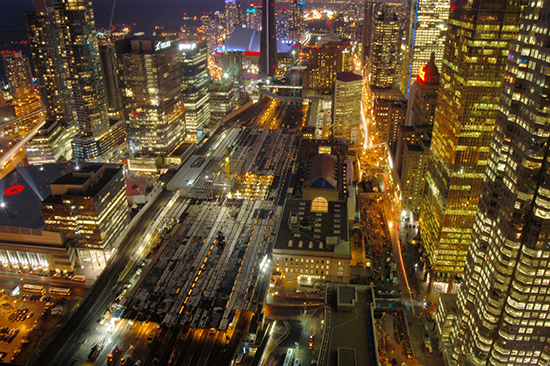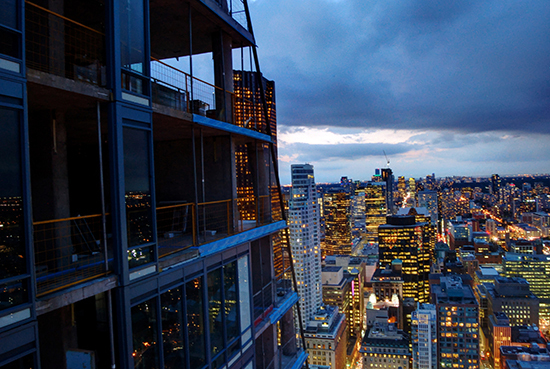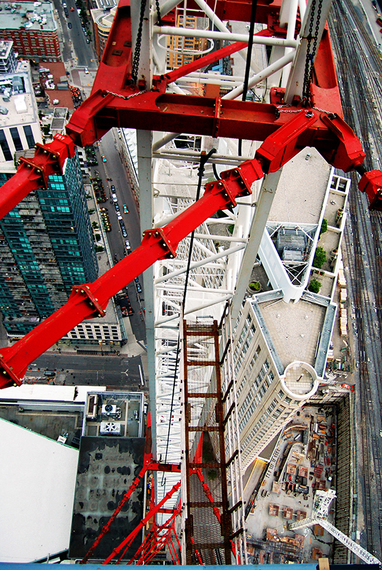 I've enjoyed a very successful year watching over the city from the rooftops above; during a late summer climb I found that I wasn't alone on this roof. As I leaned over to capture a photo of the street below I noticed a Peregrine Falcon watching me as he perched himself from two floors down. He allowed me a few photos before he flew off and out of sight.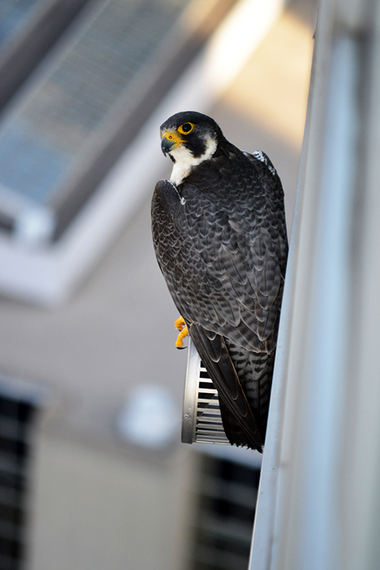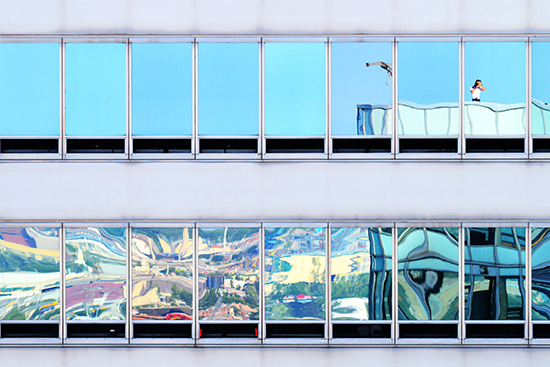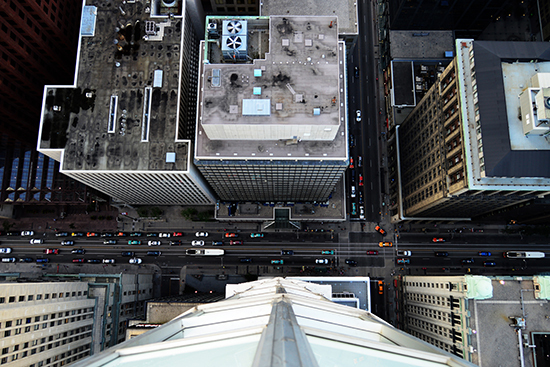 Over the course of the spring, summer and fall I chased this obsession, trying and failing on many attempts but also finding many successes. I took advantage to two opportunities to do some rooftopping in Montreal in the spring and in Vancouver in the winter.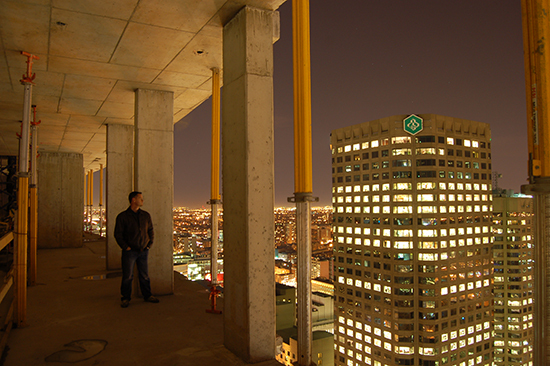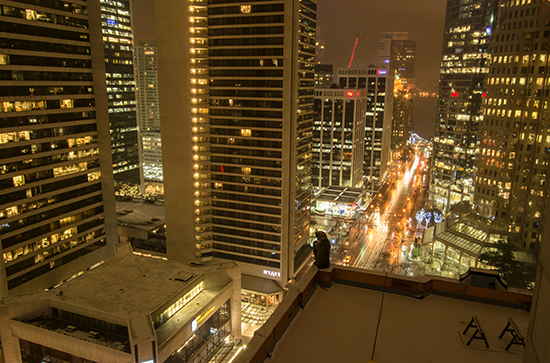 It has truly become an obsession, as I walk the streets of Toronto constantly looking up and scoping out my next climb.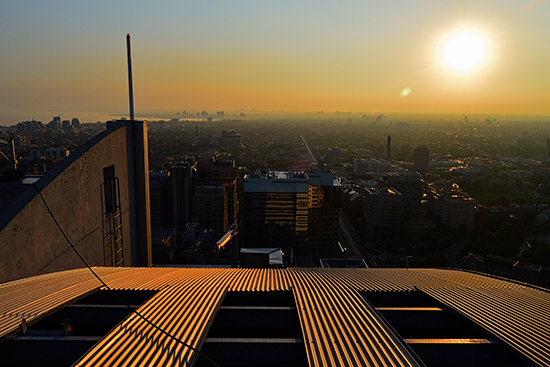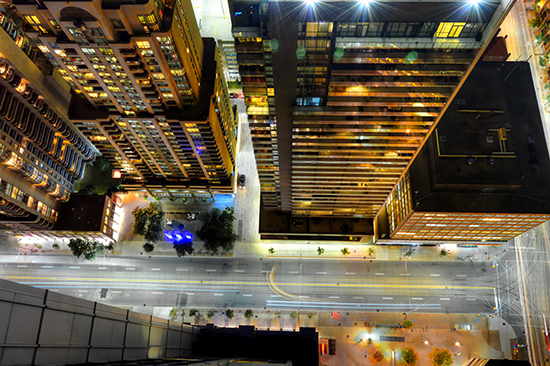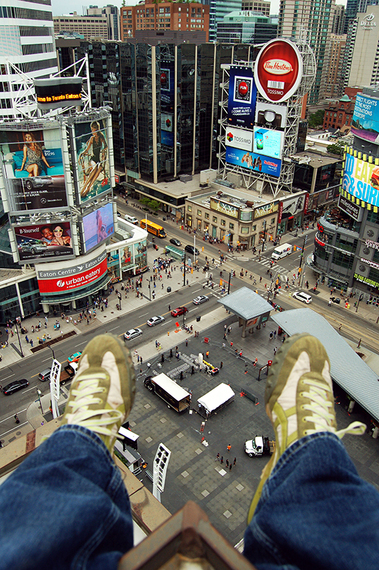 To follow along on my adventures in Rooftopping and Urban Exploring, follow along on the Freaktography Facebook page and Freaktography.ca