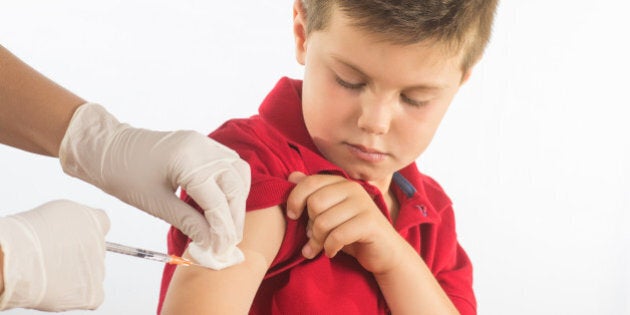 When you're a parent, you know that nothing is more important than the health and safety of your children. With the resurgence of a number of childhood diseases, it's more important than ever to do what you can to protect them.
Sure, life gets in the way sometimes. Maybe you haven't had time to make that doctor's appointment yet. Maybe you're a few months behind on your kids' immunization schedule. Maybe your eyes glaze over at the mention of rubella, varicella, or haemophilus inluenzae B.
I get it. Really, I do. But I'm not letting you off the hook, either.
Children (and adults) in Ontario should receive a routine schedule of vaccines against a long list of diseases. Most children will be vaccinated against measles, mumps, rubella (German measles), varicella (chickenpox), polio, tetanus, and several forms of meningitis (pneumococcal; meningococcal strains A, C, W, and Y; and haemophilus influenzae type B).
If your children aren't up to date on those vaccinations, I urge you to make a doctor's appointment now. Vaccination is one of the most important things you can do to protect the health of your family.
But did you know that other vaccinations are available outside of the routine schedule? These may not be covered by OHIP, but they may be equally important for your child's health. For example, the recently approved by Health Canada meningococcal meningitis B vaccine, which protects against the strain of meningitis that poses the greatest threat to babies and teenagers in Canada, is only covered for some people. This particular infection attacks healthy babies and teens, with symptoms that at first look a lot like the flu, yet which can lead to permanent disability or death within hours.
I'm not trying to scare you with all this talk about vaccines, and in particular meningitis vaccines; I just want parents to have the facts. It's an issue that's very close to my heart. Four years ago, my infant son Sulayman was very ill. We were sent home from our local hospital and a walk-in clinic and told not to worry. But I knew that something wasn't right, and I worried anyway. In desperation I took Sulayman to Sick Kids in Toronto, where he was diagnosed with bacterial meningitis.
I cannot even begin to put into words the devastation -- and terror -- that I felt at that moment. Thankfully, after a month in the hospital, Sulayman recovered, and is now a happy and healthy four-year old.
We were lucky. Some children don't pull through, and many of those who recover are left with long-lasting disabilities, like neurological impairments, blindness, deafness, or limb amputation. Meningitis is unforgiving. It doesn't discriminate. It appears without warning. We don't even know how our baby was exposed.
Because of the risk, most doctors will recommend vaccination against meningococcal meningitis B. Unfortunately, because of the length and complexity of regulatory processes, coverage for the newest vaccines is often patchwork. It doesn't necessarily mean the vaccines are unavailable, but it does mean patients are left to pay for protection against serious and potentially fatal diseases out of their own pockets. (Costs may also be covered under some private insurance plans.) I founded Meningitis Relief Canada to raise awareness among the public and policy-makers, to help ensure no one has to go through what my family did.
The risks are very real. In January of this year, an 18-year-old young woman from Brampton died of meningitis while at school at Acadia University. It's heartbreaking to imagine. A few weeks later, a second case was discovered on campus. Public health took emergency action to vaccinate the entire student body -- but anyone else who was concerned about exposure paid out-of-pocket for the vaccine.
This is because of the patchwork system in place in Canada. Vaccine review and government decision-making can take up to five years on any given vaccine. Vaccines must first be declared safe by Health Canada, after which the National Advisory Committee on Immunizations (NACI) recommends how they should be used. Provincial governments then individually decide whether or not to accept NACI's recommendation. Not all recommended vaccines will be funded in all provinces.
In the meantime, our children are vulnerable. Talk to your doctor about what is available, and what is medically recommended for your children. You deserve all the information to make informed decisions about the health of your family -- and Meningitis Relief Canada will keep working to make sure that you get it.
Questions to ask your doctor
Be sure to have a conversation with your doctor about all vaccine options for your children, and ask the following questions:
• Which vaccines will be provided/funded for my child through Ontario's health care system?
• What additional vaccines are currently available and/or recommended for my child?
• What is the cost of the additional vaccines?
• What are the potential health risks to my child if I don't get the additional unfunded vaccines?
Meningitis Relief Canada (MRC) is a Canadian registered charity that raises meningitis awareness and provides grief and bereavement counseling as well as financial assistance to individuals and families affected by the after-effects of meningitis. For more information please visit www.meningitisrelief.com or email info@meningitisrelief.com.