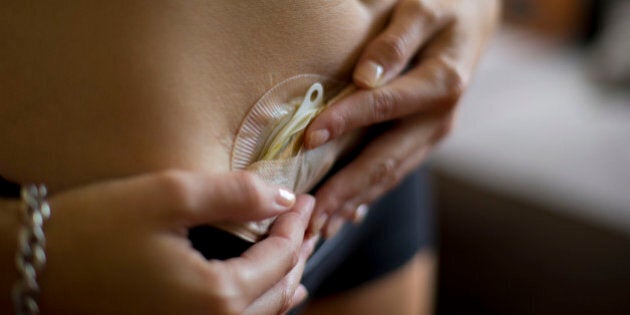 World Inflammatory Bowel Disease (IBD) Day fell on May 19, 2016. All around the globe individuals and organizations shared facts about IBD and pledged their support to help find a cure. Until the cure is upon us, there is still much work to be done right now for IBD patients living in Canada, the country with the highest prevalence of the disease in the world.
IBD, which primarily attacks the digestive system, refers to two related but distinct diseases -- ulcerative colitis and Crohn's disease. While ulcerative colitis only affects the inner lining of the colon, Crohn's disease can cause inflammation in any area of the digestive tract and can spread right through the entire bowel wall.
IBD can strike at any age, with diagnosis often occurring in the teenage years but sometimes not until 40 to 50 years of age. Right now, approximately 233,000 Canadians live with IBD. This disease takes a significant toll on the quality of life for those affected and also takes a big chunk out of the Canadian economy.
The costs of IBD to Canadians
Persons living with IBD frequently experience chronic diarrhea, often accompanied by cramping abdominal pain. Ongoing rectal bleeding can result in low red blood cell count (anemia). IBD also causes damage to other parts of the body. You can read more about IBD here.
IBD can have has a profound effect on an individual's life -- physically, emotionally and socially, both at home and at school, or in the workplace. It is particularly difficult for children and young adults since it often affects a person's sense of self. During a recent educational event, patients shared the following regarding IBD's impact:
"I am constantly aware of where a bathroom is and always prepared for the urge to go. My activities are limited for the fear of not being able to find a washroom."
"My energy levels have decreased and I get fatigued much more easily, the fear of pain, bleeding, incontinence is horrible. The worst part is fearing the next big flare that will prevent me from being a mom to my 18-month-old."
On top of the socio-physical effects of IBD, this disease also affects the Canadian economy. According to data from 2012, sick leave, absenteeism, early retirement and loss of productivity associated with IBD costs the Canadian economy approximately $2.8 billion annually.
It's one thing to read scientific data on how IBD affects patients, but it is the individual stories of these patients that motivate me and my team at the Gastrointestinal Society to support patients' need for more diversity in effective treatments.
Patient advocacy: Keeping up the pressure to help those with IBD
The Gastrointestinal Society advocates to improve the lives of those with IBD. The patients we speak to solidify our belief that those affected by IBD need access to medications that work and that choice among effective treatment options is essential for patients.
World IBD Day may have come and gone, but we cannot let the discussion about this hidden disease fall silent.
Follow HuffPost Canada Blogs on Facebook