Garth Mullins
I have low vision. Often I use my phone to capture an image and zoom in to see bus numbers, menus, details in the distance, even signs indicating direction in a shopping mall. People with a visual disability using technology to get a better look at something.
This is what was happening in Vancouver's Pacific Centre last week.
A trio was caught on video surveillance taking images in the mall. Suspicious minds prevailed. Police were called.
Stills from the mall's surveillance footage were provided to police. These images were also leaked to local blog Vancity Buzz, which published them, noting that "Vancouver Police are seeking the public's help in identifying three men who look Middle Eastern who were seen taking 360 video within Pacific Centre Mall in downtown Vancouver."
The editor in chief tweeted "stay safe."
Well, today has been crazy. The story everyone's talking about: https://t.co/NFR6IQcvVs Goodnight & stay safe, #Vancouver.

— Farhan Mohamed (@farhanmohamed) January 15, 2016
Panic about a terrorist plot being hatched pinged across social media. Fearing they would be identified from the widely shared images and attacked on the street, the three came forward, explaining their story. The men are visiting from Manchester to get medical treatment and for tourism.
"My friend, when he looks at anything head on, he doesn't see like me and you do," one of the men told CBC News. "So he'll take a picture or a movie and then later on when he gets back he zooms into it and he watches stuff. He takes pictures of anything and everything."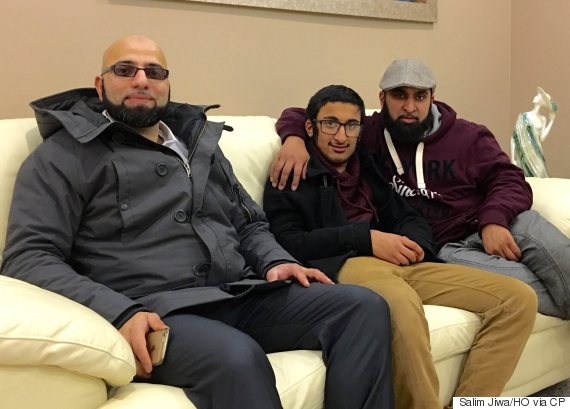 The three visitors from Manchester are seen in this handout image in Vancouver on Saturday. (Photo: Canadian Press)
I do the same thing. I often only see details in retrospect, when I get home and zoom in on pictures I snapped. Many people with visual disabilities use this trick. To navigate a world built for the sighted, we take photos in airports to ascertain the numbers on departure gates, on transit and in many other public infrastructure settings.
For the fully sighted, there may be nothing worth photographing. But for us, these strange snaps may contain crucial detail, even information we need to be safe.
But taking these photos can draw suspicion, even questions. I'm not "Middle Eastern-looking," so I have never been pursued as a terrorist for trying to see a street sign or a mall exit.
Racial profiling is at the centre of this story. The mall cops might have watched a little more of their own footage to determine if there might be another explanation for the behaviour. And Vancity Buzz should have shown restraint, rather than touching off this witch-hunt.
It is not easy to have low vision and to suddenly be made so visible.
Next time you see somebody taking pictures of something mundane, something that is less than picturesque, there is very likely a mundane explanation.
(A version of this blog was first published on Garth Mullin's website and is reprinted with permission.)
Also on HuffPost:
The Very Best Modified Underground Signs