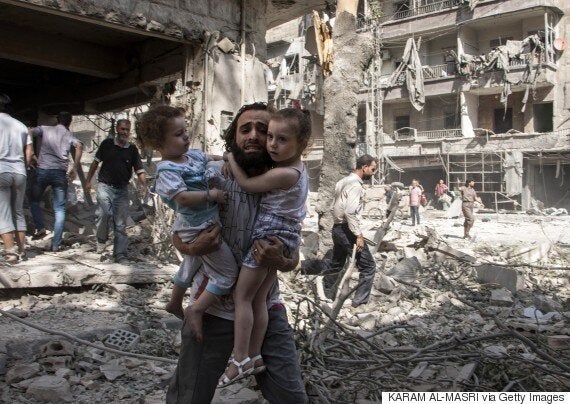 The intense battle for east Aleppo in December 2016 shed such civilian blood that it was described as a stain on the conscious of humanity. The carnage was so visceral that it whipped a storm of international condemnation and public outrage, briefly riveting the world's attention on Syria.
Citizens from countries across the world demanded a political solution and clamored for the humanitarian evacuation of citizens trapped within the besieged city. Finally, after much political deadlock and finger-pointing at the UN Security Council, Russia and Turkey announced that they had jointly brokered a ceasefire deal to evacuate all remaining civilians in Aleppo. By the end of the month, Moscow and Ankara said a nationwide ceasefire deal in Syria had been reached.
Civilians have become an increasingly abused tactical chip in the Syrian conflict.
In a flagrant violation of the agreed-upon ceasefire, the Syrian government launched a heavy offensive on rebel-held Wadi Barada valley in the final days of December. Residents have been deprived of running water and electricity and are being bombarded by hundreds of missiles and barrel bombs. The intense campaign of airstrikes has been relentless and brutal, leaving hundreds of civilians -- including scores of children -- dead or wounded, and forcing thousands more to flee their homes.
In addition to civilian deaths, the airstrikes have caused significant damage to the critical Ain al-Fijah spring and water infrastructure in the valley. The damage has left more than 5.5 million citizens in Damascus and its surrounding neighbourhoods facing severe water shortages and crippling black market jackups of more than twice the usual prices.
Civilians have become an increasingly abused tactical chip in the Syrian conflict.
Both Aleppo and now Wadi Barada have demonstrated what many experts call Assad's surrender-or-starve policy: the regime blocks access in and out of rebel-held cities, prevents humanitarian corridors for evacuation or medical aid, cuts the city's power and electricity, and subjects civilian residents to heavy aerial bombings, forcing rebels to surrender the territory.
Specifically targeting innocent civilians and using them for tactical leverage is a war crime. Under international law, the deliberate starvation of civilian populations as a method of warfare is a prosecutable war crime under Protocols I and II of the 1949 Geneva Conventions. Blocking humanitarian access to besieged cities and failing to allow the right of safe passage through battle lines for civilians is similarly a war crime under Article 23.
The United Nations has further warned that sabotaging or denying water supplies to civilians also constitutes a criminal offense under international law. Dropping incendiary munitions on civilian areas is a violation of international law, as is the use of chemical weapons like chlorine and sarin gas. International laws have been violated so repeatedly in Syria, and with such a dangerous lack of accountability, that we risk normalizing war crimes and enabling regimes who commit them.
The issue is that these laws apply to international conflicts between two or more state actors, and do not extend to a conflict between a government and its people. Regardless, the international community cannot retain any shred of credibility if we abandon Syrian civilians to suffer the brunt of such brutal human rights violations.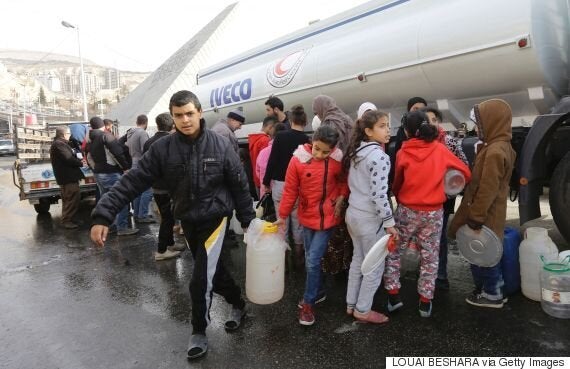 The first priority of the international community should be the immediate protection of civilians in high risk conflict zones. International negotiations in Astana and Geneva focused on establishing peace and security in Syria in the long-term must be complemented by stronger and more concrete civilian-focused actions in the short-term. Political deadlock led to the unnecessary deaths of hundreds of civilians in east Aleppo, and it is critical that this failure not be repeated in Wadi Barada.
Significant public pressure can play a vital role in resolving political stalemates and expediting international action: together, the global community must demand a ceasefire to safely evacuate trapped civilians out of Wadi Barada and a humanitarian corridor to provide urgent medical aid to the wounded.
But how? How do we, as civilians ourselves, move to protect civilians trapped and crying out for help in besieged areas like Wadi Barada?
Widespread public pressure is a powerful tool, and should not be underestimated. In 2016, there were several examples of grassroots pressure successfully altering the course of high-level political decisions. In the United States, protests led by the Native American Standing Rock tribe and hundreds of their supporters successfully halted construction of the controversial Dakota Access Pipeline.
In November, the Turkish government withdrew a proposed bill regarding underage marriage after it sparked widespread protests throughout the country.
Pleading ignorance to their suffering is no longer an option.
In December, Poland abandoned a new law restricting media access in federal parliament after it triggered mass protests, and in November withdrew a planned abortion ban after thousands of women across the nation demonstrated against it. And in Venezuela, President Maduro postponed a currency bill after nationwide protests in December. Protests and public pressure can have remarkable results.
Social media has changed the face of war. The pleas for help we witnessed coming out of Aleppo in real time had a tangible effect: civilians are no longer mass numbers of nameless, faceless people. Now, civilians have the ability to publish photos and information directly on global social media networks, documenting abuses and diarizing daily lives punctuated by exploding chlorine bombs. Now, victims of war can look us directly in the eye as they ask for help.
Pleading ignorance to their suffering is no longer an option.
It is our essential and profound duty to respond to civilian calls for help, to amplify and direct their demands for safety. As the beneficiaries of urgent messages and information transmitted through social media, we have the great responsibility not to allow these calls to be made in vain. It is our responsibility, as we sit safely and comfortably at home, to spread the calls for help we receive from besieged cities, and to bring these voices to the immediate attention of our elected leaders.
Today, we the people must demand more from our international leaders. We must forcefully condemn inaction. We must insist on the enforcement of international laws. We must demand the protection of our fellow civilians in Wadi Barada. Together, we must demand that Syria's children are not mercilessly and brutally slaughtered in a war that is not theirs to die for.
CORRECTION: An earlier version of this blog misstated that more than 10,000 civilians are trapped in Wadi Barada. The correct number is over 100,000 civilians.
Follow HuffPost Canada Blogs on Facebook