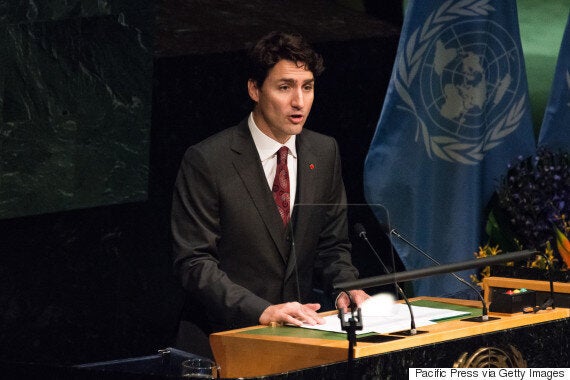 from around the world gathered to sign the Global Climate Agreement. (Photo: Albin Lohr-Jones/Pacific Press/LightRocket via Getty Images)
In my previous blog, I suggested that Prime Minister Justin Trudeau needed to pull back from his confrontational approach to negotiating a climate change agreement with the provinces.
Instead of using the threat of unilaterally ratifying the Paris Agreement as a blunt instrument to force the provinces back to the table on his terms, the government should rather come up with a new plan involving proportionality in emissions reduction -- all while recognizing the rights of provinces to use their own best methods to achieve the national goals.
The good news: Trudeau seems to have pulled back temporarily from the ratification threat. The bad news: he has replaced it with another threat, promising to unilaterally introduce a national carbon tax as a means of ensuring provincial compliance with federal targets.
Despite Trudeau's good intentions, his approach to this issue has made it even more difficult to achieve provincial consensus.
Earlier references to this idea had already antagonized a number of the premiers, and will now compel Alberta to use it as a bargaining chip in their battle to get federal approval for new pipelines. Despite Trudeau's good intentions, his approach to this issue has made it even more difficult to achieve provincial consensus on meeting the targets agreed in Paris.
At this point, it is useful to look more closely at what exactly is at issue, and whether there is a simpler, less confrontational way to achieve the Paris targets.
First point: the provinces have for the most part already set emissions reduction targets using their preferred mechanisms. Manitoba, for example, has promised a 50 per cent reduction by 2030, the Paris target year using cap-and-trade. This is actually a larger reduction than the 30 per cent required by Canada's own Paris targets. The four Atlantic Provinces, who are also battling with Trudeau on this subject, have already agreed to a 35 per cent reduction by 2030 (admittedly, against a 1990 not a 2005 baseline), and have done so through a voluntary agreement with the New England states.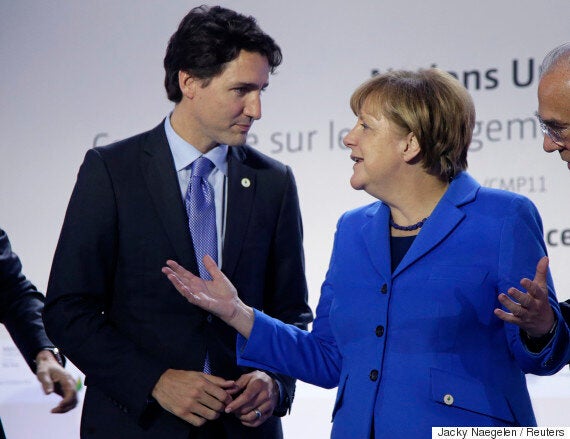 While several provinces -- B.C., Alberta, Saskatchewan -- do not have legislated targets, their mitigation programs are well-established and in the case of the first two, already involve the use of a carbon tax. Saskatchewan remains a bit of an outlier, with aggressive plans for reducing emission in key sectors but no clear target and an evident disdain for any kind of carbon pricing.
Second point: The provinces are keen to work on a national target, providing that they can use their own preferred mechanisms for doing so. Wouldn't it be more effective if the federal government first worked with the provinces towards developing an accelerated set of targets, then gave each province an opportunity to decide on the best way to achieve it? What is needed here is unanimity, not division; collaboration, not threats and penalties.
A quick examination of the current status of provincial targets suggests that closing this gap is achievable, if challenging. If current targets and mechanisms developed by the provinces are used without further interference by the feds, we can expect a shortfall of around 76 megatonnes (Mt) of CO2, a total of 599 Mt against the Paris target of 523 Mt.
Imposing a carbon tax is no guarantee that this will happen.
This figure uses the province's own publications and uses their suggested baselines, which as noted above differ in some cases from the federal 2005 baseline, as well as estimates from a recent study by Pembina Institute. Using slightly different calculations, other authors have suggested a shortfall of only 55 Mt--still significant, but workable.
To eliminate a shortfall of 76 Mt, each province would need to increase its emissions reduction target by around 13 per cent (ignoring the territories for the moment, whose contribution to greenhouse gas emissions is minimal, though they are also the most affected by climate change).
To eliminate a shortfall of 55 Mt, the increase in targets would have to be around 8.5 per cent.
Taking Ontario as an example (the only province which has so far legislated its target commitments), its existing target of a 37 per cent reduction by 2030 would have to be increased to 45 to 50 per cent. That's a big challenge for a province that has already taken significant steps towards reaching its current target, but as the Pembina Institute study notes, there are still substantial gaps in the Ontario emissions reduction programmes, in particular in the heavy freight sector and the flaring of methane emissions.
Changes of this scale are only likely to happen if each province re-sets its targets and closely examines the mechanisms needed to achieve them. Imposing a carbon tax is no guarantee that this will happen, as carbon taxes involve no target-setting at all. However, using a proxy value for carbon, e.g. €35 (C$50)/tonne of CO2 overall (suggested by a recent OECD study), can assist governments in planning how to attack this problem.
As well, some adjustments may have to be made to the idea of strict proportionality, reflecting the advances already made by some of the provinces.
Follow HuffPost Canada Blogs on Facebook